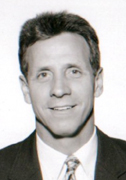 Steve DeVoss, Founder and President, Global Sports Partners
Steve DeVoss enjoys sports and loves people. He has devoted his life to establishing a network for sports development, which builds community and cooperation among cultures. Through experience, he has demonstrated that Sports is a powerful agent in developing respect and cross-cultural appreciation, leading to social reconstruction, community development, and peace.

Since founding Global Sports Partners in 1992, DeVoss has pursued excellence in Sports Development, Sports Exchange, Professional Placement, and Sports Consulting services.
DeVoss has received many gratifying accolades, having been recognized by Outstanding Young Men of America and the Honorable Order of Kentucky Colonels, but he finds more satisfaction in the cross-cultural experiences he has tasted in facilitating sports initiatives in 55 countries and a dozen sports. The sports development pioneer took the first-ever American sports team to North Korea; signed the first private company sports protocol with Afghanistan; placed the first American Basketball Coach with Iran; has promoted sports development from the Himalayas to the Sahara Desert; and will be the first to admit that these opportunities have come because of his willingness to step out on faith and strive for something significant.

From its initial registration in Hong Kong, the company now has offices in Cyprus, Malaysia, Singapore, Jordan, Israel, Lebanon, Yemen, Myanmar, and USA. DeVoss maintains that this growth is not the result of financial power or personal prowess, but from partnerships with organizations contributing their resources to attain common goals in sports and social development, the ultimate objective being personal, social, and cultural transformation that can result from these endeavors.

A man of faith, with degrees in Literature, Sociology, and Theology, DeVoss is committed to restoration and reconciliation among all nations. He has been married to his wife, Pam, for 31 years. They enjoy music, camping, the mountains, and the beach with their two young adult daughters.

PRESENTATION TITLE: "From sports development to community development... the bottom line is NOT the finish line"

Global Sports Partners is transforming from an International Sports Development Company into a Community Development and Human Services Organization. Sportsworld initiatives are bringing benefits to Real-world communities. Learn how to use this model to promote development and empowerment through established sports channels. Projects examined in Yemen, Iraq, Iran, Maldives, others.

CLICK HERE TO READ THE FULL PRESENTATION.