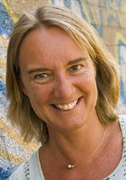 Yolande van Wijk, Founder and project director, Stichting Commundo
After graduating law, Yolande van Wijk worked for 10 years in big companies as a project manager on ICT projects. Yolande van Wijk discovered that she was able to develop new products and was able to get them implemented, but had "problems" with working in a big hierarchical place with lots of bosses, memos and rules.

After that Yolande van Wijk started a Web design company Media Dell' Arte that gave her the joy of being an entrepreneur and work in a family-like atmosphere.

When Yolande van Wijk turned 40, she wanted to do something that could make the world a better place. She decided to combine her hobby, "traveling," with this "goal." Yolande van Wijk decided to look for a combination of serious and fun and came to the product of the working holiday, which consists of 10 days volunteering and 10 days traveling. She believes the contact by living and working together is the beginning of more understanding and so of a better world.

Now, after five years of hard work, Stichting Commundo offers programs in six countries with more than 20 partners. Stichting Commundo also offers programs for companies and schools. The next step will be a growth, both in destinations, programs and target groups to be able to make a bigger impact on the market and the world.

Yolande van Wijk says it is a great satisfying and inspiring job that enables her to get in touch with those special people that are passionate about what they do: making the world a better place to live.

PRESENTATION TITLE: "voluntourisme for all ! ages ?"

Many times people ask me "Am I not too old for volunteering in developing countries?" In the beginning of volunteering, many young people went abroad but that has changed. The average age at Commundo is now 48!

Besides that we encounter more and more companies, schools and even families who want to go abroad and be a volunteer.

What are the success factors, lessons learnt and benefits for all?

CLICK HERE TO READ THE FULL PRESENTATION.