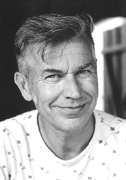 Ole Pihl, Department of Architecture and Design. Aalborg University. Denmark; Arkitekt/Graphic designer MAA
Ole Pihl works in architecture, graphic design and illustration, primarily with programs such as Illustrator, Photoshop, In Design and 3D MAX. After graduating in 1979 from Danmarks Designskole with a masters in graphical design, Pihl worked as a professional graphic designer in his own studio "Mand over bord" working with magazine layouts and concept CD covers, music videos, scenography and comic books. His work was featured in newspapers and magazines such as Extrabladet, Politiken, BT, MIX, and Blitz, and covers for EMI and
Medley Records.

Pihl has illustrated and written books for kids and teenagers. He has also worked as art director for LEGO with the magazine "Klick."

In 1990, Pihl started on the Royal Danish Academy of Fine Arts, School of Architecture at Professor Henning Larsen's department of Architecture, Space and Form, and graduated from the architectural master program in 1997.

He has worked as an architect with buildings design and construction, urban plan and visualization.

In 1997, he made a TV program for the Danish television DR1 on future bridges to Copenhagen, discussing new possibilities in urban planning using bridges for traffic and pedestrian bridges.

In 1998, he wrote and drew a weekly series of articles to the newspaper Politiken on historic building in Copenhagen.

From 1999 to 2008, Pihl has been employed at Aalborg University Institute, first as a research fellow, PhD, in architecture and design, with a focus on virtual architecture and digital worlds and later as an associate professor in digital design and virtual architecture.

PRESENTATION TITLE: "Bridging the north-south: cross-cultural understanding in tourism; Queen's Garden and Writer's Path an experience of simultaneous visions"

REFLECTIONS
1. Five squares of the five monotheistic religions introduced: Christianity, Buddhism, Islam Judaism and Hindu.
2. The two islands contain parts of Greek mythology and Shinto.
3 Nordic mythology is a part of the Crystal Forest
4. "The writer's path" leads from east to west, introducing past and contemporary writing and storytelling through an online interactive multi-medial platform. You can walk the book or poem of the day or the writer of the week. The park becomes a book.
5. The lake and the canals are the core of the park and lead from east to west and further south.
6. The orangery and echo house introducing exotic plants and flowers. It is all about creating a representation of heaven on earth, but heaven has a counterpart and it has to be represented as well, but in a learning context that offers a place for reflection.

"The IIPT European Conference was a mind-opening conference. When I arrived, I expected it to be a bit naive in the focus on a peace theme, but I realized afterwards how extremely important the issue was and is. How we bridge the North and South should be a theme the next decade, for all of us, an interdisciplinary theme for: architects, planners, managers and tourists, because there is so much to learn and to do if we shall create a better and more peaceful world."

CLICK HERE TO READ THE FULL PRESENTATION.