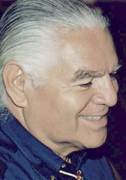 Ben Sherman, President, Western American Indian Chamber, Official, World Tourism Organization Business Council
Ben Sherman is a member of the Oglala Lakota (Sioux) Nation from the Pine Ridge Indian Reservation in the United States. He was instrumental in developing and launching the first national Native American tourism organization in the United States.

Sherman is the president of the Western American Indian Chamber and heads its Native Tourism Alliance initiative.

Sherman has conducted numerous conferences, lectures, presentations and training sessions on the subject of cultural tourism development for indigenous tribal nations.

Sherman has been a strong advocate for the development of tribal tourism programs that feature authentic expressions of native cultures. He lectures widely on a number of topics related to Native American cultures, histories, art, economic development, land conservation, tourism and tribal values.

Authentic Native tourism programs taught and promoted by Sherman focus on tribal origins, history, cultures, treaties, traditional values, lands, art, foods, music, dance, literature, current tribal affairs and contemporary Indian life.

PRESENTATION TITLE: "Universal tourism values from a native perspective"

Native people are legendary in their trusting and generous welcoming of visitors from afar. Native people carry a deep respect and abiding love for our Mother, the earth, and all the living things that create the sacred circle of life. Each Lakota prayer ends with the expression Mitakuye Oyasin, meaning we are all related. Native values of generosity, respect and spirituality shape guiding principles for a brand of hospitality and sustainability that offers universal appeal.

CLICK HERE TO READ THE FULL PRESENTATION.