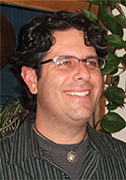 Brett Galimidi, Social Venture Technology Group (SVT)
Brett Galimidi is a Partner at San Francisco-based Social Venture Technology Group (SVT). He works to help social enterprises, NGOs, companies, government agencies, investors and foundations address sustainability issues through the measurement, management and communication of social and environmental impact. With the understanding that people and the environment are cannot be separated, Brett has led groundbreaking projects to maximize the positive human benefits of environmentally responsible activities.

Brett's work has included developing the ECOframe, a sustainable tourism/ecotourism framework to help managers and investors ensure their projects achieve the maximum positive social and environmental impact possible while maintaining financial stability. He also helped Mexico's Grupo Ecologico Sierra Gorda establish a process for measuring and managing the ecological, social and economic impact of conservation for pricing carbon offsets according to both human and environmental benefits. In addition, he created an impact management and valuation process for various programs within the Sierra Gorda including environmental education, non-timber forest products and ecotourism.

Previously at the Yale Center for Environmental Law and Policy, Brett led research efforts on the topic of environmental protection in the information age. At the Resource Renewal Institute in San Francisco, he worked on market-based approaches to resource management and land conservation.

Brett is the co-author of Social Return on Investment: a Guide to SROI Analysis (Lenthe Publishers, 2006), co-author of the Social Edge blog "SVT on Impact" (sponsored by the Skoll Foundation) and author of several research papers on topics such as information and communication technology for economic development and the relationship between foundations and environmental NGOs. He holds a Master's Degree in Environmental Management from Yale University and a BS in Anthropology from UCLA.

PRESENTATION TITLE: "Impact intelligence: measuring and managing the sustainability of sustainable tourism with ECOframe"

As emphasis on investments that aim to both generate revenue and provide social and environmental benefit is increasing, so is the necessity to measure, manage and communicate the impact produced by the projects. With sustainable tourism is experiencing tremendous growth globally, the opportunity to achieve positive impacts is apparent. Measuring these impacts, however, especially with consistency, can be challenging. Managing an operation to continually improve results can be even harder. Setting benchmarks, involving stakeholders and incorporating local context—critical elements of sustainable tourism—increase complexity even more. This presentation will focus on a means of addressing these challenges in practical yet contextually relevant way called the ECOframe.

CLICK HERE TO READ THE FULL PRESENTATION.