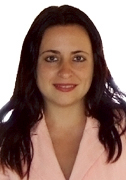 Dr. Valentina Dinica, Senior Researcher, Centre for Clean Technology and Environmental Policy, School of Governance and Management, University of Twente
Dr. Valentina Dinica, senior researcher at University of Twente, in the Netherlands, with expertise on policy analysis and governance for sustainable development. In the last five years she conducted research on: tourism sustainability in the Dutch Antillean islands; challenges for sustainable development in the Dutch tourism-recreation sector; the impacts of the European Union on the sustainability of European tourism development; and sustainable nature-based tourism. She teaches on sustainable tourism governance analysis at the University of Twente. Her policy research expertise also includes: renewable energy, climate change and water management.

PRESENTATION TITLE: "Sustainable tourism in developing islands: lessons from the political and institutional challenges in Curacao"

The goal of sustainable tourism development has increasingly penetrated the agenda of governments, businesses and stakeholders in many countries, in the last decades. But while a multitude of declarations, codes of conduct and voluntary initiatives were adopted, there are only few countries where governments adopted integrated policy programs aiming to steer the sustainable development of tourism at national level, because tourism is a very complex sector to regulate and monitor.

In 1997, a policy program for sustainable tourism was adopted by the Netherlands Antilles government. This paper analyses the implementation processes and results of this policy on one of the five Antillean islands, Curaçao, for the period 1997-2005. The paper investigates the factors that affected the attitudes and interactions of the actors expected to adopt some key legal instruments that would open the way for the implementation of practical measures for sustainable tourism. This is done based on an analytical framework organizing the inquiry on implementation performance by looking at the actors' motivations and behavior, and the features of the implementation structure affecting actors' conduct. The paper formulates recommendations to enable the achievement of sustainable tourism goals on Curaçao, and underpins a series of lessons useful for the design and implementation of sustainable tourism initiatives in other destinations as well, that are especially relevant for developing countries.

CLICK HERE TO READ THE FULL PRESENTATION.