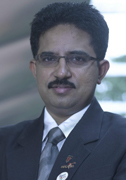 Dr. Vikneswaran Nair, Head, Centre for Research & Development, Taylor's University-College
A full bred of Universiti Putra Malaysia (UPM), Dr. Vikneswaran Nair, better known as Dr. Vicky Nair or Vic Nair, completed his Bachelor of Science in Horticulture in 1994. After 2 years in the plantations, he was offered to do his Masters in Environmental Systems Engineering, an IRPA (Intensified Research in Priority Area) funded project in developing an expert system for terrestrial vegetation management for Environmental Impact Assessment (EIA). Four years later, he completed his Ph.D. in Ecotourism Systems Engineering with his research on developing an expert system for ecotourism accreditation and rating for Peninsular Malaysia.

At present, he heads the Centre for Research and Development of the Taylor's University College in Malaysia.

Dr. Vic Nair's specialisation is on application of Information & Communication Technology in Hospitality & Tourism, Sustainable Tourism, Ecotourism Management and Environmental Management. He is also an adjunct lecturer for many public universities in Malaysia, namely Universiti Putra Malaysia (UPM), Universiti Sains Malaysia (USM) and Universiti Utara Malaysia (UUM). In addition he has also conducted lectures for the graduate programme at the University of Toulouse, France, Rikkyo University, Japan and Institute for Tourism Studies (IFT), Macau.

PRESENTATION TITLE: "Alleviating poverty via tourism development: mega tourism development projects in Malaysia towards vision 2020"

The presentation discussed the five mega development projects in Malaysia that has tourism as a driver to alleviate poverty and inevitably to move the nation towards becoming fully developed in 2020. Thus, the main aim of this case study is to analyze how these five mega development project is instrumental in further alleviating poverty among the rural and urban community both in West and East Malaysia. The discussion of the master plan can be used by many countries to redevelop tourism as a potential "instrument" and to alleviate the poverty that blankets many nations in Africa, Asia and Southeast.

CLICK HERE TO READ THE FULL PRESENTATION.