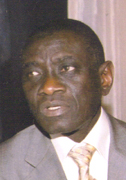 Elhadji Abdoul Aziz Gueye, Director, Senegal Government Tourist Office
Elhadji Abdoul Aziz Gueye is the Director of the New York-based Senegal Government Tourist Office. At the Ministry of Tourism in his home country, he has also served as Director of the Department of Promotion and Investments Administration/Finance Auditor, Senior Technical Advisor, among other high-ranking positions.

Mr. Gueye was educated in Dakar, Senegal and in Southern France. He received a Master's of Arts degree from Cheikh Anta DIOP University and two post-graduate diplomas in tourism economics and zoning from the Academy of Aix-Marseilles.

PRESENTATION TITLE: "Sustainable tourism and local government in rural areas of Senegal"

Senegal has been experiencing some forms of sustainable tourism since the 1970s – basically in rural areas of the South, more vulnerable to tourist loading capacity. When we know that administratively speaking, as far as tourism is concerned, authority has not been transferred to local hands, contrarily to almost all other sectors that tourism is connected to because of its horizontal character, the experience known as integrated rural tourism can be seen as a double revolution, on both sustainability and administrative decentralization grounds. And local people in those areas, who have managed to have tourists share their daily activities, have not but gained a lot, not only in terms of money, from that experience.

CLICK HERE TO READ THE FULL PRESENTATION.