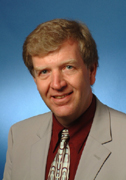 Max Haberstroh, International Consultant on Sustainable Tourism, Branding, Destination Management, and Marketing
German, 56 years; economist/business administration, focus on tourism, five languages (Ger, Eng, Fr, Sp, Rus); carrier: for 33 years in tourism marketing/promotion and development; various positions in Germany (marketing director/City of Nuremberg), assignments to countries in Central Asia, Africa, Latin America and Eastern Europe, including Russia; specialization in destination branding, management and marketing (sustainable/solidary tourism); tourism consultant to the Presidents of Kyrgyzstan (German Technical Cooperation/GTZ-CIM), of Madagascar (Conservation International), and to the Amazon Cooperation Treaty Organization (Brazil). Sustainability focus: Joint promotion of Energy and Tourism; details: www.maxhaberstroh.de.

PRESENTATION TITLE: ""Put a clover on your heart": jointly promoting renewable energies and sustainable/solidary tourism"

Should tourism maintain its pretention of creating happiness? Mr. Haberstroh determines three basic "content factors" to evolve and refine modern time's "life-style industry" to become an untarnished tool of peace – bound to improve social wealth, environmental health and a country's general attraction (as a place to visit, to live, to work, to invest): 1. the innovation factor: by jointly promoting renewable energies and sustainable/solidary tourism; 2. the dignity factor: by living and working according to the ethic values of solidarity and guidelines agreed upon; 3. the sustainability factor: by sharing a fascinating vision, a clear mission, a joint strategy, and a scintillating brand.

Milestones include best practice in Kyrgyzstan, a defying mission in Madagascar, and first steps in Continental Amazonia.

CLICK HERE TO READ THE FULL PRESENTATION.