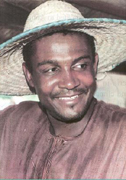 Munzali Dantata, Director, National Institute for Hospitality and Tourism, Nigeria
Munzali Dantata is a lawyer by training, with a Master's Degree (LL.M.) in International Finance Law. He began his career in law practice in 1981 until 1987 when he incorporated a travel agency and thus began his journey in the tourism industry. Dantata did not concentrate on merely running his business, but soon became engrossed associations by trying to revamp the infant tourism industry of Nigeria. He was twice elected president of organized private sector bodies, first of the travel agency association in 1991, then the tourism federation in 2003.

Before he moved over to the public sector as Director General/CEO of the apex government tourism training institute in Nigeria in 2006, Dantata had founded a Tourist/Cultural Village in 1999, and took over the management of the famous Argungu Fishing Village, a state owned cultural centre that hosts the famous annual traditional fishing festival, in 2005. Today, his company is a leader in community based (village/rural) tourism, while his vision/mission is contribute to poverty alleviation through tourism and community based enterprises.

Dantata has authored a few books, including "Abuja: A Business Travel Guide" (1993), and a collection of poems titled "The Groundnut Pyramids, An Anthology."

PRESENTATION TITLE: "Knowledge transfer and contribution of technology to sustainable tourism development – Nigeria's experience"

The paper aims at improving the quality of product and service delivery in Africa's tourism industry, with particular reference to knowledge transfer especially in the use of modern technologies by communities in order to compete favorably in attracting international tourists to community based tourism destinations.

CLICK HERE TO READ THE FULL PRESENTATION.