---

UN WTO and UNEP Partners in
1st IIPT European Conference

IIPT is most proud to announce that the UN World Tourism Organization (UN WTO) and United Nations Environment Program (UNEP) will be Partners in the 1st IIPT European Conference being hosted by Stenden University (formerly CHN University) and to be held in Leeuwarden, Netherlands, October 21 – 24 2008. Theme of the conference is:

"Bridging the North–South Divide
through
Sustainable Tourism Development"

The Conference is in support of the U.N. designated Decade of Peace and Non-Violence for the Children of the World and the UN Millennium Development Goals.


Amb. Anwarul Chowdhury


H.E. Maha Khatib


Hon. Eduardo S. Chingunji


Hon. Edmond Bartlett


Luigi Cabrini


Fiona Jeffery


Yianis Evangelou


Johanna Fragano


Robert Zimmer


Dr. Tom Selänniemi


Richard R. Miller


Lyndall De Marco


Taj Hamad

In making the announcement, IIPT Founder and President Louis D'Amore said, "IIPT is most honored to again have the UN WTO and UNEP as a partner with us. The UN WTO has been a supporter of IIPT Conferences and Summits since the very first IIPT Global Conference in Vancouver, 1988 – and IIPT enjoys a special relationship with UNEP having done the first international study on 'Guidelines and Models of Best Practice – Tourism and Environment' for UNEP shortly following the UN Rio Summit on Environment and Development in 1992. We look forward to this opportunity for continued collaboration with each of them."

Keynote Speakers who have been confirmed to date include:

Amb. Anwarul Chowdhury
Under-Secretary-General and High Representative for the Least Developed Countries, Landlocked Developing Countries and Small Island Developing States.

H.E. Maha Khatib
Minister of Tourism and Antiquities, Hashemite Kingdom of Jordan

Hon. Eduardo Jonatão S. Chingunji
Ministre de l'hôtellerie et du tourisme, Angola

Hon. Edmund Bartlett
Minister of Tourism, Jamaica

Luigi Cabrini
Director Sustainable Development of Tourism Department

Fiona Jeffery
Chairman, World Travel Market

Yiannis Evangelou, President
Hellenic Association of Travel and Tourism Agencies

Johanna Fragano
President, European Hotel Managers Association (EHMA)

Robert Zimmer
President, Zimmer Group International

Dr. Tom Selänniemi
Chairman, Tour Operators' Initiative for Sustainable Tourism

Richard R. Miller
CEO & Managing Partner, TourismROI LLC

Lyndall De Marco
Executive Director International Tourism Partnership
The responsible tourism programme of the Prince of Wales International Business Leaders Forum.

Taj Hamad
Secretary General, World Association of NGO's (WANGO)

Additional Keynote Speakers will be announced in the weeks ahead.

Conference Aim
Build on, expand, and leverage current North – South, and South – South initiatives towards sustainable tourism development, poverty reduction, and societal betterment.

Conference Goals
1. Provide a Forum for governments, private enterprise, donor agencies, foundations and NGO's to debate and reach consensus on more effective models of achieving North – South and South – South collaboration towards sustainable tourism development, poverty reduction, and societal betterment.

2. Identify Models of Best Practice in North – South and South – South collaboration in achieving Sustainable Tourism Development

3. Facilitate effective knowledge transfer on Models of Best Practice and state of the art contribution of technology to Sustainable Tourism Development, Community Empowerment, and Destination Marketing.

4. Enhance the role of the Media, and the role of Culture and Sport in nurturing North – South and South-South dialogue, relationships and collaboration.

5. Engage Educators and future leaders of the industry in the debate, and in conducting innovative research that will contribute to enhanced North – South and South – South collaboration towards sustainable tourism development.

6. Identify potential synergies with other industries for sustainable wealth creation, poverty reduction, and societal betterment in the Group of 77 Countries, and particularly Least Developed Countries (LDC's), Land Locked Developing Countries (LLDC's), and Small Island Developing States (SIDS).

Conference to Feature Media Exchange

The 1st IIPT European Conference will feature a media exchange bringing together prominent journalists from Europe, North America and Developing Countries to debate the critical role of the media in "Bridging the North – South Divide through Sustainable Tourism." Confirmed media panelists to date include:

Bea Broda
President Elect,Society of American Travel Writers

Thomas Steinmetz
Publisher, eTurbo News

Sandy Dhuyvetter
Travel Talk Media

Other prominent journalists will be announced in the weeks ahead.


Bea Broda


Thomas Steinmetz


Sandy Dhuyvetter

The 1st IIPT European Conference will bring together senior executives from both the public and private sectors of tourism; senior officials of UN Agencies, the European Union, World Bank, UN World Tourism Organization, and other international organizations; and relevant NGO's, as well as policy makers, educators, leading practitioners, entrepreneurs, future leaders of the industry, and senior representatives of related sectors including culture, environment and economic development.

The Conference builds on the foundations of: three Global Summits: Amman 2000; Geneva 2003; and Pattaya, Thailand 2005; three Global Conferences: Vancouver 1988; Montreal, 1994; and Glasgow, 1999; four African Conferences: Nelspruit, Mpumalanga Province, South Africa 2002; Dar es Salaam, Tanzania, 2003; Lusaka, Zambia, 2005; and Kampala, Uganda 2007; and several smaller conferences, symposia and workshops in Europe, Australia, North America, Middle East and Caribbean.

---

Call for Papers and Success Stories
1st IIPT European Conference

In addition to plenary sessions with keynote speakers, the conference will feature a series of Concurrent Sessions and workshops where "Success Stories" and "Models of Best Practice" related to the conference theme will be presented – and workshops held to discuss programs and methods by which to gain greater synergies in achieving sustainable development in developing and emerging economies.
Topics to be addressed in the context of "Bridging the North – South Divide through Sustainable Tourism Development" include:

• Gaining greater leverage from North – South initiatives including the roles of Donor Agencies, Foundations, and NGO's
• South – South Initiatives in Sustainable Tourism Development
• Innovative Initiatives within Developing Countries
• Innovative Private Sector Initiatives
• Recent developments in Micro-Enterprise
• Volunteer Tourism, Philanthropic Tourism, Fair Trade Tourism
• Knowledge Transfer and the Contribution of Technology to Sustainable Tourism Development
• The Role of Culture and Sport
Persons wishing to nominate "Success Stories" and/or "Models of Best Practice" in any of the above topics – or other areas relevant to the above stated goals – are invited to send project or program descriptions to: Amy Sotherden, Email: amy@iipt.org


Educators Forum and Student Forum
As with other IIPT Conferences, a full day Educators Forum – and full day Student Forum will be held on 21 October. Papers, presentations and posters are invited on the topics indicated above, and other areas related to the conference theme. Please provide an abstract of your paper to: Dr. Omar Moufakkir, Lector in Peace through Tourism, Stenden University, Email: o.moufakkir@chn.nl; with a copy to Ian Kelly, Coordinator, IIPT Educators Network, Email: iankelly@picknowl.com.au

Educators are requested to encourage their students to attend and submit papers for the Student Forum. Communication should be made to Anna Krupp, Email: a.krupp1@chn.nl, With a copy to Nishit Charadva, Coordinator, IIPT Student/Youth Leadership Network, Email: iiptyouth@gmail.com

IIPT €1,000 SCHOLARSHIP–STUDENT ESSAY COMPETITION

IIPT will award a €1,000 Scholarship to the inter-disciplinary team of 3 to 5 undergraduate and/or graduate students who write the best paper related to the conference topic:

'Bridging the North-South Divide through Sustainable Tourism Development'

Length of Essay:
There are no restrictions on the paper length. However, the suggested optimal length is between 2,500 and 3,000 words. Bibliography should be included.

Eligibility:
Each member of the inter-disciplinary team must currently be enrolled as a graduate or undergraduate student through October 2008. Essay must be the result of original scholarly research of significant merit.

Submissions:
Essay Entry Deadline is 30 August 2008. Submissions in MS Word format should be sent via email to o.moufakkir@chn.nl with subject: "Essay Entry." Please include contact, university, and study information for each team member.

Award:
The winning team will be announced by 15 September 2008. Members of the winning inter-disciplinary team will have the opportunity to present their essay at the Student/Youth Leadership Forum on 21 October 2008.

The €1,000 Scholarship Award, to be shared among members of the winning team, will be presented at a Special Awards Luncheon at the 1st IIPT European Conference.

---

---

Delegates Commit to Major Initiatives at 1st IIPT International Community Tourism Retreat

Delegates representing more than 50 organizations and communities recently came together in Kingston, Jamaica with a positive "can do" and enthusiastic spirit to share knowledge, experience and "Success Stories" - and to plan future goals and progress on their journey to making Community Tourism a central pillar of Sustainable Tourism Development in Jamaica and the Caribbean.

The Community Tourism Retreat was a shining example of creativity, innovation and commitment to the Conference theme:

Tourism Entrepreneurship – Sustaining and Transforming Communities.

Conference highlights included recognition for past achievements, citations, the launching of new initiatives, and resolutions for the way forward. Ian Neita, Executive Director of the Tourism Enhancement Fund, honoured IIPT Caribbean Chapter President Diana McIntyre-Pike with a citation for her outstanding contribution to community tourism for more than 30 years. Diana also received praise from Mr. Zachary Harding, Special Advisor, Ministry of Tourism, and IIPT Founder and President Louis D'Amore.

Jacqueline DaCosta, Chairperson of the National Best Community Competition, announced the awardees for 2007, Glengoffe CDC, St. Catherine, winners of the US $30,000 first prize in 2007. The IIPT Community Village Award was presented to Mystic Mocho Experience Community; and the IIPT Community Tourism Leadership Award, sponsored by Bernard Henry, the late Desmond Henry's nephew, was presented to Astil Gage, Community Leader/Guide Beeston Spring Village, Westmoreland.

Gillian Rowlands was named Vice President of the IIPT Caribbean Chapter and Executive member of the IIPT Community Tourism Network.

New Initiatives
New initiatives launched at the Conference included:

Mr. Zachary Harding, Special Advisor, Ministry of Tourism announced a Community Tourism Award of US$ 42,000 for the IIPT Community Tourism Retreat and a two year community tourism program that includes research of13 communities with the assistance of 12 interns from the University of the West Indies, NCU and UTECH.

Official launch of the IIPT Caribbean Youth Community Tourism Network to be coordinated by Mark Pike, Jamaica Youth Ambassador and assisted by Sharon Chambers, Positive Tourism Network.

Official launch of the Desmond Henry Community Tourism Entrepreneurship Fund to provide low interest loans and grant funding for community tourism projects in communities.

Establishment of an IIPT Caribbean Chapter Working Group and Community Tourism Secretariat/Office which will facilitate business development: marketing, PR, HR, Leadership & funding support linked to the Desmond Henry Community Tourism Entrepreneurship Fund.

Establishment of a Tourism Village Development Programme which will network with Health and Wellness partners; Environmental stakeholders to protect the natural and cultural heritage of communities; universities and other educational institutions for relevant research and policy development; and to develop a dynamic community tourism marketing program.

Future plans also include the development of an IIPT Community Tourism Day Event in 2009; the first IIPT Caribbean Community Tourism Village conference and trade Show in 2009 in association with the Jamaica & Caribbean Diaspora; and a community tourism study trip by twenty-two students from George Washington University organized by Professor Raynald Bruouard and with the assistance of Countrystyle and the IIPT Caribbean Chapter.

Launch of IIPT Jamaica Peace Parks Program
An IIPT Jamaica Peace Parks Program will be launched on September 21 - the UN International Day of Peace, at Treasure Beach, St. Elizabeth, as proposed by Jason Henzell, Founder, Breds Foundation, Jamaica. The peace park, will include a natural pond, and be encircled by a 'Bosco Sacro' - a Peace Grove of 100 Blue Mahoe (Hibiscus elatus) trees, the national tree of Jamaica. The Dispute Resolution Foundation anticipates that one of the uses for the IIPT Peace Park will be for dispute resolution and restorative justice as its peaceful, natural setting would be an ideal environment for this purpose.

The aim of the IIPT Jamaica Peace Parks Program is to have each community in Jamaica engaged in community tourism dedicate an IIPT Peace Park - and as well, to have Kingston's Emancipation Park dedicated as an IIPT Peace Park.

Jason Henzell

African Diaspora Heritage Trail
Also proposed was that Jamaica identify sites of historical significance in relation to the African Diaspora – and that these sites be linked to the African Diaspora Heritage Trail Network. Particularly noteworthy among these sites is St. Elizabeth which at one time was a slave trading site and future site of a museum.

Minister Bartlett Invited to Lead Delegation to IIPT European Conference
IIPT Founder and President Louis D'Amore extended an invitation to Minister of Tourism, Hon. Edmund Bartlett, to be a Keynote Speaker and to lead a delegation from Jamaica to the 1st IIPT European Conference to be held October 21-25, 2008, in Leeuwarden, Netherlands. The Conference, which is in support of the UN Decade for Peace and Non-Violence for the Children of the World, is being organized in partnership with the UN World Tourism Organization (UN WTO) and United Nations Environment Program (UNEP), and hosted by Stenden University.

The delegation would include Diane McIntyre-Pike, President IIPT Caribbean Chapter; Gillian Rowlands, the new Vice President, IIPT Caribbean; Mark Pike, National Youth Ambassador at Large, Sharon Parris-Chambers, President, Editor-in-Chief, Positive Tourism News; Ministry of Tourism representatives and Community leaders.

Hon. Edmund Bartlett

Representatives of Glengoffe Community, St. Catherine - winners of the
National Best Community Competition together with IIPT President Louis
D'Amore, Diana McIntyre Pike, IIPT Caribbean President, and Gillian
Rowlands, newly installed IIPT Caribbean Vice-President.


IIPT President D'Amore proudly shows off his
" Spruce Up Jamaica" shirt together with
Sharon Paris Chambers, Positive Tourism,
and Prof. Raynald Brouard, George
Washington University.

The International Institute for Peace through Tourism will sponsor a booth at TheTradeShow in Orlando September 7-9. The recent partnership agreement between ASTA and IIPT was the catalyst for this participation, which will be IIPT's first time to exhibit at TheTradeShow.

IIPT will showcase a series of tours under the banner of "World Peace Tours", excursions especially crafted to reinforce IIPT's dedication to "making Travel and Tourism the world's first Global Peace Industry" and promote the belief "that every traveler is potentially an 'Ambassador for Peace'". Each of the tours will exemplify IIPT's vision, values, and philosophy as expressed in the 'IIPT Credo of the Peaceful Traveler.'

Lou D'Amore, the president of IIPT has asked Donald King, who serves as Ambassador at Large for IIPT, to provide leadership to the World Peace Tours initiative. King says, "Our first World Peace Tours—to Oman and to Bhutan--proved successful in achieving the goals of IIPT, and we think TheTradeShow will help us as we expand our tour offerings."

Seven tours for 2009 have currently been designated as "World Peace Tours":

• Jordan

• Bhutan

• Algeria/Tunisia

• South Africa

• Arabian Peninsula

• Central America

• Armenia

• Iran

Specific information about these itineraries will be available at TheTradeShow and also on the IIPT web site: www.iipt.org.
Travel agents will learn how they can market these tours to their clients. King says, "This will be an opportunity for agents to earn a commission and also help promote conscientious tourism. We would like to enlist travel agents' assistance as we continue efforts to make travel and tourism the world's first global peace industry."

Back to Top

---

---

Attention Members: International Institute for Peace Through Tourism has partnered with THETRADESHOW. Plan now to attend!


Education Geared for Your Travel Specialty


With 60+ educational offerings, THETRADESHOW is the place to increase your industry knowledge and expand your expertise. Equip your business with the right mix of education, hands-on training and networking to succeed, found only at THETRADESHOW.

Plug into today's hot topics with 3 full days of comprehensive education geared to empower all travel agents including:
- Home-based agent training
- Technology
- Green travel
- Cruise selling strategies
- Luxury packages
- Niche travel
- Destination certification

Form profitable alliances with hundreds of specialized suppliers during the trade show

Secure new sales outlets during one-on-one business appointments with important exhibitors

Register now for only $35
PLUS receive your first choice of complimentary tickets
to Orlando's best attractions.

www.THETRADESHOW.org or call 1.866.870.9333

---

---

IIPT Proud Partner in 4th African Diaspora Heritage Trail Conference: Catching the Fire


Dr. Ewart Brown
Bermuda Premier

Danny Glover
Conf. Co-Chair


Hon. David Allen, the late Minister
of Tourism, Bermuda

IIPT is again proud to be a partner in the 4th African Diaspora Heritage Trail International Conference: Catching the Fire being held in Bermuda from 26th to 30th July 2008 being hosted by Premier Dr. the Honorable Ewart F. Brown, JP, MP, and the Government of Bermuda.

The 2008 Conference will provide a continuing forum for the sharing of the vision, models, policy and resources that govern the development of the African Diaspora Heritage Trail - gathering diverse talented and experienced persons from throughout the African Diaspora who are committed to the authentic research, documentation, promotion and dynamic development of African Diaspora Heritage sites/venues, museums, monuments, and cultural expressions.

"Recapturing and revisioning the concept of a cross-border African Diaspora Heritage Trail, "CATCHING THE FIRE!" will translate the previous planning and valuable dialogue into solid structure by featuring the dynamic research of scholars, anthropologists, historical researchers, students, artists and other stakeholders as they uncover, recover, shape and ignite the Trail which retraces the footsteps of our ancestors."

It was at IIPT's First Global Summit on Peace through Tourism in Amman, Jordan, November 2000 that the late Hon. David H. Allen was inspired with the vision of "The African Diaspora Heritage Trail" (ADHT). Within six months, the ADHT was launched as a self-guided tour in Bermuda. It was subsequently presented in its full concept for the first time at the 1st IIPT African Conference on Peace through Tourism in Nelspruit, Mpumalanga Province, South Africa, March 2002.

In May 2002, Hon. David H. Allen's inspired idea took full flight with international support at the First African Diaspora Heritage Trail Conference in Bermuda. In Hon. David Allen's own words: "The aim of the African Diaspora Heritage Trail is to identify, conserve, and promote historic sites linked with the development and progress of people of African descent."

With the continued bold leadership of Bermuda Premier, Dr. Ewart F. Brown, the ADHT has since been developing a network of collaborators who identify, build, finance, promote and market memorable heritage destinations. ADHT destinations foster sustainable economic development, provide inspiring educational experiences, produce quality cultural heritage products that expose visitors to authentic African Diaspora history and culture, and motivate local populations to become active participants in the preservation and dissemination of their own history and culture.

The 4th ADHT Conference will identify specific heritage trails in selected countries and physically place them on an interactive "Trail Map", highlighting the connections between the developing components which make up an expanding trail of hope across borders of diverse nations.

Interactive conference offerings are designed to include the expertise of all participants, and convey the rich heritage and culture of the peoples of Africa and the African Diaspora as presented through their own artistic expressions, written and oral histories, institution-building and policy making. Conference attendees can expect to actively participate in educational and professional development sessions, share model heritage trail programs, enjoy networking on an international level, and receive unparalleled technical assistance for their heritage tourism programs.

---

---

IIPT Pleased to be Sponsor of
2008 Travelers' Philanthropy Conference

IIPT is most pleased and proud to be a sponsor of the 2008 Travelers' Philanthropy Conference being held in Arusha, Tanzania, December 3-5, 2008. The Conference is being organized by the Center on Ecotourism and Sustainable Development (CESD), a nonprofit research institution based in Washington D.C and at Stanford University.

The Tanzania conference builds upon the initial international Travelers' Philanthropy conference held at Stanford University in the USA in 2004. The three-day conference in Arusha will bring together 200-300 practitioners from socially responsible tourism businesses, experts in the field of sustainable tourism and philanthropy, community based organizations and global and regional NGOs doing development work, the United Nations and other development agencies, philanthropic foundations, government, and the media.

CESD aspires to promote and strengthen this emerging form of development assistance generated by travelers and the tourism industry by moving Travelers' Philanthropy from a mere set of ideals to applied best practices. The Travelers' Philanthropy Conference 2008 will provide a venue for collective learning and exchange among the group of global participants. It will facilitate discussion of the tools and capacity needed for effectively running and evaluating community projects.

More generally, the conference will build media and public interest in socially responsible travel and will include presentations on some of the leading Travelers' Philanthropy initiatives around the world. It will also offer a range of optional safaris before and after the event, hosted by leading East Africa tour operators that include visits to community and conservation projects.

For more information, please visit: : www.travelersphilanthropyconference.org

---

---

2nd World Peace Tour to Bhutan Announced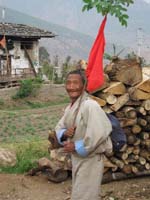 IIPT is most pleased to announce its second World Peace Tour to Bhutan in collaboration with and organized by Sacred Himalaya Travel. The tour comes at an auspicious time in Bhutan's history. Bhutan is a Kingdom where its peoples still wear centuries old robes, monks swirl in sacred dances and Kings dare to risk change in governance on the greater behalf of their people's happiness.
In March 2008, on the King's urging, the country held its first elections to cast ballots for National representatives. They ushered out the last century of wise monarchy with a new era of constitutional monarchy. A unique example in our modern world, Bhutan continues to balance material with spiritual development, Blessed with some of the world's highest and youngest mountains, glacial lakes, and an intricate network of deep forests rich with life, Bhutan protects the jewel of its lands as well as its peoples' traditional culture with their guiding principle of Gross National Happiness.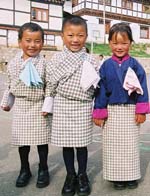 The focus for this second IIPT World Peace as a Tour of Kindness 2008 began when Sacred Himalaya Travel's Wendy Erd, met a primary school teacher last summer from Berkeley, California. She said that the addition of a young Tibetan student and his family to their school brought lovely changes to her classroom. At the end of the year the parents and young students said the new student and his family taught them so much about kindness and gentleness. Bhutan shares this same surround of kindness which emanates from its people and arises from their same gentle compassionate values.
On the 2nd IIPT World Peace Tour to Bhutan, with a small group, maximum 10 guests, we'll spend 13 days and 12 nights in Bhutan. A Tour of Kindness combines stays in lodges and an overnight in a traditional farmhouse with a local family, with a few nights tenting under a beautiful Himalayan sky brimming with stars. Focused in the Bumthang area, with its gentle wide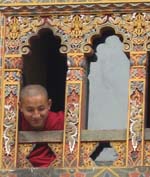 valleys and ancient spiritual sites, we'll take easy day hikes along a sparkling river and climb a gentle trail under tall pines to visit young nuns in a small nunnery.
Camp under stars for 2 nights nearby Tangbi village; join together with villagers as they celebrate sacred Tangbi Mani festival; share stories and songs with young students at a primary school in the high rural valley of Tang; meet with a Lama and listen to his insights and wisdom. Please click here for the full details of our tour. Keeping a flexible schedule, please join us to experience the gentleness and good humor of Bhutan's warm-hearted people and take time to receive and share kindness along the way.
---
---
---
Show Your Support with One Earth One Family
IIPT Plaques and Gift Cards
| | |
| --- | --- |
| Created exclusively for IIPT, both items display the IIPT Credo of the Peaceful Traveler and Art Piece by R. Padre Johnson. The Credo of the Peaceful Traveler puts forth an ethical travel philosophy for travelers to abide by. The IIPT Credo of the Peaceful Traveler was the inspiration of a very special person at the IIPT First Global Conference: Tourism - A Vital Force for Peace, Vancouver 1988. We have respected the author's request to remain annonymous. The IIPT Credo has since spread across the travel and tourism industry worldwide. | |

The One Earth One Family art piece

by R. Padre Johnson

provides a view of our incredible earth from outer space, surrounded by the open faces of 25 children and adults from different cultures. Each portrait represents an important visual statement about the unique and interesting facial difference in each individual, the culture and ethnicity each represents, and the limitless threads of common humanity that draws all citizens of our planet more closely together as one inter-dependent family.

These items will remind all who see or receive them of what a privilege it is to travel freely throughout the world and the opportunity they have as they travel to be ambassadors of international understanding, good will and peace. These items will be admired and appreciated by everyone who sees them in your office, place of business or home.

Costs are $200 (US) plus shipping for an Acrylic Plaque, and $15 (US) plus shipping for a Gift Card pack of 10 Cards and Envelopes. To order online or by fax/mail, please visit our website.
---
About IIPT
The International Institute for Peace through Tourism (IIPT) is a not for profit organization dedicated to fostering travel and tourism initiatives that contribute to international understanding and cooperation, an improved quality of environment, the preservation of heritage, and poverty reduction; and through these initiatives, helping to bring about a peaceful and sustainable world. It is founded on a vision of the world's largest industry, travel and tourism – becoming the world's first global peace industry; and the belief that every traveler is potentially an "Ambassador for Peace."

For more information:
IIPT Website: www.iipt.org
Tel: (802) 253-2658
Fax: (802) 253-2645
Email: info@iipt.org
Back to Top | Back to Newsletters