Workshops Set Stage for
IIPT Island Wide Cyprus Conference
A series of workshops conducted by IIPT April 6, 9 and 10 have set the stage for an IIPT Island Wide Conference to be held in Cyprus later this year. Tentative theme of the conference is:

The Cyprus Opportunity: Tourism, Culture, and Sport –
Pathway to Reconciliation and Sustainable Socio-Economic Development

The aim of the Conference will be to develop initiatives that harness tourism, culture, sport and collaboration in other areas such as the arts, environment, health, etc. in promoting bi-communal understanding and collaboration towards sustainable cultural and socio-economic development throughout Cyprus.

Participation by more than 40 NGO's
More than 40 prominent Greek Cypriot and Turkish Cypriot organizations participated in the workshops which were held at the Goethe Institute in the Cyprus Green Zone. Participants included representatives of the main travel and tourism industry associations of the Island – both Greek and Turkish Cypriot, and NGO's from the fields of health, education, environment, culture and the arts, sport, antiquities, finance, and other related fields.

Mr. Menelaos Kouzoupis, representing the Cyprus Veterans Association of WW II, provided an important historical perspective to frame the positive dialogue that took place during the three days of Workshops.

"Greek and Turkish Cypriots fought and died together in France, Egypt, Greece, Turkey and Cyprus during World War II. They fought together towards a common goal of freedom.

Some 2500 were taken prisoner together – many escaping together; and many more Greek and Turkish Cypriots were buried together in 56 cemeteries in 16 countries. War destroys everything - peace is what creates progress and brings benefits. So we must work for it – and towards acommon goal for a better life for all Cypriots."
Participants spoke of a "dream for a united Cyprus that will benefit both sides of this Island of love and beauty - to make a better world for us, for our children and for future generations." They spoke of a vision for a "a united strategy and policies for responsible and sustainable tourism as a whole that benefits all of Cyprus."
Also expressed was a personal dream that the "Famagusta ghost towns of Varosi/Maras can be given back to

the world as a global model of responsible tourism destinations."
Future Directions
Workshop participants were generally in agreement that there should be a reduced dependence on mass tourism and that other forms of tourism, particularly "Special Interest" tourism should be developed and promoted. There was also emphasis on "responsible tourism" and the importance of "thinking ecologically."

Famagusta Ghost Towns
"We need to look ahead to our future – towards a better Cyprus - towards a united Cyprus - Creating a future the way we would like it to be as Cypriots."

"We have a World Heritage – it belongs to the World"
There was also a general consensus that:

"Tourism can serve as an intersection for peace and a tool for sustainable economic development with responsible use of the environment."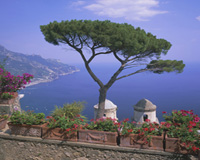 "There is a big opportunity for Cyprus as a whole, offering two different cultures and open to packages that promote Cyprus as one destination."
As well, domestic tourism was emphasized:

"Cypriots visiting both sides – Cultural Tourism for Cypriots. Particularly creating opportunities for young people to see their country."

And an idea to "Develop a virtual museum for all of Cyprus"
Collaboration Among CSO's Increasing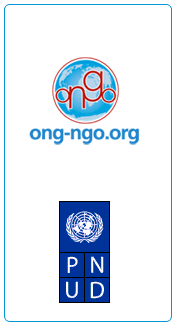 Cyprus is currently benefitting from an increase in collaboration among civil society organizations (CSO's) which number more than 400 including both Greek and Turkish Cypriot CSO's. Collaboration will be enhanced as a result of the recent Memorandum of Understanding (MOU) signed by the Cyprus NGO Network of Turkish Cypriot NGOs and the Cyprus NGDO Platform "The Development" made up of Greek Cypriot NGOs which has resulted in the formation of the Cyprus Island-wide NGO Development Platform (CYINDEP).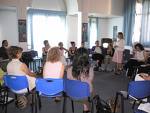 Current "Island-Wide" initiatives include the UNDP Engage Project that provides a small grant scheme for networks of Greek and Turkish Cypriot Organizations interested in carrying out bi-communal projects; a pioneering eco-village project at Buyuk Konuk/Fomikefir being implemented by The Management Centre of the Mediterranean; the restoration of traditional villages by The Laona Foundation; and the "Landscape Map Project" of Cyprus that provides a holistic landscape assessment of Cyprus.
Bi-Communal Workshop

| | |
| --- | --- |
| Laona Foundation Restoration Project | Cyprus Children in World Harmony Run |
As well, Peace Players International and Global Sports Partners are providing skill development in various sports, and through their various programs, teaching life skills to young people through sports together with team-building, and values of friendship – peace – and giving back to society. Terra Cypria is bringing young people together to talk about the environment research process; Girne University is educating tourism professionals to be "Ambassadors for Peace; and several island-wide projects are being implemented by the NGO Support Center.


'Skill Development and Learning Life Skills through Sport'
Sponsors Invited
IIPT is currently seeking sponsors interested in supporting the Island Wide Conference tentatively scheduled for mid-October, 2009. Private sector companies, donor agencies, foundations, and others interested in supporting this important initiative are invited to contact IIPT founder and president Louis D'Amore, Email: ljd@iipt.org; Tel: + 802 253.8671; fax: +802 253.2645.
---
---