IIPT Bids Farewell to Jim Power
Skål International Secretary General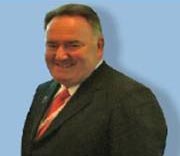 IIPT joins Skål International members throughout the world in bidding farewell to its beloved Secretary General, Jim Power. It was with profound sorrow that we learned of Jim's death this past Saturday, June 12. Jim was one of the industry's most respected and admired leaders – and a close friend to many.
Since being named its Secretary General in 1993, Jim devoted his life to Skål and through his consistent and inspired leadership, made Skål International one of the most prominent organizations in the industry. Jim contributed regularly to major industry events such as World Travel Market in London where he organized a Skål luncheon each year, and many of the Skål events that take place throughout the world in addition to the annual Skål World Congress.
"I first met Jim in Israel at Prime Minister Yitzhak Rabin's Conference on Tourism and Peace in 1995. Skål International President at the time, Uzi Yalon, Jim, and I had a memorable dinner together – and we have been friends ever since" said IIPT President Louis D'Amore. "Jim was always enthusiastically supportive of IIPT initiatives – and I was honored to be invited by Jim to speak at two of Skål's World Congresses – Malta in 2001 and more recently in Turkey. We were honored to have Skål International as one of the first founding partners of the IIPT Coalition of Partners for World Peace through Tourism."
"We extend our deepest sympathy to Jim's family and many friends; to the Executive and members of Skål International; and to the loyal staff at the Skål General Secretariat in Torremolinos, Spain."
Skål is a professional organization of tourism leaders with more than 20,000 members promoting global tourism and friendship through 480 Clubs in 89 nations. It is the only international group uniting all sectors of the travel and tourism industry.

---
---
The Gulf Experience - Emirates and Oman
A World Peace Tour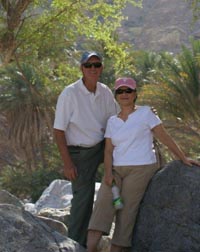 This is the essential Arabian Gulf experience…combining two of the most spectacular cities of the modern world—Dubai and Abu Dhabi—along with the mystical timelessness of Oman. The tour will be personally led by Donald King, Ambassador at Large for IIPT, and his wife Lynne, who have more than 10 years experience in the Arabian Gulf.

Experience the courtesy and hospitality that has been a tradition for centuries in a perfect winter climate as you visit the world's tallest building and tallest hotel, ancient castles and forts, and one of the world's largestMosques. Shop in luxury malls and traditional Arab souqs - and the pottery capital of Oman. Enjoy a dhow dinner cruise as you overlook the evening city scape of one of the world's most modern cities.
Donald & Lynne in a wadi in Oman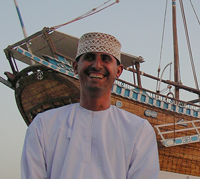 You will experience both the traditional and modern life of the Emirates and Oman as well as magnificent beaches, green turtles nesting, the deep gorges and crystal clear pools of Wadi Shaab and Wadi Bani Khalid - the lost Shangri-la; and the Wahiba Sands, a vast undulating sea of sands where you will be able to indulge in dune bashing, sand surfing or an optional camel ride. After a BBQ dinner, enjoy the night under the stars or in the huts at the desert camp.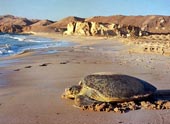 11 Days/9 nights
20 meals
$2580 per person double occupancy. $600 single supplement.
Airfare and insurance are not included
Departure: January 21, 2011.


For more information, and daily itinerary, please click here.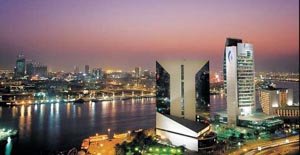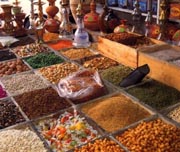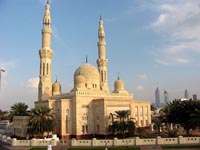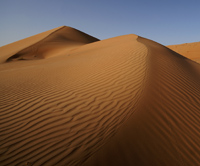 ---
Friends of Peace:
A World Peace Tour to The Himalayan
Kingdom of Bhutan
October 1 - 12, 2010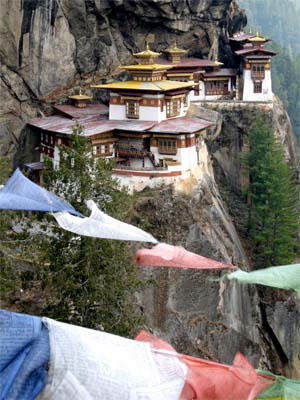 Bhutan, a Himalayan jewel, is tucked among some of the world's highest mountains. With a diverse, protected and astonishingly beautiful environment, its inner presence is built upon a remarkable model of kindness, compassion and peace. This tour offers a unique chance to experience the friendship and good humor of Bhutan's warm-hearted people and offer a lasting gift to the Bhutanese community
Please join IIPT, Sacred Himalaya Travel, and Voluntary Artists Studio Thimphu (VAST) for the 2nd IIPT World Peace Tour in Bhutan. At the heart of Friends of Peace is a special opportunity to spend 3 days with Bhutanese students from Thimphu's Voluntary Artists Studio and together renovate an ancient chorten (Buddhist Stupa) As we work we'll share stories, laughter and energy as we reconstruct this ancient sacred structure. Together we'll contribute a lasting gift for Bhutanese people in the spirit of peace.
When Bhutanese pass a chorten they circle it clockwise, in respect and with prayers. In Tibetan Buddhist belief , prayers that are thought, or voiced , wish for the happiness, benefit and peace of all sentient beings. So our project and the lasting gift of our collaborative energy will leave something permanent and special behind in Bhutan.. as it continues to send prayers for peace forever after beyond Bhutan's borders out into the world..
On our 12 day tour we'll also explore the mystery, beauty and culture of Bhutan, as we tour high passes, ancient fortress/Dzongs and come in touch with daily life. We hope that you'll carry this gentle kingdom in your heart and that it may bring peace to you and others on your return home.
For more information, costs and detailed itinerary please click here.
| | | |
| --- | --- | --- |
| VAST Students | Asha Kama, VAST Director | Tshetem Norbu, Wendy Erd, Sacred Himalaya Travel |
About Sacred Himalaya Travel
Sacred Himalaya Travel, locally owned and operated in Bhutan, SHT is one of Bhutan's registered Travel Operators and is a member of IIPT. We are a small team, dedicated to our work, with a deep appreciation and knowledge of our country, its cultural and spiritual heritage, traditions and natural beauty. We open our doors and hearts to receive our guests as family and friends

About Voluntary Artists Studio Thimphu (VAST )
VAST was set up in 1998 by a group of professional artists as a non profitable and non governmental organization. VAST organizes special Art Workshops, Camps, Talks, Exhibitions, Weekend Classes and Design and implement projects to promote culture, health, environment and extracurricular activities throughout the year to provide opportunities to school children to participate and develop their life skills, confidence, talents through interaction and participation of learning art in experiential ways.
---
Peace Caravan Partnership with IIPT Continues
Its an exciting time as Marla Mossman and her Peace Caravan project embarks on a forty day journey along the ancient Silk Road in China. Following the land routes taken by monks,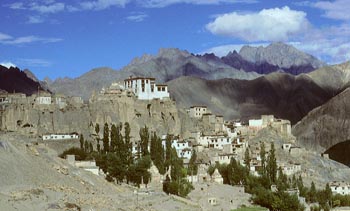 merchants and missionaries from the 2nd century when Buddhism and later Islam were first introduced to China. This continues her multi-year project to travel from Jerusalem, Israel to X'ian, China by car, foot, horse, mule and camel to document places of historical and religious significance along the early caravan trails. Marla's solo journey explores the Silk Road connections to Buddhism, Taoism, Judaism, Christianity, Hinduism, and Islam.
Lamayuru Monastery, Western Ladakh , India

Marla's itinerary begins in Beijing photographing the historical hutongs – Mongolian word meaning passageway. From there she travels to the ancient capital X'ian; through the Hexi Corridor to Jiayuguan to photograph the sun setting behind the western edge of the Great Wall. A one day drive further west she reaches the Mogao Caves, also known as the Caves of the Thousand Buddhas begun in 366 AD near Dunhuang, at the edge of the Gobi Desert. Then its on to the ancient town of Jiaohe, near Turphan which is believed to be one of the oldest, preserved earth-structured city in the world. From there Marla crosses the torrid Taklamakan Desert on camel before continuing to the carpet weaving centers of Hotan and Kashgar where the best silks have been woven into carpets for 2,000 years.
Along the way, Marla plans to meet with Community Officials with a view to dedicating IIPT Peace Parks at significant junctures along the ancient trade route. Thus, continuing an initiative that began in 2007 when Marla similarly partnered with IIPT, as an emissary for the IIPT International Peace Parks program, on her journey through the Middle East countries of Turkey, Syria, Jordan and Israel.

This is the fifth leg of the Peace Caravan. Previous journeys were to India, Turkey, Afghanistan and the Middle East countries of Syria, Jordan and Israel.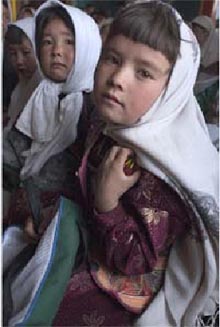 Today's precarious political situations exist in many of the Silk Road nations. There is an urgent need and awareness from people around the world for openness and cultural exchange to help gain the mutual respect and cooperation necessary for world peace. Marla is optimistic that by sharing photographs and stories from her travels that readers will find a new appreciation for the religious and cultural heritage of these nations and that a new way to peace will reveal itself.

Marla's photos capture the people going about their daily lives to remind us that even though we have differences, we share similar loves, fears, hopes and dreams. Her writings and photos capture the intimate moments she experiences with people along the way as she strives to inform and inspire others to achieve understanding and acceptance of the people living along the Silk Road.

In 2005, Marla was the first foreigner, and woman, to visit Waras; a remote part of Central Afghanistan. In an earlier trip to Northern India, Mossman hiked and backpacked to an altitude of 18,000 ft in the Himalayas, to obtain her photos.

To learn more about Marla Mossman and the Peace Caravan visit the website at www.peacecaravan.com. The Peace Caravan project is a sponsored project of the New York Foundation for the Arts (NYFA).

Father at the Caravanseri Harran, Southern Turkey, Donkey, Jark, Waras District, Afghanistan, Bedouin woman, desert near Palmyra, Syria
---

IIPT Again Proud Sponsor of THETRADESHOW
IIPT is proud to again be a sponsor of THETRADESHOW 2010 (Travel Retailing and Destination Expo) being held at the Orange County Convention Center, Orlando, Florida, September 12 - 14, 2010.

THETRADESHOW 2010 again provides a major opportunity for IIPT collaboration with ASTA and its partners in promoting travel throughout the world as a vital force for international understanding, peace, and sustainable development.

Clearly, the shared mission of IIPT in "Building a Culture of Peace through Tourism" has never been more important. It is only through travel and people-to-people encounters that we can come to realize the full significance of our inter-connectedness and common future in an ever shrinking "Global Village" – and as the world's largest industry, travel and tourism will play an essential role in the anticipated economic recovery.
For more information: http://www.thetradeshow.org/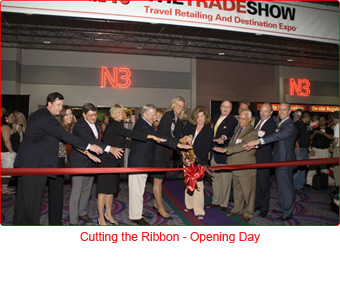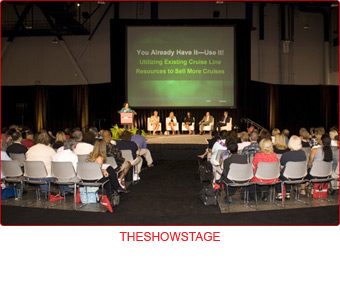 THETRADESHOW is a 3-day, in-depth networking and educational event. Global and inclusive uniting under one roof travel suppliers and buyers from all over the world, representing every segment of the travel and tourism industry.
The newest addition toTHETRADESHOW for 2010 is the e-Learning Center, providing you with the unlimited access to recordings of over 50 educational seminars and sessions taught in Orlando.
As a travel retailer, attending this travel show, gives you the best opportunity to assemble a diverse, dynamic group of travel suppliers and destinations that will give you new, profitable business options to have at your fingertips when the deal is on the line.
The 3-day travel show conference program is designed specifically for you. It offers comprehensive education and training to enrich your career and increase your sales. By attending THETRADESHOW, you will gain the essential knowledge and expertise to make your travel business more profitable.
Plus, you will love the variety of exhibitors!
With over 500 exhibiting travel companies and destinations, you will connect with the largest and most comprehensive collection of suppliers and destinations at THETRADESHOW. Visit the Interactive Exhibit Hall Floor Plan to plan your show route, look up exhibitors by name or keyword. Check back often, as exhibitors are added daily!
For more information: http://www.thetradeshow.org/

THETRADESHOW provides you a great opportunity where the return far exceeds the investment. If you want to make more money selling travel, you need to be at THETRADESHOW
Register NOW to attend the #1 travel show in North America.

About IIPT
The International Institute for Peace through Tourism (IIPT) is a not for profit organization dedicated to fostering travel and tourism initiatives that contribute to international understanding and cooperation, an improved quality of environment, the preservation of heritage, and poverty reduction; and through these initiatives, helping to bring about a peaceful and sustainable world. It is founded on a vision of the world's largest industry, travel and tourism – becoming the world's first global peace industry; and the belief that every traveler is potentially an "Ambassador for Peace."
For more information:
IIPT Website: www.iipt.org
Tel: (802) 253-2658
Fax: (802) 253-2645
Email: info@iipt.org
eTurboNews is proud to be the sponsor for this IIPT Newsletter
Advertising Submit Articles Circulation Contact Partners Team