Former Beauty Queen to Organize
IIPT Tanzania Chapter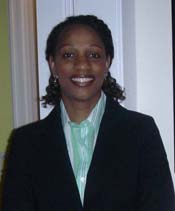 Edi Kalikawe, "Miss Temeke" 1999, will be organizing an IIPT Tanzania Chapter in East Africa. Edi has a relentless desire to bring about a peaceful and sustainable world in her native country of Tanzania by helping to fight leprosy (Hansen's disease) and its devastating effects on families. Edi is currently working as a Certified Senior Accountant in a large New York City accounting firm.
In 1999, after receiving an MBA from Dowling College, Edi returned home seeking to make a difference. Competing on a theme of "Beauty with a Purpose" she entered, and won the Dar es Salaam (Tanzania) beauty pageant being crowned "Miss Temeke." Continuing with her theme of "Beauty with a Purpose," Edi took the country by storm and true to her theme, began working with children in a leper colony—work she continues to this day.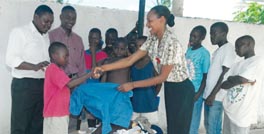 For the past 10 years, Edi has helped to provide food, clothing, and support to children of the Tanzania leper colony to the extent that four of the children she has helped have gone on to college. Through her "House of Grace" 501(C) charitable organization, Edi is committed to building a center that will feed at least 500 children a week and provide after school programs for children of the colony.
The IIPT Tanzania Chapter is being formed with a view to supporting Edi's dream of "Peace through Tourism" in Tanzania and the mission of "House of Grace." More information on Edi's work may be found at www.leprosycare.org. Your contributions to support Edi's work with lepers can be sent directly to Edi, email: edi@leprosycare.org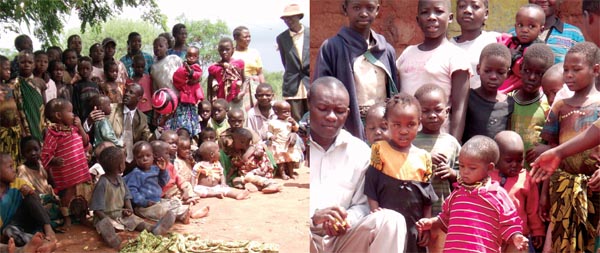 House of Grace Leprosy Care Center is a non-denominational organization with a goal of assisting in
the eradication of Hansen's disease (leprosy) and providing succor to the families of people afflicted
with the disease in Tanzania, Africa. We are committed to building a bridge between the people
afflicted with Hansen's disease and those who can offer physical, spiritual, and emotional support.
---
---
Friends of Peace:
A World Peace Tour to The Himalayan
Kingdom of Bhutan
October 1 - 12, 2010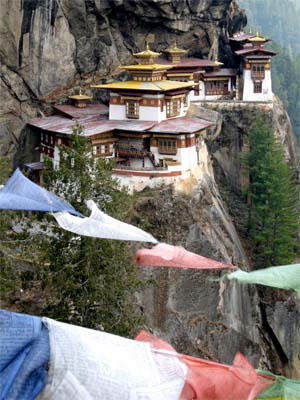 Bhutan, a Himalayan jewel, is tucked among some of the world's highest mountains. With a diverse, protected and astonishingly beautiful environment, its inner presence is built upon a remarkable model of kindness, compassion and peace. This tour offers a unique chance to experience the friendship and good humor of Bhutan's warm-hearted people and offer a lasting gift to the Bhutanese community
Please join IIPT, Sacred Himalaya Travel, and Voluntary Artists Studio Thimphu (VAST) for the 2nd IIPT World Peace Tour in Bhutan. At the heart of Friends of Peace is a special opportunity to spend 3 days with Bhutanese students from Thimphu's Voluntary Artists Studio and together renovate an ancient chorten (Buddhist Stupa) As we work we'll share stories, laughter and energy as we reconstruct this ancient sacred structure. Together we'll contribute a lasting gift for Bhutanese people in the spirit of peace.
When Bhutanese pass a chorten they circle it clockwise, in respect and with prayers. In Tibetan Buddhist belief , prayers that are thought, or voiced , wish for the happiness, benefit and peace of all sentient beings. So our project and the lasting gift of our collaborative energy will leave something permanent and special behind in Bhutan.. as it continues to send prayers for peace forever after beyond Bhutan's borders out into the world..
On our 12 day tour we'll also explore the mystery, beauty and culture of Bhutan, as we tour high passes, ancient fortress/Dzongs and come in touch with daily life. We hope that you'll carry this gentle kingdom in your heart and that it may bring peace to you and others on your return home.
For more information, costs and detailed itinerary please click here.
| | | |
| --- | --- | --- |
| VAST Students | Asha Kama, VAST Director | Tshetem Norbu, Wendy Erd, Sacred Himalaya Travel |
About Sacred Himalaya Travel
Sacred Himalaya Travel, locally owned and operated in Bhutan, SHT is one of Bhutan's registered Travel Operators and is a member of IIPT. We are a small team, dedicated to our work, with a deep appreciation and knowledge of our country, its cultural and spiritual heritage, traditions and natural beauty. We open our doors and hearts to receive our guests as family and friends

About Voluntary Artists Studio Thimphu (VAST )
VAST was set up in 1998 by a group of professional artists as a non profitable and non governmental organization. VAST organizes special Art Workshops, Camps, Talks, Exhibitions, Weekend Classes and Design and implement projects to promote culture, health, environment and extracurricular activities throughout the year to provide opportunities to school children to participate and develop their life skills, confidence, talents through interaction and participation of learning art in experiential ways.


---
IIPT Proud to Collaborate in Peace through Tourism in Historically Changed Cross-borders
A Policy Workshop regarding the shared borders of East and Northeast India with neighbouring countries of Myanmar, Bangladesh, Bhutan, Nepal and Tibet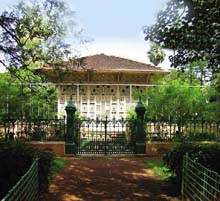 Key policy makers, leading scholars, and industry leaders will come together on 29 and 30 March to explore opportunities and strategies for an "Opening of Borders" between East and Northeast regions of India and neighbouring countries in a manner that will bring about economic revitalization, cultural exchange and interaction, preservation of the rich biodiversity - and a lasting peace as a legacy for future generations.

The Policy Workshop, to be held at Shantiniketan. Bolpur. West Bengal. India, is being organized by theDepartment of History, Visva Bharati University, in collaboration with ICRT-India, IIPT, ACT & Initiated by Help Tourism.

These regions once had the benefits of several trade routes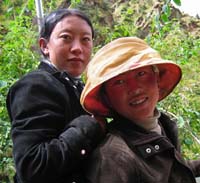 connected to the historical Silk route which enabled cross border trade, cultural interaction, and 'people to people relations' - all contributing to bring peace in these regions. Today, the trade routes have been closed despite the existing land connectivity that exists. This in turn has been a major reason for poverty and sources of tension between the different countries of the bordering areas. Closed borders have also intensified pressure on the rich natural resources and biodiversity of the area – the last frontiers of the sub-continents biodiversity.
Workshop participants will discuss the opening of these borders for the purposes of tourism, economic re-vitalization, cultural exchange, preservation of the rich biodiversity, and the establishment of peace. The possibility of establishing Cross border Peace Parks will also be discussed.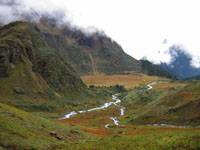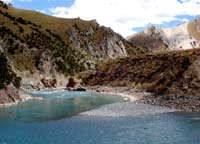 ---
World's Leading Travel Organizations Join IIPT and eTurboNews in Support of
Olympic Truce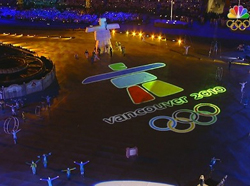 Several of the world's leading travel organizations joined IIPT and eTurbo News this past month, together with the International Olympic Committee (IOC) and the United Nations in a call for a cessation of conflict and all acts of violence in an observance of the Olympic Truce during the Vancouver Winter Olympics February 12 – 28.
Since its revival in 1992, the Olympic Truce has provided a valuable window of opportunity to work towards the peaceful resolution of conflict. The Olympic Truce once again called upon humanity to lay down its weapons and to work towards building the foundations of peace, mutual respect, understanding and reconciliation.

"Tourism and sport are two connected global phenomena capturing the imagination of the modern world. They also share the responsibility of representing the positive aspects of globalization through their common objectives - closer cultural understanding, peace between nations and sustainable development. Sports have become an important driver of today's tourism growth. UNWTO is therefore committed to assist its members in building up critical complementary elements for the success of sporting events, ranging from image building and promotion to human resources development to seize the tourism opportunities of major sporting events.

Dr Taleb Rifai
Secretary General, UN World Tourism Organization


"As so vividly shown in Haiti, mankind has no control over Nature's awesome and devastating power. But we can bring an end to wars, conflict, and acts of violence that bring about the unnecessary loss of human life" said Tom Nutley, Managing Director of The Travel Club in London and former Chairman of Reed Travel Exhibitions. "International travel and tourism is unique insofar as it brings people together from every corner of the globe andtogether we must cry out for 'world peace'. The Directors and I at The Travel Club are proud to support the IIPT, UN and IOC's call for the Olympic Truce during the Vancouver 2010 Winter Olympics. It is a time to enjoy the Games but also one to lay down arms and rebuild the foundations of peace, mutual respect, understanding and reconciliation."
Tom Nutley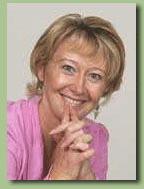 "The essence of the travel & tourism industry is about cross border communication, understandingand cooperation. The essence of life is clean, safe water and without both of these there is conflict, violence and war tearing countries and communities apart leaving behind thousands unnecessarily dead and even more disabled" said Fiona Jeffery, Chairman of World Travel and Founder and Chairman of Just a Drop and Market." We are proud to support IIPT and their call for an Olympic Truce has our total backing."


Fiona Jeffrey

"PATA would be delighted to support the Olympic Truce movement."

Gregory Duffell
Chief Executive Officer
Pacific Asia Travel Association (PATA)
Gregory Duffell
| | | | |
| --- | --- | --- | --- |
| | | | |
| | | | |
| | | | |
| | | | |
Liz Smith
Chairman
Lizid Travel (Australia)

Elizabeth Hansen
Travel Writer/Photographer
La Jolla, CA

Stephen Schwer
AUSTRALIA

Dr. Pranil Upadhayaya
Kathmandu University
Kathmandu, Nepal

Paul A. Hoskins
President
Skal International - Luton
Board Member - PATA UK CHAPTER
Managing Director, FULCRUM Travel & Tourism

Susan Sheats
World Exposures

Jaqui Preketes
Managing Director
Touchdown Tours & Vice President IIPT (Australia)
---
About IIPT
The International Institute for Peace through Tourism (IIPT) is a not for profit organization dedicated to fostering travel and tourism initiatives that contribute to international understanding and cooperation, an improved quality of environment, the preservation of heritage, and poverty reduction; and through these initiatives, helping to bring about a peaceful and sustainable world. It is founded on a vision of the world's largest industry, travel and tourism – becoming the world's first global peace industry; and the belief that every traveler is potentially an "Ambassador for Peace."
For more information:
IIPT Website: www.iipt.org
Tel: (802) 253-2658
Fax: (802) 253-2645
Email: info@iipt.org