World Peace Tours:
An Unforgettable Journey to Tanzania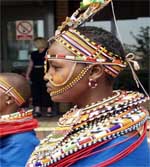 For many visitors, a safari to Africa is the trip of a lifetime but as with anything truly special it hinges on the connection you make, and with the people of Tanzania; that connection will remain in your memory forever. Their hospitality is bountiful and based on the concept that to experience peace you must extend peace to others. A thought that is evident as you travel throughout the countryside and further reinforced by the children's smile.

Tanzanian Indigenous people - Maasai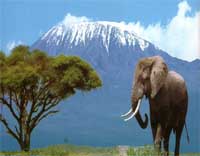 The safari (journey) takes on several forms and most importantly satisfies our inner desire to always learn, as you are sure to always pick up something new; whether it is from learning the traditions of the Maasai, admiring the earthly creatures that coat the vast plains, witnessing the intimate interaction between predator and prey, visiting a local clinic, or even just laying on the white sandy beaches of Zanzibar.

Mount Kilimanjaro, Tanzania
It has been classified as an experience, memory, a story, but we at Asante Safaris have accepted that is the beginning of a love affair with something truly exotic and fulfilling. The tour will personally be handled by Renny Hunt, a native of Tanzania who is the co-founder of Asante Safaris. She diligently worked with the Tanzania National Parks for over 15 years before sharing her passion for Tanzania with the enthusiastic audience of the USA.
You will discover why this is truly every traveler's paradise. With a huge and most importantly diverse country, both in attractions and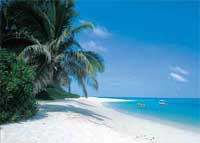 culture, Tanzania offers travelers everything from wildlife parks to challenging isolated mountain ranges, and picturesque villages to small Bomas filled with friendly and curious people. In only a short space of time you can easily find yourself scaling the highest mountain in Africa, followed by an engaging safari on the sun coated plains of the Serengeti; home to some of the largest concentrations of animals anywhere on the planet!

Tanzanian Coastline

At this point there is not too much more we can tell you other than you must experience all of the country's beauty for yourself. And as you keenly countdown the days till you board your flight from your gateway city to Tanzania, enjoy these pictures because they are just but a minute piece of the beauty you are about to see!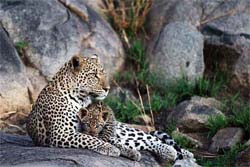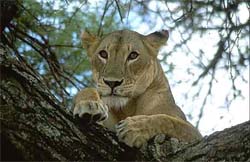 Photos (left) - Leopard @ Serengeti National Park, Tanzania (right) - Lion @ Lake Manyara National Park, Tanzania
For 10 days/11 nights
$3687 pp sharing double occupancy & $500 single supplement.
Departure: November, 28th 2010
Contact us at: info@asantesafaris.com or call 914.636.6017
For more information and daily itinerary, please (click here).

**Same trip is also offered on the following dates: May 21st – June 1st, 2011**
---
---
World Peace Tours:
Engage In the Ultimate African challenge For a Great Cause:
Mount Kilimanjaro 2011
The most important trip you may take in life is meeting people halfway
~Henry Boye

With this grueling challenge not only are your efforts rewarded through the success of reaching the peak of the world's tallest freestanding mountain, but your energy and dedication also helps the students of a local school situated in Tanzania's Pare Mountains. The climb is a wonderful feat to check off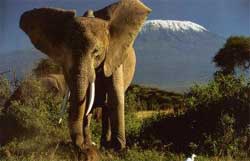 the list of lifetime goals, but more importantly the aid the students receive provides them the true chance to change their entire lives. Funds raised will go directly to providing some of the most basic educational resources, specifically building and establishing a working library, provision of adequate teaching quarters, as well as providing much needed and updated teaching materials (computers, books, and other supplies).

Mt. Kilimanjaro, Tanzania

The summit to the top of Mount Kilimanjaro will take 7 days while the descent only one. Climbers will follow the Marangu Route, one of Mount Kilimanjaro's most exciting and scenic routes. The ascent will be supported by certified porters. Following the descent from the mountain, climbers that choose to extend their journey of discovery will embark on a 6-day safari to the Tarangire, Ngorongoro, and Serengeti National Parks in Tanzania with an extension offered to Zanzibar.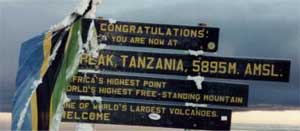 Climbing Mt. Kilimanjaro
Mt. Kilimanjaro is no easy feat and requires tip top physical and mental preparation. Not only is this the highest peak on the African continent, it is also the tallest free-standing mountain in the world, rising from the surrounding coastal scrubland – elevation of around 900 meters – to a daunting 5,895 meters (19,340ft).

When to climb Kilimanjaro
While it is possible to climb all year around, it is best to avoid the rainy season during the months of April to late May. December – February, offers the clearest and warmest conditions while July and September can be very cold at night, the sky is completely clear above 3000mt.

We are looking for physically fit individuals to join us in this endeavor of helping a high school help itself, because by doing so we are extending the students the ample opportunity to become future leaders of the world.
Click here for more information on the Kilimanjaro Trekking
Contact us at info@asantesafaris.com or call 914.636.6017 to learn more about this great opportunity
Trip start dates: Travel in January 6th & July 14th 2011
A Window Open on the History of
Mediterranean Civilisations

WORLD PEACE TOUR IN MOROCCO
Come to feel the real taste of the perfect synthesis between art, nature, history and humanity
From the past…..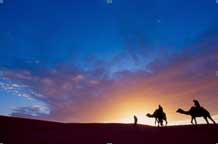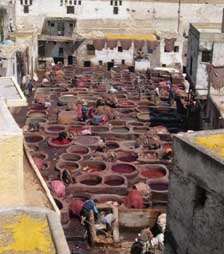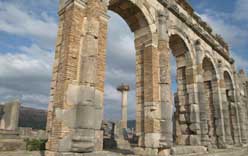 A traditional sunset in the deep Sahara - the traditional skin painting in Fez - the ruins of the Roman town of Volubilis
To the Third Millenium

MOROCCO
A Mediterranean country that also borders the Atlantic, the Kingdom of Morocco is the most western country in North Africa, with a western coastline along the Atlantic Ocean that turns at the Straits of Gibraltar and continues along the Mediterranean Sea. Its eastern border is with Algeria and a relatively narrow body of water separates it from Spain to the north.
An authentic and enriching experience of the strong sense of culture and history of Morocco encompassing its ancient Roman civilization, Imperial towns of the Middle Ages, and ancient villages far from the tourist roads with opportunities to interact with the local population.
The tour includes all the must see's of Morocco including Casablanca; Rabat - the Middle Age Imperial Town and capital of Morocco; the Spanish enclave of Ceuta, Arab-Andalouse town of Tetouan, and the beautiful mountain town of Chaouen; the Imperial cities of Fez and Meknes; the Roman ruins at Volubilis; and the cosmopolitan city of Marrakech. Sight-see and explore palaces, monuments, museums and the Hassan II Mosque. Enjoy leisurely shopping in Morocco's famous souks.
Optional Excursions
Canary Islands
Deep Sahara
For more information, costs and detailed itinerary please click here.
The Gulf Experience - Emirates and Oman
A World Peace Tour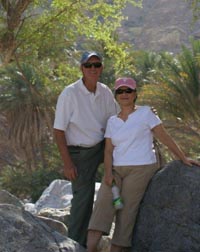 This is the essential Arabian Gulf experience combining two of the most spectacular cities of the modern world — Dubai and Abu Dhabi — along with the mystical timelessness of Oman. The tour will be personally led by Donald King, Ambassador at Large for IIPT, and his wife Lynne, who have more than 10 years experience in the Arabian Gulf.

Experience the courtesy and hospitality that has been a tradition for centuries in a perfect winter climate as you visit the world's tallest building and tallest hotel, ancient castles and forts, and one of the world's largest Mosques. Shop in luxury malls and traditional Arab souqs - and the pottery capital of Oman. Enjoy a dhow dinner cruise as you overlook the evening city scape of one of the world's most modern cities.
Donald & Lynne in a wadi in Oman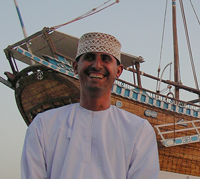 You will experience both the traditional and modern life of the Emirates and Oman as well as magnificent beaches, green turtles nesting, the deep gorges and crystal clear pools of Wadi Shaab and Wadi Bani Khalid - the lost Shangri-la; and the Wahiba Sands, a vast undulating sea of sands where you will be able to indulge in dune bashing, sand surfing or an optional camel ride. After a BBQ dinner, enjoy the night under the stars or in the huts at the desert camp.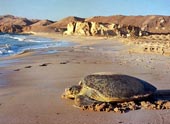 11 Days/9 nights
20 meals
$2580 per person double occupancy. $600 single supplement.
Airfare and insurance are not included
Departure: January 21, 2011.


For more information, and daily itinerary, please click here.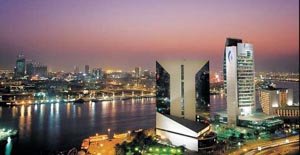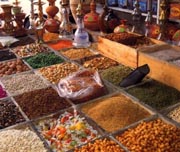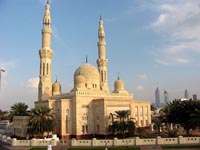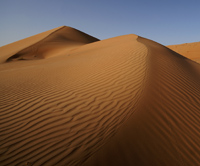 ---
Friends of Peace:
A World Peace Tour and Festival in
The Himalayan Kingdom of Bhutan
February 6-17, 2011

Bhutan, a Himalayan jewel, is tucked among some of the world's highest mountains. With a diverse, protected and astonishingly beautiful environment, the last surviving Kingdom of Mahayana Buddhists, life revolves around the daily practice of kindness, compassion and peace.
Please join Sacred Himalaya Travel, and Voluntary Artists Studio Thimphu (VAST) for the 2nd IIPT World Peace Tour in Bhutan. At the heart of The World Peace Tour is an opportunity to spend time with Bhutanese students from Thimphu's Voluntary Artists Studio and together renovate an ancient chorten (Buddhist Stupa) Roll up your sleeves and go to work to share stories, laughter and energy as we reconstruct an ancient sacred structure. Together we'll contribute a lasting gift for Bhutanese people in the spirit of peace.
Over our 12 day tour we'll visit Punakha's colorful Dromche festival. A highlight will be the dance of the Pazaps and an offering to the spirits of the river. The next day, join with many local villagers dressed in their finest clothes to attend PunakhaTsechu, a religious ceremony that's performed to seek the protection and happiness of the villagers and all sentient beings. Masked monks dance ancient sacred dances. Experience the mystery , beauty and culture of Bhutan, as we tour high passes, ancient fortress/Dzongs and come in touch with daily life. We hope that you'll carry this gentle kingdom in your heart and that it may bring peace to you and others on your return home.
For more information, costs and detailed itinerary please click here.
| | | |
| --- | --- | --- |
| VAST Students | Asha Kama, VAST Director | Tshetem Norbu, Wendy Erd, Sacred Himalaya Travel |
About Sacred Himalaya Travel
Sacred Himalaya Travel, locally owned and operated in Bhutan, SHT is one of Bhutan's registered Travel Operators and is a member of IIPT. We are a small team, dedicated to our work, with a deep appreciation and knowledge of our country, its cultural and spiritual heritage, traditions and natural beauty. We open our doors and hearts to receive our guests as family and friends

About Voluntary Artists Studio Thimphu (VAST )
VAST was set up in 1998 by a group of professional artists as a non profitable and non governmental organization. VAST organizes special Art Workshops, Camps, Talks, Exhibitions, Weekend Classes and Design and implement projects to promote culture, health, environment and extracurricular activities throughout the year to provide opportunities to school children to participate and develop their life skills, confidence, talents through interaction and participation of learning art in experiential ways.
---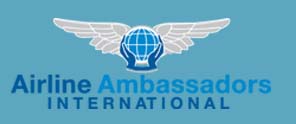 IIPT Proud to Support



Cruise for a Cause!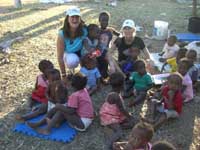 Join us for an Eastern Caribbean Cruise through Airline Ambassadors and Cruise4Haiti this holiday season.

As an NGO-partner in Haiti and in conjunction with Cruise4Haiti, we have been offered several cabins for our members on an exceptional Royal Caribbean International cruise at a highly reduced rate! Due to the limited number of cabins, we know they will fill quickly - so we urge you to book now! Through to our partnership with Cruise4Haiti, we are able to offer cabins at a savings of $240 compared to the price offered directly by the cruise line, while also making a direct donation to Haiti relief through AAI.

Our ship, the Liberty of the Seas, departs Miami on November 14, 2010 on this 7-night cruise.
Over the course of our trip, the ship will dock in Philipsburg, St Maarten, San Juan, Puerto Rico and Labadee, Haiti. On our first two days at sea, our group will help make presents and cards and assemble packages for children in Haiti and Puerto Rico. In San Juan, group members will have the opportunity to participate in a special event for disadvantaged children, delivering supplies, gifts and holiday cheer. In Labadee, Haiti participants will join
For Haiti with Love, a fellow NGO, in bringing food and medical goods for those in need as well as Christmas gifts for orphaned children affected by the earthquake. In addition, our group will also enjoy a festive barbecue on the beach. Royal Caribbean has offered to transport pallets of aid to Haiti, which volunteers will help send off from the Labadee site. This is sure to be one of the most unique and memorable ways to truly give back this holiday season. We encourage individuals, families and couples to join us on this great adventure at sea!

For more information please click here

---
IIPT AGAIN PROUD PARTNER IN
6TH INTERNATIONAL AFRICAN DIASPORA HERITAGE TRAIL CONFERENCE 2010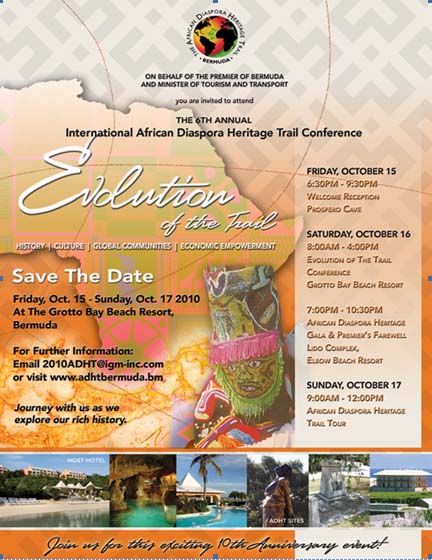 ---
About IIPT
The International Institute for Peace through Tourism (IIPT) is a not for profit organization dedicated to fostering travel and tourism initiatives that contribute to international understanding and cooperation, an improved quality of environment, the preservation of heritage, and poverty reduction; and through these initiatives, helping to bring about a peaceful and sustainable world. It is founded on a vision of the world's largest industry, travel and tourism – becoming the world's first global peace industry; and the belief that every traveler is potentially an "Ambassador for Peace."
For more information:
IIPT Website: www.iipt.org
Tel: (802) 253-2658
Fax: (802) 253-2645
Email: info@iipt.org
eTurboNews is proud to be the sponsor for this IIPT Newsletter
Advertising Submit Articles Circulation Contact Partners Team