Universities from Regions throughout the World are Founding Members of IIPT Consortium of Collaborating Universities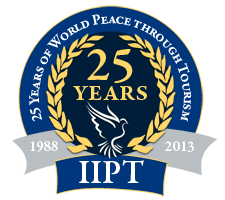 The International Institute for Peace through Tourism has received an enthusiastic response to its newly formed IIPT Consortium of Collaborating Universities (IIPT – CCU). More than twenty universities have responded from regions throughout the world including Africa, Asia, North America, Europe, Australia, the Caribbean and South Pacific to become founding members of the consortium.
The newly formed IIPT Consortium of Collaborating Universities (IIPT – CCU) is housed at Livingstone International University of Tourism Excellence and Business Management (LIUTEBM) in Lusaka, Zambia.


Participating universities have agreed to collaborate in providing third and fourth year university students the opportunity to research and write essays on the various dimensions of "Peace through Tourism" with a selection of the best essays being published by LIUTEBM. The publication will be made available to participants at the UNWTO 2013 General Assembly being hosted by Zambia and Zimbabwe at Victoria Falls in August 2013.
Founding universities include: 
| | |
| --- | --- |
| University of Arizona, U.S.A.      | Nelson Mandela University, S. Africa |
| Bahamas Vantage College, Bahamas | Odessa State Economics University, Ukraine |
| Center for Peace Research and Peace Education, Austria | New York University (NYU), U.S.A. |
| Comilla University, Bangladesh | Payap University, Thailand |
| CQUniversity-Australia, Australia  | Purdue University, U.S.A. |
| University of Dhaka, Bangladesh | The University of the South Pacific |
| Humboldt State University, U.S.A. | Stenden University, Netherlands |
| George Washington University, U.S.A. | University of Western Sydney, Australia |
| Makerere University, Uganda | University of Zululand, South Africa |
Commemoration of IIPT 25th Anniversary Year
The IIPT – CCU is the first of IIPT's Legacy Projects commemorating the 25th anniversary year of its First Global Conference: Tourism – A Vial Force for Peace (Vancouver 1988). Some 800 persons from 67 countries participated in the conference that featured video-taped messages from Pope John Paul II and President Ronald Reagan in the Opening Ceremony and Honorary Chairman of the Conference H.E. Vigdis Finnbogadottir, President of Iceland – the first elected woman Head of State in the world.

Pope John Paul II


President Ronald Reagan


Vigdis Finnbogadottir,
President of Iceland
The First IIPT Global Conference 1988 first introduced the concept of Sustainable Tourism Development. It also introduced a paradigm of "Tourism for a Higher Purpose" – tourism that contributes to:
- Promoting international understanding among peoples and cultures
- Collaboration among nations;
- Protecting the environment and preserving biodiversity;
- Enhancing cultures and valuing heritage;
- Sustainable development;
- Poverty reduction; and
- Healing wounds of conflict and reconciliation through tourism, culture and Sport.
In commemorating its 25th anniversary year, IIPT is launching a series of "Legacy Projects" the first of which is the IIPT Consortium of Collaborating Universities.
As several of IIPT's conferences and summits – and two of its conference Declarations – the "Amman Declaration on Peace through Tourism" (an official document of the U.N.), and the "Lusaka Declaration on Tourism and Climate Change" resulting from the 2011 IIPT Lusaka Conference on Tourism and Climate Change, have emphasized the importance of drawing on the "ancient wisdom, knowledge and values of Indigenous Peoples," the area of research in the first year will be: "Methods of conflict resolution and reconciliation in the ancient traditions of Indigenous Peoples."
Student essays will also suggest how these methods might be applied in current conflict situations and the role that tourism, culture and sport can play in contributing to the enhancement of these methods.
Third and fourth year students at participating universities are being  invited to submit a paper not to exceed 2500 words. A selection of the best papers will be published by LIUTEBM with students and their professors being identified as the authors.
Beginning next year, participating universities will be able to suggest topics for research based on the overall theme of 'Peace through Tourism' including the role of tourism in the seven areas indicated in the above "Tourism for a Higher Purpose" paradigm.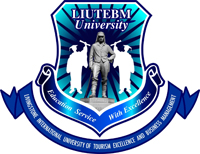 Invitation to Universities
Other universities interested in becoming Founding Members of the IIPT – CCU are invited to contact: Louis D'Amore, Email: ljd@iipt.org, with a copy to Kristen@iipt.org.