IIPT Member Kebby Kambule Honored for
Planting 9 Million Trees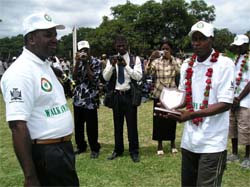 Mr. Kebby Kambule has been officially honored by Zambia President His Excellency Mr. Michael Chilufya Sata during the National Tree Planting Launch for his contribution to nature and environment conservation and planting more than nine million trees throughout Zambia. Kebby has been an environmentalist since 1994 dedicated to educating and mobilizing the young people of Zambia as stewards of the environment and tree planting as a symbol of peace.
Kebby receiving trophy for contribution to environmental awareness and education from Lusaka Provincial Minister Mr. Patrick Ngoma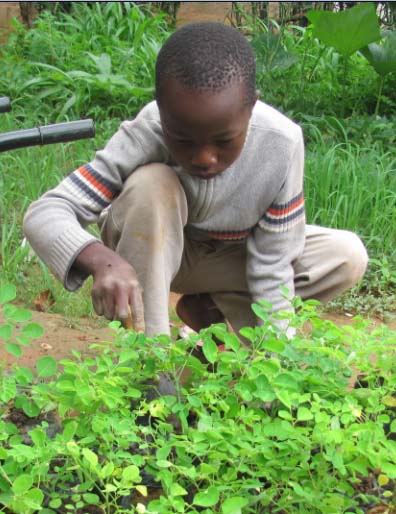 In 1995 Kebby worked as an assistant in the education office at the Wildlife Conservation Society of Zambia caring for white rhinos following which he became the District Officer for Livingstone Wildlife Conservation. He did further training in 1997 in land use management at the Natural Resource Development College in Lusaka. He has since dedicated himself to environmental conservation, tree planting and the conduct of field education for schools throughout Zambia.
In 2005, Kebby walked the 600 km from his home in Livingstone to the capital city of Lusaka creating both environmental and HIV/AIDS awareness and planting more than 4,500 trees enroute. While on his journey, educational sessions were provided to villagers and children as he encouraged them to plant trees in de-forested areas.
Photo above (right): Boy planting trees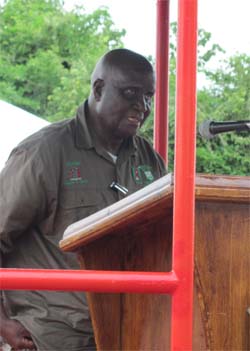 Dr Kenneth Kaunda, the legendary first President of Zambia, was the first source of Kebby's inspiration as a youth by encouraging tree planting nationally. In 2006, Dr. Kaunda, acknowledged and blessed Kebby's work, further inspiring him in his commitment to the environment, tree planting, youth education and peace.
Kebby's tree planting programs in schools, public places, markets and churches have  served to raise environmental awareness and appreciation of nature across Zambia. Woodlots planted by school children are now serving as open air class rooms and play areas; market places are provided with shade and a cool environment during hot summer days; re-forested areas are providing a platform for bee-keeping, mushroom planting, and other forest products; villagers have developed their own wood lots for fruit trees and firewood; local management groups have been formed and illegal charcoal burning has deceased; areas have been set aside for medicinal plants; and rural farmers have embraced water conservation practices.
Photo above (left): Zambia's first president, Dr. Kenneth Kaunda honors Kebby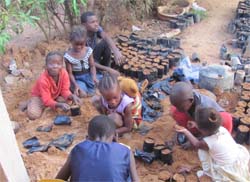 Kebby is currently working to raise 50,000 seedlings to plant in deforested areas, communities and schools. He is also seeking to promote urban agriculture as a means of community development to both create jobs and to provide food for the urban poor while serving as a means of creating community cohesion.
Kebby would welcome your enquiries for further information at; Email: kkambulwe@yahoo.com
Photo above: Children planting trees