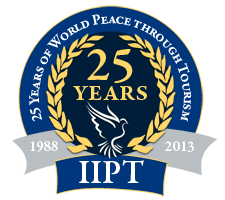 IIPT Commemorates 25th
Anniversary at ITB
In Support of World War I Centenary – "No More War"

The International Institute for Peace through Tourism (IIPT) proudly commemorated the 25th anniversary of its First Global Conference: Tourism – A Vital Force for Peace at this year's ITB. The IIPT 25th anniversary event was in support of the "World War I Centenary" with its theme of "No More War".                           
Featured speakers included: Zoltan Somogyi, Executive Director, Programme & Coordination, World Tourism Organization (UNWTO); Thomas Steinmetz, Chairman, International Coalition of Tourism Partners (ICTP), and Publisher, eTurbo News;  Elke Dens, Marketing Director, Visit Flanders; Ivy Chee, Regional Director, East Asia, Pacific Asia Travel Association (PATA); Nigel Pilkington, Director, Public Relations & Communications, Skal International; Cordula Wohlmuther, UNWTO and Peace Centre at the University in Klagenfurt, Austria; and Mr. Sushil Ghimire, Secretary, Ministry of Culture, Tourism & Civil Aviation, Nepal and Chairman, Nepal Tourism Board. The event was moderated by Sandy Dhuyvetter, Executive Producer and Host, TravelTalkRADIO, BusinessTravelRADIO and TravelTalkTELEVISION.
Speakers shared their perspectives on "Building a Culture of Peace through Tourism."
| | | | | |
| --- | --- | --- | --- | --- |
| Zolton Somogyi | Thomas Steinmetz | Elke Dens | Ivy Chee | |
| Nigel Pilkington | Sushil Ghimire | Cordula Wohlmuther | Sandy Dhuyvetter | |
IIPT 25th Anniversary Legacy Projects
IIPT will continue its efforts in making travel and tourism the  world's first Global Peace Industry during its 25th Anniversary Year with a series of "Legacy Projects" .
IIPT Consortium of Collaborating Universities (IIPT-CCU)
The first of these legacy projects is a Consortium of Collaborating Universities with more than 20 universities participating from regions throughout the world. The aim of the Consortium is to encourage scholarly research by university students on "Peace through Tourism." Students will  research actual case studies relative to "Building a Culture of Peace through Tourism." Selected case studies will be published by Livingstone International University – and the student submitting the most outstanding case study will receive an IIPT US$ 1,500 scholarship award. We welcome other interested universities to join with us in this initiative.
Peace Tours Morocco and Iran
IIPT's Second Legacy Project is the launch of a series of "Peace Tours" to enhance cultural appreciation and understanding among different cultures of the world. The first two that have been been  launched are Peace Tours Morocco and Peace Tours Iran. We are most pleased that Skal International has agreed to partner with IIPT in our Peace Tours initiative – and welcome travel agents and tour operators to join with us in promoting these tours. Commissions are available on the sale of both tours.

IIPT/Skal Peace Towns and Villages
Our 25 th Anniversary year  "flag ship" project is the IIPT/Skal Peace Towns and Villages project with a goal of 500 Peace Towns and Villages to be dedicated by September 21, 2014, the UN International Day of Peace.  The IIPT/Skal Peace Towns and Villages initiative was launched this past August with the re-dedication of the IIPT International Peace Park at Victoria Falls that took place on Opening Day of the World Tourism Organization 20th General Assembly co-hosted by Zambia and Zimbabwe.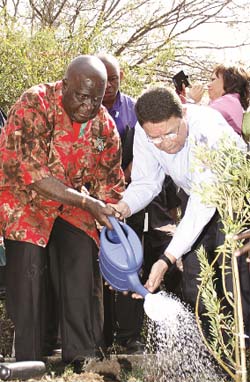 Dr. Kenneth Kaunda, first President of Zambia, and Dr. Taleb Rifai participated in the re-dedication ceremony together with King Mukuni of the Leya People on whose land Victoria Falls is located – and other dignitaries. Here Dr. Kenneth Kaunda and Dr. Taleb Rifai are shown planting one of six olive trees brought from Bethany Beyond the Jordan, site of Christ's baptism by His Excellency Akel Biltaji, representing His Majesty King Abdullah II.
We are most proud to have Skal International as a Partner in this initiative with its more than 17,000 members in 408 cities thoughout 89 countries. Each Peace Town and Village agrees to be actively committed to promoting values of tolerance, non-violence, gender equality, human rights, youth empowerment, environmental integrity, and sustainable human, social and economic development. Our further goal is 2,000 IIPT/Skal Peace Towns and Villages by the 11th hour of the 11th day of the 11th month 2018 in support of the "Great War" Centenary theme "No More War."
Executive Ambassador Program
Our fourth legacy project is an Executive Ambassador Program. Again, in collaboration with Skal International, we will seek to work with 3 or 4 developing countries that have a particular "expertise gap" they wish to fill such as "Destination Marketing."  The client country will define the skill requirements, duration, and terms of reference for the project and these will be matched with a retired Skal executive who will work pro bono for the period of time designated by the host country. The intent is that this will be a pilot project that will be continued in future years.  We will be pleased to receive expressions of interest from developing countries.

Skal Red Sea Chapter Conference
IIPT will also be supporting the Skal Red Sea Chapter in organizing a Skal Red Sea Conference. The Skal Red Sea Chapter brings together members from Jordan, Israel and Egypt with the aim of collaborating on sustainable tourism development and marketing of the Red Sea region as one destination. IIPT is pleased to partner with Skal International in supporting this important effort  that will serve to further foster collaborative relationships among the private sectors of Jordan, Israel, and Egypt.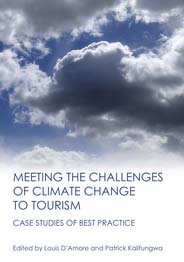 Climate Change Publication
IIPT is also  proud to announce the recent publication "Meeting the Challenges of Climate Change to Tourism – Case studies of Best Practice, co-edited by IIPT Founder and President, Louis D'Amore and Dr. Patrick Kalifungwa, Vice-Chancellor, Livingstone International University. The book was based on the Fifth IIPT African Conference hosted by Zambia Ministry of Tourism, Environment and Natural Resources.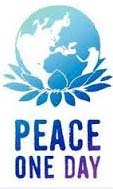 Olympic Truce Campaign
Finally,  IIPT will again have a campaign supporting the Olympic Truce for the 2016 Summer Olympics in Rio de Janeiro, Brazil as it did for the London Olympics in 2012.
The tradition of the Olympic Truce dates back to the 9th century BC, in Ancient Greece. Since its revival in 1992, the Olympic Truce has a demonstrated history of helping to further dialogue and understanding — providing a valuable window of opportunity to work towards the peaceful resolution of conflict. The Olympic Truce once again calls upon humanity to lay down its weapons and to work towards building the foundations of peace, mutual respect, understanding and reconciliation.
IIPT welcomes expressions of interest in any of the above programs as well as in our future conferences and summits. Please contact IIPT Founder and President Louis D'Amore, Email:ljd@iipt.org.