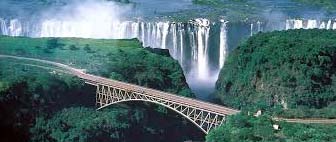 Victoria Falls Peace Park to be Re-named
IIPT Maya Angelou International Peace Park
IIPT is honored to announce the re-naming of the IIPT International Peace Park at Victoria Falls as the IIPT Maya Angelou International Peace Park in recognition of the inspiration and positive influence that the award winning Poet and Author; Television, Film and Stage Director; Teacher, Civil Rights Activist; and Actress has had on persons throughout the world. Dr. Angelou passed quietly in her home on May 28, 2014.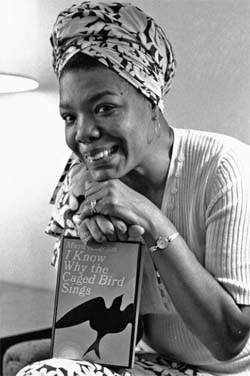 Dr. Angelou's poems and books have inspired millions of persons throughout the world, in particular her autobiography "I Know Why the Caged Bird Sings" about her early life overcoming racism and trauma by turning to the written word. She has been quoted as saying: "My mission in life is not merely to survive – but to thrive – and to do so with some passion - some compassion – some humor – and some style."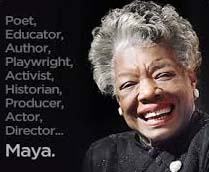 She will long be remembered at the United Nations and by people throughout the world for her insightful poem, "A Brave and Startling Truth" narrated at the United Nations on the occasion of its 50th Anniversary. And her tribute to Nelson Mandela - "His Day is Done" - on his passing stirred the hearts of millions in all of Africa and throughout the world.
Please click here for Dr. Maya Angelou's video recorded tribute to Nelson Mandela, "His Day is Done." https://www.youtube.com/watch?v=PqQzjit7b1w
IIPT Board Chairman, Mr. Timothy Marshall noted, "Dr. Maya Angelou was a resident, lover and supporter of the African continent; having lived and worked in Ghana and Egypt during her early career. She was lovingly welcomed into a leading Ghanaian family, who are still family today. Now as a Global and National Treasure, Humanitarian, and Freedom Fighter for all of Humanity, it is fitting that one of the Seven Natural Wonders of the World - a UNESCO World Heritage Site - Victoria Falls, should carry her revered and respected name. We are honored and humbled to carry on her Legacy of World Peace with this Tribute. "
The IIPT International Peace Park was first dedicated as a legacy of the IIPT Third African Conference held in Lusaka, Zambia 2005.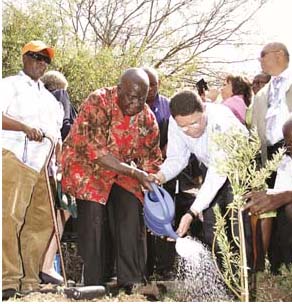 It was re-dedicated in 2011 on the occasion of IIPT's Fifth African Conference in Zambia and re-dedicated again last August on the Opening Day of the Twentieth General Assembly of the United Nations World Tourism Organization (UNWTO). Taking part in the Re-dedication were Dr. Kenneth Kaunda, first President of Zambia; Dr. Taleb Rifai, Secretary General, UNWTO; and King Mukuni of the Leya people on whose land Victoria Falls is located. Six Olive trees from Bethany Beyond the Jordan, baptismal site of Christ and also a UNESCO World Heritage site, were brought to Victoria Falls by H.E. Akel Biltaji, Mayor of Amman, representing His Majesty, King Abdullah II, and planted during the Re-dedication ceremony.

Bucharest First Capital City to be Declared
IIPT/Skal City of Peace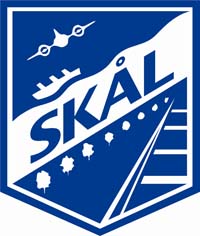 Bucharest, Romania is the world's first Capital City to be declared an IIPT/Skal City of Peace. The dedication of Romania as a City of Peace took place in a ceremony earlier this year with the dedication of Bucharest's Herăstrău Park as an IIPT/Skal Peace Park. Herăstrău Park is the largest park in Bucharest with one of the largest open air museums in Europe (the Village Museum - http://www.muzeul-satului.ro/en/).  The event was an integral part of the Second Young Skal International Symposium that brought together young professionals in the field of tourism from more than 10 countries.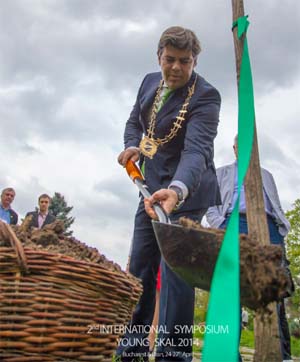 During the ceremony, Young Skal Bucharest, Skal International Romania, the General Council of Bucharest and the Lakes, Parks and Entertainment Administration (APLAB) designated a "bosco sacro" (peace grove) in Herăstrău Park, planting 12 trees as symbols of peace, endurance and rejuvenation. The participants were asked to write messages related to peace on small pieces of paper and hang them in the newly planted trees.
Two commemorative plaques were also installed in the park, one in English and one in Romanian. They are dedicated to the values supported by Skal International: Peace, Friendship, Solidarity and the Promotion of common interests in the field of Tourism. The ceremony was closed with the release of white peace doves by Mrs. Marianne Krohn, Vice President of Skal International; Mr. Răzvan Pîrjol, President of Skal International Romania; Andrei Mihăilescu, President of Young Skal Bucharest: and representatives of the General Council of Bucharest.
Photo above - Mr. Pirjol, President of Skal International Romania, planting a tree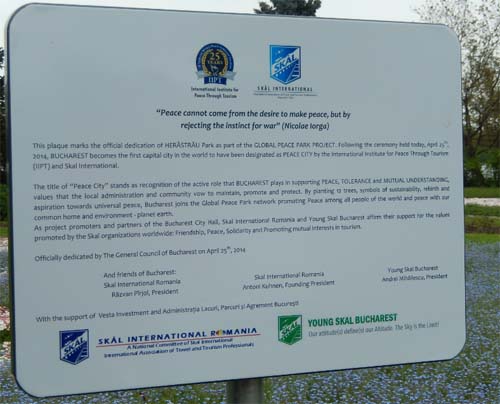 The ceremony aimed at drawing attention to the contribution of tourism in the development and maintenance of world peace and promoting tolerance, cultural diversity and the protection of the natural environment. Organizers emphasized that tourism promotion should begin with tourist destinations being appreciated not only by visitors, but foremost by the local communities. "I challenge you to love the places you live in and speak of them with pride. We all know how important promotion is in the field of tourism. If we as tourism professionals do not promote the destinations we come from we cannot expect others to promote them", stated Ms. Anamaria Răvar, member of Young Skal Bucharest and coordinator of the ceremony.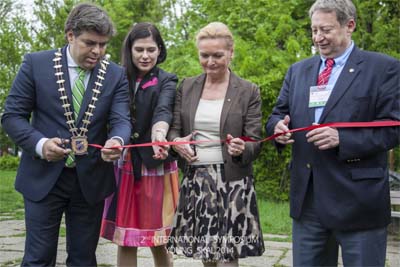 Mr. Razvan Pirjol, president of Skal International Romania; Ms. Ana Goicea, coordinator of the Young Skal Symposium; Mrs. Marianne Krohn, VP of Skal International, and Mr. Nik Racic, former president of Skal International cutting the ribbon.
The ceremony was attended by approximately 60 persons including representatives of Skal International: Mrs. Marianne Krohn, Vice President; Mr. Salih Cene, Vice President; Mr. Nik Racik, former President; Ms. Ann Lootens,former Vice President and Skal International Romania: Mr. Răzvan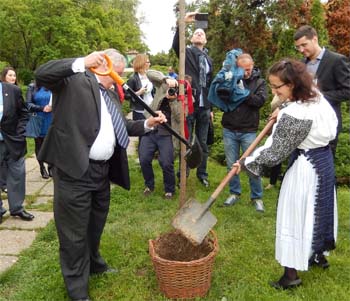 Pîrjol,President; Mr. Antoni Kuhnen, Honorary President; and Mr. Călin Ile, Secretary General. Twenty members of Young Skal Clubs around the world: Germany, Bulgaria, Turkey, Sweden, Finland, Spain, Italy, and Belgium also participated together with PhD students from the Bucharest University of Economic Studies; 20 members of Young Skal Bucharest; two representatives of the Bucharest General Council and of the Lakes, Parks and Entertainment Administration: Mr. Gabriel Fătu and Mr. Mihai Peptan; and  10 journalists and travel bloggers. The ceremony benefitted from a large coverage in the media.

Photo (left): Anamaria Ravar, coordinator of the ceremony, and Mr. Antoni Kuhnen, honorary president of Skal International Romania, planting the first tree
Young Skål is a division of  Skål International organization the world's largest membership organization of travel and touism executives with more than 17,000 members in 405 Chapters in 88 countries.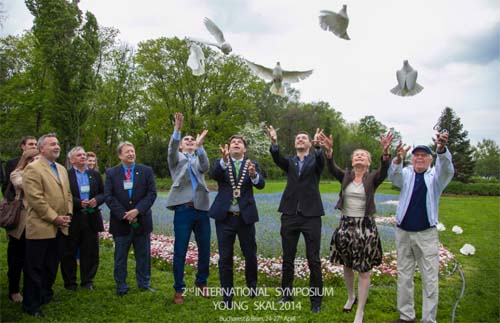 Mr. Pirjol, president of Skal International Romania, Andrei Mihailescu, president of Young Skal Romania, Mrs. Marianne Krohn, VP of Skal International and representatives of the General Council of Bucharest release peace doves

IIPT/SKAL Peace Park Dedicated in St Ann, Jamaica
The garden parish of St Ann, Jamaica , birthplace of reggae legend Bob Marley, now has an IIPT/ SKAL Peace Park. The Fern Forest Peace Park, located in the Fern Gully area of Harrison Town St Ann, was officially dedicated on Thursday August 7, one day after Jamaica celebrated its 52nd year of Independence.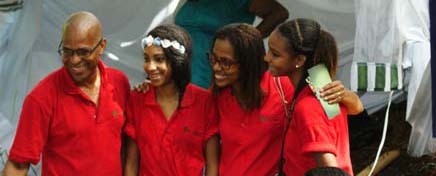 Left to right : Chairman Courtney Christie-Veitch, Abigail Christie-Veitch (daughter), Event Coordinator Nicola Christie-Veitch, Joie-Anne Christie-Veitch (daughter)
In his opening remarks, chairman of the event, Courtney Christie-Veitch provided details on a four day Fern Forest Eco Village camp for children in the Harrison Town community held under the theme 'I know who I am.' The camping experience, held just prior to the Peace Park dedication, was a huge success, with over forty children between the ages of 2 and 16 attending daily. The children participated in sessions such as conflict resolution, environmental stewardship, career choices and healthy lifestyles, along with engaging activities aimed at helping camp participants understand their Christian identity. He thanked volunteers for the camp, which included a team from Youth with a Mission (YWAM).
Guest speaker, Diana McIntyre-Pike, President of IIPT Caribbean chapter, gave an overview of the IIPT – its mission and objectives and the IIPT/SKAL Peace Villages program. Ms. McIntyre-Pike stated that she was proud that the IIPT Caribbean chapter was the first established outside of North America and that she was the first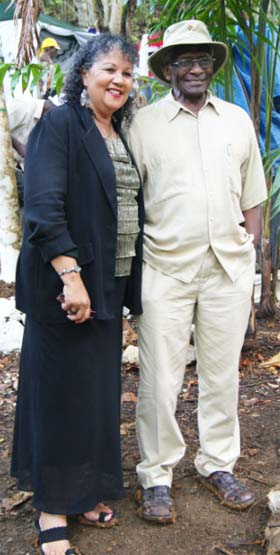 Chapter President for the IIPT outside the USA, mentioning that IIPT has endorsed Jamaica and the Caribbean as the 'Home of Community Tourism.' Diana spoke about the Countrystyle Community Tourism Network/National Best Community Foundation's Villages as Businesses programme which has been endorsed as a project for peace through tourism from the IIPT and the CCTN has agreed that all participating villages should be registered as IIPT/SKAL Peace Villages.
Dr Noel Brown, Chairman of the IIPT's International Advisory Board spoke to the importance of appreciating the Peace Park dedication as a reminder of our common responsibility for the protection and enhancement of our environment and this "priceless heritage that humanity calls home." He continued, "As we come to know our earth, we come to better appreciate its importance to our survival. The theme for the camp this year is 'I know who I am' and it could not be more timely and relevant. Knowing who you are, where you are, and your connection with Mother Earth, can only help reinforce a custodial relationship with this Garden Paradise that is our home. We cannot talk about peace with our neighbor without having peace with our natural environment. Let this Peace Park be a bridge that connects us more fully to each other and to our common home, planet earth."
Photo left - Diana McIntyre-Pike (left) and Dr. Noel Brown (right)
The event's Chairman, Courtney Christie-Veitch, then asked participants in the dedication ceremony to share their thoughts on peace after which Reverend Brenard McDonald, Pastor of the Zion Hill Baptist Church in St. Mary, shared a prayer and officially dedicated the Fern Forest Peace Park.
Children of the Breadnut Hill Dance Group, winners in the Jamaica Cultural Development Commission's (JCDC) annual festival of the performing arts competition, provided lively cultural entertainment for the event. To contact the Fern Forest Eco Village Peace Park, please email: fernforestecovillage@gmail.com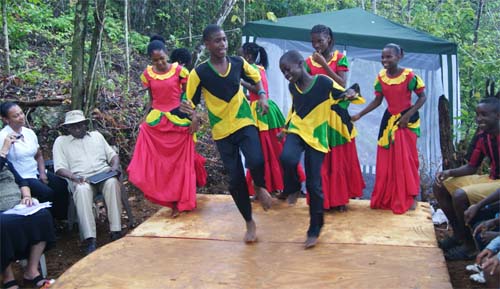 Tour de' Lumbini Pedal for Peace
The Tour de' Lumbini-pedal for peace, a 4 day cycling event, organized by "Tour De' Lumbini (TDL)" with active support from Cycle City Network Nepal (CCNN) pedaled from Kathmandu to Lumbini, birthplace of Buddha, to commemorate the auspicious occasion of Buddha Purnima the Birthday of Buddha and to send forth a message of Peace and Harmony.

The event was launched with a starting flag by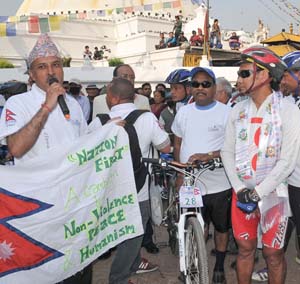 Chief Secretary of Government of Nepal, Mr. Lilamani Paudel at Baudhanath, Kathmandu. The tour covered total distance of 350 km with the Chief Secretary also concluding the event pedaling for 15 km from Bhairahawa to Lumbini along with the cyclists.

A total 108 cyclists including Puskar Shah, world cyclist, concept designer Mr. Megh Ale, Asoka Fellow, BBC journalist Surendra Fuyal, renowned photo journalist Mr. Kishor Shrestha, advocate Sri Budha, Charter Accountant Hari Kumar Silwal, professional cyclists, Mr. Devendra Basnet, Dhan Jit Rai, Sailendra Dangol, Pramesh Manandhar, Chakshu Malla, Manish Maharjan and others all participating in the cycling event.
Chief Secretary of Government of Nepal, Mr. Lilamani Paudel about to launch the tour
The cyclists covered four world heritage sites of Kathmandu valley (Boudhanath, Pashipatinath, Basantapur Durbar Square and Swayambhunath) and Lumbini, another world cultural heritage site. They campaigned for peace and prosperity through sustainable eco-adventure tourism from Kathmandu to Lumbini.

Mr. Megh Ale, the Vice Chair of "Tour de'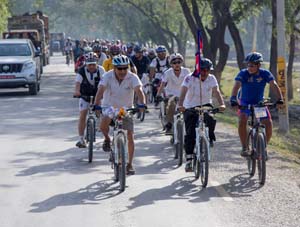 Lumbini"said that the event was organized to promote tourism for lasting peace and sustainable prosperity in Nepal. The campaign was initiated to celebrate peace after ten years of political unrest in the country and it continues for ever because peace should be prevailed in and spread from Nepal, the birthplace of the Buddha, he said. "Tour de' Lumbini is a mega campaign that incorporates and promotes the ideas of Nation First, peace, non-violence and humanism." he said. He further added that tourism was adopted as a tool of economic growth and prosperity of the country.

Mr. Rajendra Thapa Magar, the General Secretary of the Tour de' Lumbini and former Member Secretary of Lumbini Development Trust said that the organization would schedule future events such as the Lumbini Peace Award, Pedal for Peace Challenge Award, Peace Rally, Peace Conference, Promotion of peace through tourism, Lumbini Peace Marathon etc. to meet the objectives of the organization. Mentioning that service for Lumbini is his zeal he said, "Not only during tenure but even after tenure or retirement, one should ever be ready to work for Lumbini. Whether I will be in charge or not I will be trying to contribute to the development of Lumbini in whatever way I can." Rajencra's colleagues have observed that his passion for Buddha's birthplace is most praiseworthy.