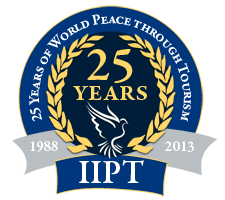 IIPT to Commemorate 25th Anniversary at ITB
In Support of World War I Centenary – "No More War"
Friday, 7th of March 2014, 13:00 to 14:00
Hall 4.1, Large Stage
The International Institute for Peace through Tourism (IIPT) will proudly commemorate the 25th anniversary of its First Global Conference: Tourism – A Vital Force for Peace at this year's ITB. The IIPT 25th anniversary event is in support of the "World War I Centenary" with its theme of "No More War".
Featured speakers include: Zoltan Somogyi, Executive Director, Programme & Coordination, World Tourism Organization (UNWTO); Geoffrey Lipman, President, International Coalition of Tourism Partners (ICTP); Elke Dens, Marketing Director, Visit Flanders; Ivy Chee, Regional Director, East Asia, Pacific Asia Travel Association (PATA); and Nigel Pilkington, Director, Public Relations & Communications, Skal International. Speakers will share their perspectives on "Building a Culture of Peace through Tourism."
| | | | | |
| --- | --- | --- | --- | --- |
| Zolton Somogyi | Geoffrey Lipman | Elke Dens | Ivy Chee | Nigel Pilkington |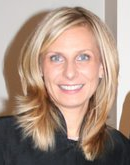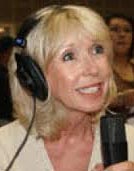 IIPT is also pleased to have Cordula Wohlmuther, UNWTO with us who will make a special announcement regarding launch of the "International Handbook of Tourism and Peace" publication. The event will be moderated by Sandy Dhuyvetter, Executive Producer and Host, TravelTalkRADIO as well as BusinessTravelRADIO and TravelTalkTELEVISION.
Photos: Sandy Dhuyvetter (left) and Cordula Wohlmuther (right)

The event will pay tribute to 10 "Peace Makers" of the past 100 years; highlight achievements of the Peace through Tourism Movement over the past 25 years and present IIPT planned "legacy projects" of the 25th anniversary year.
IIPT Founder and President said, "IIPT is most proud to support the Great War Centenary with its theme of 'No More War' – and to welcome leaders of the travel and tourism industry to our 25th anniversary event. As one of the world's largest and fastest growing industries, the collective voice of travel and tourism leaders can be a powerful force for peace and justice in the 21st century."
The IIPT First Global Conference: Tourism – A Vital for Peace was a watershed event for the travel and tourism industry introducing for the first time the concept of Sustainable Tourism, four years prior to the Rio Summit – together with a new "higher purpose of tourism" paradigm that includes the key role of travel and tourism in:
- Promoting international understanding
- Collaboration among nations
- Protecting the environment and preserving biodiversity
- Enhancing cultures and valuing heritage
- Sustainable development for all
- Poverty reduction and
- Reconciliation and healing wounds of conflict
We look forward to you joining us at:
                   ITB, Berlin
                   Friday, 7th of March 2014, 13:00 to 14:00
Hall 4.1, Large Stage