LIUTEBM Commencement Address of
Dr. Louis D'Amore, Chancellor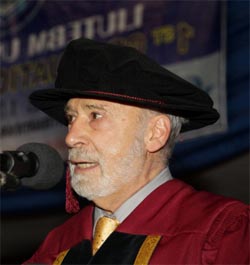 IIPT Founder and President, Louis D'Amore was most honored to give the Chancellor Address at the first graduation ceremony of Livingstone International University of Tourism Excellence and Business Management. Excerpts from his address follow:
Congratulations on being the first graduates of Livingstone International University of Tourism Excellence and Business Management (LIUTEBM).  What an honor to be the very first graduates from the first university in Zambia to offer Tourism and Hospitality Management degrees at both the under graduate and graduate levels. Each of you, together with the Administrative and Academic leaders of LIUTEBM – are truly pioneers with much to be proud of.
Your years here at LIUTEBM have provided you with a high quality of both theoretical and practical education that has prepared you to make a significant contribution to the future socio-economic development of Zambia – a country endowed with an abundance of world renown natural resources and attractions including one of the seven natural wonders of the world and UNESCO world heritage site – Victoria Falls – "the smoke that thunders" - a country of smiling, happy, hospitable and welcoming people – rich in culture and a collective love for your country – a country with a promising future – a future that you will help to create. The opportunities before you are unlimited.
Today is your commencement day - the beginning for your new life. It is where you go from here that matters. Whatever career choices you make - whatever you do – do it because you are passionate about it – and because you believe in its importance. What can you create of value for yourself – for your community – for Zambia – for Africa? 
You will have challenges along the way – you will not succeed in every initiative you undertake – mistakes will be part of the journey – but these challenges will be your greatest teacher in life. Remain confident and optimistic – and learn from your mistakes – learn to forgive yourself and to forgive others – you will be stronger - wiser - and more loving with each life lesson.
You have just completed the most important investment you can make for yourself – an investment in your education. Continue receiving a return on this investment by committing today to never stop learning. Feed your mind with good books and literature – books on positive thinking – leadership – the latest trends in your chosen field – they will teach you that you can accomplish anything you put your mind to.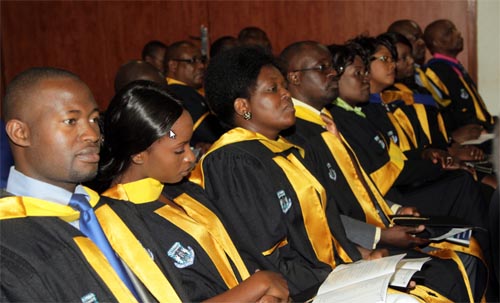 But knowledge is not enough - it is what you do with your knowledge that counts. Choose to think positive thoughts – to speak positive words and ideas and to act in positive ways. Build trust in your relationships – and trust in yourself so that you will learn to be bold - for this will affect the expectations you hold in your mind and your heart – and the outcomes you will experience in life.
Have an attitude of gratitude and give back. Your life will be ever changing - dynamic and full of possibility. You are free to choose your own way knowing that you will grow toward whatever truth and whatever goal you hold in your mind. Give thanks to the people who have made a difference in your life – people who have loved and supported you on your life journey – your fellow students – professors – friends – and particularly your family.
Be enthusiastic and passionate about life – and be thankful for the people who share your journey. Strive to bring about the best in yourself – and the best in others – and you will have a successful and prosperous life that you and your family can be proud of.
As you begin to achieve successes along your journey of life – you too might discover - as did Mahatma Gandhi - the great and curious truth about the human experience is that "life finds meaning in service to others."
I would like to close by paying tribute to award winning poet and author; television, film and stage director; teacher, civil rights activist; and actress - Maya Angelou –who recently passed. She will long be remembered at the United Nations and by people throughout the world for her insightful poem, "A Brave and Startling Truth" narrated at the United Nations on the occasion of its 50th anniversary - and her tribute to Nelson Mandela on his passing – her poem – "His Day is Done" - stirred the hearts of millions throughout all of Africa and throughout the world.
Dr. Angelou - whose poems and books have inspired millions of persons has been quoted as saying: "my mission in life is not merely  to survive – but to thrive – and to do so with some passion - some compassion – some humor – and some style.
Congratulations – good luck – go forth and make for yourselves extraordinary lives. Thank you for your attention – and may God bless each of you – your parents and families – LIUTEBM and the great country of Zambia.