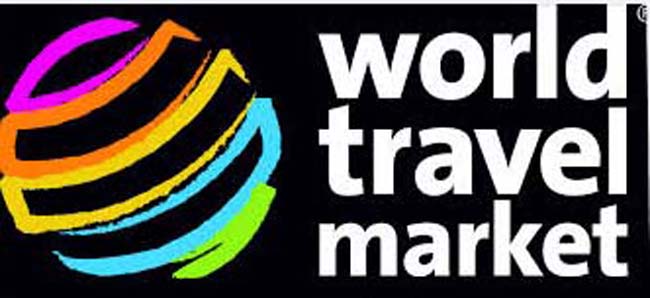 IIPT Launches 30th Anniversary Year at
World Travel Market Special Event
The International Institute for Peace through Tourism (IIPT) launched the 30th anniversary of its birth this past month at a World Travel Market Special event. IIPT was born in 1986, the UN International Year of Peace with a vision of travel and tourism becoming the world's first "global peace industry" and the belief that every traveler is potentially an "Ambassador for Peace."
Theme of the Platinum Suite event at World Travel Market was, "From Conflict to Sustainable Tourism: the Northern Ireland Experience" highlighting the experience of Northern Ireland in its transformation from a nation of conflict to sustainable tourism development with its related socio-cultural, economic and political benefits.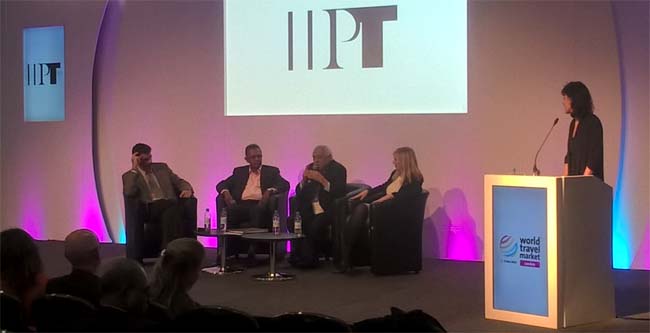 Ms. Anita Mendiratta moderating panel with panel members from left to right:
Mayor Eneko Goia, Mr. Hiran Cooray, H.E. Akel Biltaji and Ms. Suzanne Wiley.
Dr. Taleb Rifai, Secretary General, U.N. World Tourism Organization (UNWTO) opened the session with his insights from a global perspective followed by Ms. Suzanne Wylie, CEO Belfast City Counci; H.E. Akel Biltaji, Mayor of Amman and former Minister of Tourism and Antiquities, Jordan; Mr. Hiran Cooray, Director - Sri Lanka Tourism Development Authority, Chairman, Jetwing Hotels Ltd, and Past Chairman, Pacific Asia Travel Association (PATA); and Mr. Eneko Goia, Mayor of San Sebastian, Spain. Ms. Anita Mendiratta was Master of Ceremony of the event and Panel Moderator.
Dr. Rifai spoke of the longstanding and fruitful relationshipbetween UNWTO and IIPT bound by the same values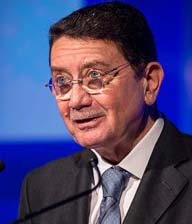 and belief that tourism can be an instrument ofpeace and sustainable development. "With over one billion tourists crossing international borders every year, our sector has become a dynamic vehicle for developing the global economy and improving livelihoods by creating jobs, reducing inequality and increasing political stability."
"Most importantly, every single one of these tourists has the potential to be a global ambassador for peace and sustainable development for behind tourism's big numbers is something infinitely more profound – a daily exchange of stories, experiences and perspectives that defies any difference in background or culture."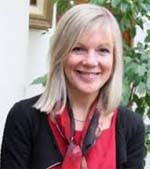 Suzanne Wylie spoke of the Belfast tourism success story stating that "Our visitors are telling us they are motivated to visit Belfast because of its 'journey to peace.' There is a real curiosity when visitors arrive to understand the 'authentic' and 'human' story behind the media headlines."
Belfast's murals are a unique piece of living political, social and cultural history together with The International Peace Wall and Black Taxi tours. The special role the black taxis played during the Troubles is a central part of the tour story.  That locals could hail, share and trust taxis in Belfast during the conflict is fascinating to learn, and gives tourists a sense of participating in a real-life social phenomenon."
"There are a number of museums and libraries in the city telling part of the story and beyond the traditional visitor interfaces there are a number of sites which give the visitor an opportunity to better understand this turbulent part of our history. Belfast is at an electrifying turning point.  After decades of troubles, the city is oozing energy, creativity and a can-do attitude.  As a city we have thankfully emerged from a very damaging conflict and we are now attracting significant numbers of international visitors, many of whom are interested in the 'beyond peace' element of our story."
H.E. Akel Biltaji, Hiran Cooray and Mayor Eneko Goia similarly spoke of the respective experiences of Amman, Sri Lanka and San Sebastian. A reception sponsored by School of Management/Ysgol Reolaeth, Swansea University, Wales in conjunction with Wales for Peace followed the event with Professor Terry Stevens as Master of Ceremony.
| | | | | |
| --- | --- | --- | --- | --- |
| H.E. Akel Biltaji | Mr. Hiran Corray | Mayor Eneko Goia | Ms. Anita Mendiratta | Prof. Terry Stevens |