IIPT President addresses Nobel Peace Prize Forum Honoring Kailash Satyarthi
When you are living in a globalized economy and globalized world, you cannot live in isolation, all the problems and solutions are interconnected" (Kailash Satyarthi)
IIPT Founder and President had the honor to address the Nobel Peace Prize Forum this past month in Minneapolis, Minnesota organized under the auspices of the Norwegian Nobel Institute. The Forum provides a unique international platform focusing on the work of the Nobel Peace Prize Laureates, as well as leading peacemakers and peacebuilders.
The Forum advances discussion and action on drivers of conflict and threats to peace and security by bringing together leaders in government, business, academia, civil society and youth to dialogue and take action around five key areas critical to sustainable peacemaking and peacebuilding: Disarmament, Poverty Reduction and Food Security, Environmental Sustainability, Human Rights and Global Health Systems.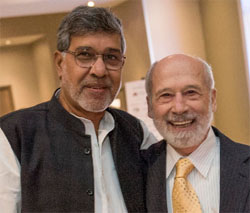 The 2016 Nobel Peace Prize Forum concentrated on the work of 2014 Nobel Peace Prize Laureate, Kailash Satyarthi, who has dedicated his life to ending child labor and child trafficking. It also looked at the peace and security implications of and connections between human trafficking, migration, refugees and climate change.
IIPT Founder and President, Louis D'Amore addressed the forum regarding the important role of Tourism as a force for peace and the work of IIPT in contributing to the vision of tourism as a global peace industry. Dr. D'Amore highlighted a few of the achievements of IIPT during its 30 year history and the recent launch of the IIPT/Skal International "Travel for Peace Campaign" focused on the belief that "every traveler is potentially an Ambassador for Peace." He also highlighted  the planned IIPT 30th Anniversary Global Summit to be held in Montreal in the Fall of 2017 as part of the UN Year of Sustainable Tourism for Development and as Canada celebrates its 150th birthday; Montreal its 375th birthday and the 50th Anniversary of Expo '67, the world's most successful Expo of the 20th Century.
Mr. D'Amore also participated in a CEO roundtable during which he shared the important work of the UNWTO World Tourism Network on Child Protection under the Chairmanship of Carol Bellamy, former Executive Director of UNICEF.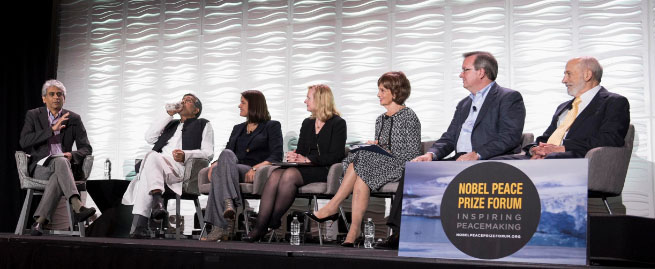 On the panel with Dr. D'Amore were (left to right) Mr. Kailash Satyarthi;Judy Gearhart, Executive Director, International Labor Rights Forum; Amy O'Neil Richard, Senior Advisor, Office to Monitor and Combat Trafficking in Persons, U.S. Dept. of State; Marilyn Carlson Nelson, former Chairman and CEO, Carlson Wagonlit; Don Larson, Founder, Sunshine Cashews, and Louis D'Amore. The Panel was moderated by PBS Newshour Correspondent, Fred de Sam Lazaro.

Flight Center Travel Group Newest Member of
IIPT Coalition of Partners
IIPT is proud to announce that ghe Flight Centre Travel Group (FCTG) is the newest member of the IIPT Coalition of Partners for Peace through Tourism. FCTG is an Australian-based international travel company and the largest retail travel outlet in Australia. After starting with one shop in the early 1980s, FCTG has enjoyed remarkable growth to become a $17 billion business consisting of more than 30 brands.
One of the world's largest travel agency groups, it has company-owned operations in 11 countries and a corporate travel management network that spans more than 75 countries. It employs more than 18,000 people globally and has a total of 2500 stores. FCTG operates many specialist brands, including FCM Travel Solutions, Corporate Traveller, Campus Travel, CiEvents, Stage & Screen Travel Services, Student Flights, Escape Travel, Cruiseabout, Quickbeds, Liberty Travel, GoGo Worldwide Vacations & Worldwide Traveler.
Flight Centre Travel Group's purpose is "to open up the world for those who want to see". The company works closely with a pool of preferred suppliers and tour operators to develop and promote attractive and responsible holiday options to ensure future generations can experience the world's natural attractions. It also offers a range of tours built around social and environmental causes, including volunteering.
As an IIPT Coalition Partner, Flight centre group will join the movement to encourage travelers around the world to be Ambassadors for Peace by practicing the IIPT Credo of the Peaceful Traveler (below) and the travel ethic inherent in the iconic Portrait of the Global Family by renown artist Padre Johnson - that we are "One Earth One Family."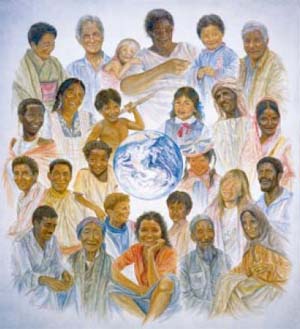 Coalition Partners are encouraged to distribute the copyrighted IIPT Credo of the Peaceful Traveler along with the iconic "Portrait of the Global Family" by renown artist Padre Johnson.
The aim is to create awareness among all travelers that the privilege of traveling provides them with a unique opportunity to learn more about our common home – planet earth, the wonder of its natural beauty, its many diverse peoples, cultures and heritage – and in the process to foster mutual respect, understanding and appreciation with each person they encounter.


Grateful for the opportunity to travel and experience the world and because peace begins with the individual, I affirm my personal responsibility and commitment to:
Journey with an open mind and gentle heart

Accept with grace and gratitude the diversity I encounter

Revere and protect the natural environment which sustains all life

Appreciate all cultures I discover

Respect and thank my hosts for their welcome

Offer my hand in friendship to everyone I meet

Support travel services that share these views and act upon them and,

By my spirit, words and actions, encourage others to travel the world in peace
Organizations wishing to become Charter members of the Travel for Peace Campaign are invited to contact Louis D'Amore, email: ljd@iipt.org

LIUTEBM Graduates Third Class

EDUCATING for the future assures sustainable development, and to be part of sustainable development, one should help to create the future and be part of it. This was recently accentuated by LIUTEBM University Vice Chancellor, Professor Patrick Kalifungwa during the institution's 3rd graduation ceremony held at Mulungushi International Conference Center, Lusaka,Zambia.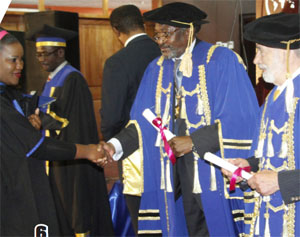 Prof. Kalifungwa assured the invited guests that his university's graduation that day was not just another joyous occasion, but also marked an important milestone in the history of LIUTEBM University. "The seventh year of our existence as a University has been intense and focused. We have quickly positioned ourselves as a high quality institution of higher learning that can deliver transformative, and holistic education.
Dr. Patrick Kalifungwa and Dr.Louis D'Amore
handing out diplomas to graduating students
Apart from being the first University to bring undergraduate and post graduate degree qualification studies in Tourism and Hospitality to Zambia, it has diversified gradually into business and economics, humanities and social sciences, Law and ICT. LIUTEBM University in its seven years of operation has now developed the School of Natural Sciences where it will be offering Medicine, Nursing and Agriculture undergraduate degree programs from the newly established IBEX Hill campus.
"We are proud of our achievements thus far, but we are not complacent in our  determination to sustain this continued expansion of our resources and facilities because we intend to always match the growth in our student numbers and our programs with appropriate support infrastructure. Getting such a crucial balance right gives us the confidence that our graduates are well prepared to take on the world and able to make a difference in many positive ways," said Prof Kalifungwa who had recently been unanimously elected President of the Private Universities Association of Zambia with more than 60 members - another milestone for LIUTEBM.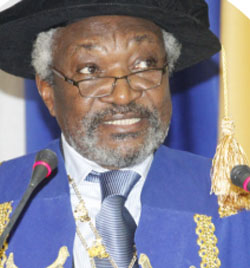 In his address to students, Dr. Kallifungwa stated, "I hope that you will combine all that you have learnt with your passion; that you will bring something new to the Zambian economy by injecting fresh and innovative ideas into your respective industries. A balanced education cultivates abilities beyond the verbal and conceptual to include matters of the heart, character, creativity, self-knowledge, concentration, openness and mental flexibility. You have many fresh ideas and youthful creativity - that is what the country needs and that is what you will bring to your world. You should now actively commit yourselves to serving God and humanity, to growing your gifts and adding value to your communities."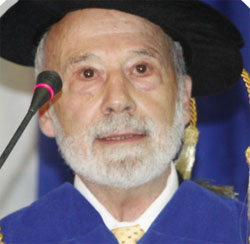 LIUTEBM University Chancellor Dr. Louis D'Amore told the same gathering that behind every graduate today are his or her parents, loved ones, university professors and lecturers including all of those who have provided invaluable support and guidance. It is therefore an equally fitting opportunity to pay tribute to all those who have brought the graduates to the point where they are today.
As LIUTEBM University alumni, I am confident you will each carry forward its core values of respect, resilience, excellence, responsibility, integrity, compassion, gratitude and humility," he said. "Do keep a positive outlook, uphold your can-do-spirit, support each other and seize every opportunity to learn and grow.
Chancellor D'Amore concluded saying, "As you begin to achieve successes along your journey of life, you too might discover as did Mahatma Gandhi -  the great and curious truth about the human experience is that "life finds meaning in service to others."

"Parade of Flags" Ceremony at African Diaspora World Tourism Awards to Recognize United Nation's International Decade of People of African Descent
Representatives from countries of Africa and the African Diaspora have been invited to participate in the "Parade of Flags" ceremony during the 2016 African Diaspora World Tourism (ADWT) Awards & Travel Expo. The "Parade of Flags" is in recognition of the United Nations' declaration of the International Decade of People of African Descent.
According to the UN Proclamation: "The International Decade for People of African Descent, proclaimed by General Assembly resolution 68/237 and to be observed from 2015 to 2024, provides a solid framework for the United Nations, Member States, civil society and all other relevant actors to join together with people of African descent and take effective measures for the implementation of the programme of activities in the spirit of recognition, justice and development."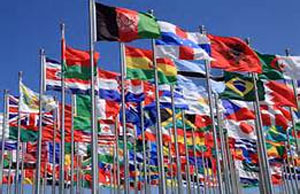 "Our plans are to have representatives of Embassies, Consulates and Tourism Offices carrying their country's flags in possession," says Kitty J. Pope, the founder/director and executive producer of the ADWT-Awards and Travel Expo event.  "We strongly feel that the "Parade of Flags" would serve as a tribute of commemoration of International Decade of People of African Descent as well as a symbol of the promotion of world peace and multiculturalism.
The 2016 ADWT-Awards event, the 2nd historical awards event that takes place in Atlanta, Ga. (USA) on this August 26-28 recognizes destinations, historic sites and tourism leaders of influence in the global African Diaspora as well as Africa. In addition to honoring influential leaders, the noteworthy event that also includes a Travel Expo, serves to highlight the cultural heritage of people of African descent from around the globe.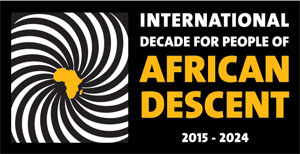 Embassies, Consulates and Tourism Boards of various countries with significant populations of people of African descent are invited to participate in the "Parade of Flags" which include African countries in addition to countries of the global African Diaspora. In support of the UN's International Decade of People of African Descent, countries of the African Diaspora and Africa are asked to highlight structures, sites, trails, people and all things related to black cultural heritage in the promotion of tourism to their perspective countries.
Embassy and Tourism officials of the various countries of Africa and the African Diaspora are also invited to participate in the Pan African and African Travel Forum and Travel Expo that will take place in the morning and afternoon on Saturday, August 27th before the awards gala that evening.
The support and participation of the embassies, consulates and tourism boards for the 2016 African Diaspora World Tourism Awards and Travel Expo is very much needed and appreciated. If this event is anything like the inaugural event where dignitaries, officials and professionals from around the world attended, it promises to be an enormous success!

Countdown to Rio 2016 Olympics -
Olympic Truce Campaign Gains Momentum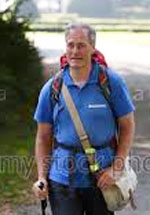 With the Olympic torch 12 weeks into its 95 day journey to Brazil, a less publicized but equally Olympian effort is once again being made by Lord Michael Bates, who is 120 days and more into a 3000 km walk from Buenos Aires to Rio de Janeiro to highlight this summer's Olympic Truce Campaign.
IIPT is again supporting the Olympic Truce Campaign which is calling for a one minute silence at the opening and closing ceremonies to highlight the Truce and report on its implementation. The Olympic Truce Peace Ambassadors training program was established by UNESCO at the London 2012 Games with Lord Bates as its Patron, and earlier this year endorsed by the UN World Tourism Organization for Rio 2016.
The Olympic Truce Peace Ambassador Network is currently being extended from those trained in London 2012 to other areas of the world, particularly current conflict areas. Youth wishing to become an Olympic Truce Peace Ambassador are currently being recruited to promote and report on the Olympic Truce for the 2016 Rio Olympics.

An online training room has been set up to recruit, prepare and support Olympic Truce Peace Ambassadors to do their awareness raising and reporting jobs in all Olympic participant countries. If you sign up and train to become an ambassador you could win yourself a ticket to Rio alongside campaign coordinator Gordon Sillence and regional coordinator for Africa, Victor Mutanga, one of the 2012 trainees, both of whom will be there to welcome Lord Bates and highlight the Truce. Victor recently released a heartfelt song for the Truce in Africa.
Young persons wishing to become part of the Olympic Truce Peace Ambassador Network and undertake the online training, are invited to contact Gordon Sillence, email: gordon.sillence@gmail.com or Victor Mutanga, email: zimsbest@yahoo.com
A UN resolution supporting the Olympic Truce has been signed by 186 governments this past year.


Cassie in Country Number 140, marks a year into her journey around the world !!


Cassandra 'Cassie' De Pecol, IIPT Ambassador of Peace, arrives in Country Number 140, Maurtitius, marking a year into her journey as an ambassador for Peace.
Cassie recently visited Sri Lanka as part of her attempt to become the first documented woman to travel to 196 nations in record time to set a Guinness World Record. She greatly appreciated the hospitality during the visit. Cassie's message to students in Sri Lanka was," Students continue to inspire me with your warm and euphoric messages. Please continue to reach out to me if you need any assistance in regards to travel and/or working within the hospitality/tourism sector on an international level. You are all such change makers and I can't wait to become a part of a greater movement with you all once this Expedition is successfully completed!"
During her visit to Sri Lanka Cassie met with emminent leaders of the Tourism Industry namely, Dr. Taleb Rifai, Secretary General, UN World Tourism Organization (UNWTO), Hiran Cooray, Chairman, Jetwing Hotels Ltd and Past Chairman, Pacific Asia Travel Association (PATA) and
Mr. Sugathadass, Secretary, Ministry of Tourism Development and Christian Religious Affairs and Lands, Sri Lanka.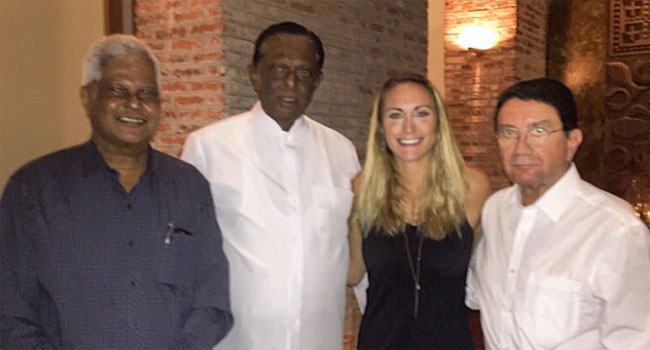 From Left to Right: Mr. Sugathadass, Mr. Hiran Cooray, Cassie and Dr. Taleb Rifai


Last week Cassie was in Seychelles, she stayed at the luxury Maia resort, filming the property and focusing on sustainability, while meeting with the Minister of Tourism, Alain St.Ange, and Tourism students at the Seychelles Tourism Academy (STA).
Cassie visited 139 countries in the last 12 months, presenting to over 11,500 students and dignitaries across 31 countries, and planting 40 trees across 12 countries. A tree was also planted with students at the entrance of the Management Block of the Tourism Academy in Seychelles together with the island's Minister of Tourism and the Tourism Academy's Principal, Flavien Joubert.(Picture Below)

"Our generation, 'The Millennials,' have a unique opportunity to change the world with the Internet and instant communication which has no borders. We are all connected, and my journey is showing that connection. Millennials can unite the world," says Cassie.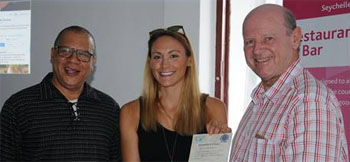 Cassie presented the islands Minister of Tourism, Hon. Alain St.Ange with her Expedition 196 - Declaration of Peace Certificate in the presence of lecturers of the Seychelles Tourism Academy, the Academy's Principal Flavien Joubert and his team of lecturers.
As part of her tour, she also hopes to demonstrate that her generation can create positive peaceful relations with all countries, in part through sustainable tourism, which brings cultures together and makes a positive impact on the environment, society, and economy. An educational documentary will follow upon successful completion of her expedition.
About IIPT
The International Institute for Peace through Tourism (IIPT) is a not for profit organization dedicated to fostering travel and tourism initiatives that contribute to international understanding, cooperation among nations, an improved quality of environment, cultural enhancement and the preservation of heritage, poverty reduction, reconciliation and healing wounds of conflicts; and through these initiatives, helping to bring about a peaceful and sustainable world. It is founded on a vision of the world's largest industry, travel and tourism – becoming the world's first global peace industry; and the belief that every traveler is potentially an "Ambassador for Peace."
For more information:
IIPT Website: www.iipt.org
Tel: (802) 253-8671
Email: ljd@iipt.org
eTurboNews is proud to be the sponsor for this IIPT Newsletter
Advertising Submit Articles Circulation Contact Partners Team