2016 African Diaspora World Tourism Awards to include  African Royal Procession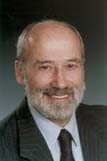 IIPT founder/president Lou D'Amore, who serves as an International Chair for the 2016 African Diaspora Worls Tourism Awards, has yet another reason to be proud to be a part of this historic event taking place in Atlanta, Ga. (USA). Aside from being an African Diaspora World Tourism Awards Hall of Fame Honoree, D'Amore will also be honored along with Royalty at the awards ceremony. Some of the Royal guests even share IIPT's mission of promoting peace through tourism.
As the August 26-28 date for the 2016 African Diaspora World Tourism Awards and Travel Expo approaches, plans have been made to include a "Royal Procession" as a part of the week-end events. This will be a presentation of African Kings and Queens and maybe even Prince and Princesses. The Royal Procession Presentation will be one of the main highlights of the ADWT-Awards event.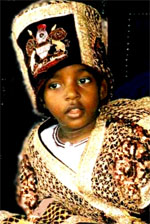 Royalty already set to attend the awards ceremony is His Excellency King Oyo Nyimba Kabamba Iguru Rukidi IV, ruler of the Toro Kingdom of Uganda. King Oyo made history when he was crowned king at 3 years old, earning him a place in the Guinness Book of World Records as the youngest reigning monarch. The young king's ascension to the throne marked the beginning of a challenging as well as an exciting period for the people of the Toro Kingdom. To ensure his smooth maturation into his role as cultural leader of his people, King Oyo was placed under the guardianship of several leaders that included H.E. Yoweri Museveni, President of Uganda; Prince James Mugenyi, his paternal uncle and other kings.
Kitty J. Pope, founder and director of ADWT-Awards says that King Oyo's attendance marks an exciting, monumental and historical time in cultural heritage for the African Diaspora. "People of African descent living outside of Africa need to see that we have kings and royalty in our culture," she says. While we respect and adore Will and Kate along with Queen Elizabeth, black people need to see Kings and Queens that look like us," says Pope.  "It is a part of our cultural heritage."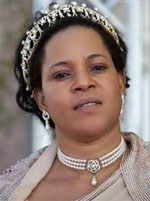 Also attending the awards event is Oueen Best Kemigisa, Queen of the Toro Kingdom and Mother of King Oyo, who is now in his 20's and ruling over about 2 million people.  Queen Best first visited Atlanta in 2015 where she did a presentation for a group of cultural heritage professionals about the African Queen and Women Cultural Leaders Network (AQWCLN), an organization where she is a founding leader and now current president.  Launched by Uganda's President Museveni, AQWCLN is about bringing together African Queens and women cultural leaders to leverage children and women empowerment at grass roots levels. Queen Best, who serves as an international chair for the ADWT-Awards event, says that she is delighted to return to Atlanta to participate in the Royal Procession Presentation.
Also serving as an ADWT-Awards chair who should be in attendance is Senator Princess Florence Ita-Giwa of Nigeria. The daughter of a paramount ruler of her native land of Bakassi, Nigeira, Florence Ita-Giwa was raised as a princess. Other Nigerian royalty being confirmed to attend includes Igbo and Yoruba Kings. The new Ooni of Ife King Oba Adeyeye Enitan Ogunwusi will be visiting the United States in June and attending a White House Initiative. Like IIPT, King Oba has a mission of promoting peace and unity through tourism. ADWT-Awards co-presenter, Dr. Babs Onabanjo who serves on the host committee for the Ooni of Ife US visit, is making efforts to get King Oba to return in August for the awards event. Dr. Onanbanjo has already confirmed Oba Lamidi Olayiwola Adeyemi 111, one of the most popular monarchs in Nigeria, who is set to receive an award at this year's ceremony.  Dr. Onabanjo also anticipates other Nigerian Royalty participation.
African royalty from Ghana is also expected to attend. Confirmed attendance is Nana Ampem Darko Turkson, a King from Ghana of the Ankobeahene of Nkonya Ahenkro Tradition, who will be accompanied to the awards event by his daughter Ernestina Oye Turkson. Supporting his attendance is soon to-be estooled (Queen) Ada'obi Quinline Glasper. Another, not Queen, but King on the radar to attend is King Peggy, (Peggielene Bartels), a native of Ghana who moved to Washington, D.C. to work at the Embassy, in her early twenties. In 2008, she was chosen to be King of Otuam, a Ghanaian village of 7,000 people on the west coast of Africa.
"We are so excited about these Royal figures attending as this will indeed make this awards ceremony a shining event at its finest. We are finalizing a list of other Royal African leaders hoping to attend," says Pope. "Having Royalty in attendance will make this year's award ceremony very monumental, which could also serve as a "psychological boost" for the African Diaspora."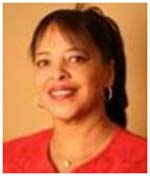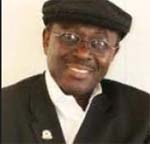 The ADWT-Awards event will again be presented by African Diaspora Tourism with publisher Kitty J. Pope who is the founder/director and executive producer of the event. Helping to present the event is the AD King Foundation CEO Dr. Babs Onabanjo who is the ADWT-Awards producer.
For more information about the 2016 African Diaspora World Tourism Awards event, please contact Kitty J. Pope at Kpope@AfricanDiasporaTourism.com