IIPT Caribbean to Launch
Academy for Community Tourism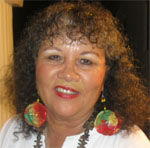 As a tribute to the pioneering work of Diana McIntyre-Pike in Community Tourism, the IIPT Caribbean and Countrystyle Community Tourism Network/Villages as Businesses (CCTN/VAB) have created an Academy for Community Tourism.  The Academy honours its President/Founder Diana McIntyre-Pike who is also President of the first chapter of the International Institute for Peace through Tourism (IIPT) outside the USA and Co-ordinator of the IIPT International Community Tourism Network.

Diana McIntyre-Pike
The purpose of the Academy of Community Tourism (ACT) is to support CCTN/VAB's mission to lift up and energize communities through participation in tourism and contribute to peace and harmony among the peoples of the world.  The Academy is thus a core tool for implementing the philosophy of Community Tourism, empowering individuals through tourism and tourism-related skills and entrepreneurship and growing small and medium enterprises, the lifeblood of every economy.
In creating the Academy, the IIPT Caribbean and CountryStyle/Villages as Businesses have partnered with Etalon Global Solutions (EGS), an approved Pearson EDEXCEL Training and Certification Centre founded by Dr. Carolyn Hayle, former Executive Director of Jamaica's National Training Agency.
ACT builds on Countrystyle's existing hospitality and entrepreneurship training courses but, through EGS, adds the vehicle through which internationally recognised certification and further professional skills become easily accessible. ACT will make it possible for persons without traditional formal qualifications achieve academic credential and excellence over time. As a result, the Academy will deliver the skills training necessary for creating a truly internationally certified and competitive community-based tourism workforce.

Youth entrepreneur candidates for the Academy of Community Tourism

Diana McIntyre-Pike is world-renowned for creating Community Experience tours, spreading her vision of economically sustainable communities and preparing villages to participate in Community Tourism.  Viewing villages from a business perspective is a holistic approach to development through tourism.  This approach promotes prosperity and understanding and peace between and among people, locally and globally.
IIPT Caribbean and Countrystyle also co-ordinate the IIPT/SKAL Peace Towns and Villages programme in the Caribbean.  They are based in Mandeville in Manchester, Jamaica which has the distinction of being the first IIPT/Skal Peace Town registered in the Caribbean while Treasure Beach in the neighbouring parish of St. Elizabeth is the first IIPT/Skal Peace Village of the Caribbean.
The launch of ACT will herald a new phase in Community Tourism globally by providing an avenue for empowering entrepreneurs, village by village, to operate businesses efficiently, effectively and with style.   Also available is a 14-day Village Tourism Planning and Management short course for practitioners as a community tourism study tour through Countrystyle Caribbean Vacations and Tours (COCAVAT) and its tour partner CARIBIC/OLYMPIA TOURS. 
Community tourism and international training and certification are catalysts for poverty reduction, the conservation of nature and culture, better governance, and more harmonious and self-reliant communities.
For further information, please contact: IIPT CARIBBEAN/Countrystyle Secretariat – tel: 1 876 507-6326, email: iiptcaribbean@yahoo.com 

Students of Ohio University  on 14 day community study tour, IIPT/Skal  Peace Park in Mandeville.