HRH Princess Dana Firas to be Patron of
IIPT "Travel for Peace" Tour to Jordan with Opportunities to
Assist Syrian Refugees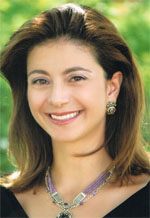 IIPT is honored to announce that HRH Princess Dana Firas will be a Patron of the IIPT "Travel for Peace Tour" to Jordan 14-23 March 2017. HRH Princess Dana Firas is a Global advocate for cultural heritage preservation and President of the Board, Petra National Trust (PNT). HRH Princess Dana Firas will personally meet with members of the tour either in Amman or Petra.

Under the leadership of HRH Princess Dana Firas, PNT has expanded its work not only to include conservation and preservation projects but also Education, Outreach and Awareness (EOA) programs for youth in the six villages that surround the Petra Archaeological Park. PNT will be facilitating a special tour by its youth workshop members  that will give a unique view of Petra.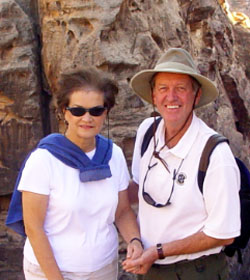 Donald King, Ambassador at Large for the International Institute for Peace through Tourism (IIPT), and his wife Lynne will be leading a special "Travel for Peace" tour to Jordan 14-23 March, 2017.
Collaborating with IIPT will be Airline Ambassadors International (AAI) with the intent of visiting Syrian refugee camps during the tour and providing medical and other supplies. AAI helps orphans and vulnerable children worldwide by leveraging connections with the airline industry towards humanitarian service. www.airlineamb.org.
AAI will be represented by Sandy Dhuyvetter, a member of the AAI Board of Directors who will manage AAI's commitment to IIPT. Sandy is also a trainer on Human Trafficking Awareness in the travel industry and an award winning creator, executive producer and host of Travel Talk Radio and Travel Talk Media.
Also planning to join the tour is Bea Broda, who produces Travel TV shows and web clips, including Timeless Places, Passport to Adventure and Outta Town Adventures.  She plans to create a documentary of the tour to include in TV & web broadcasts.
Near Eastern Tours, an IIPT Coalition Partner, Hani Abu Dayyeh, President will provide in-country services for the tour.
| | |
| --- | --- |
| Bea Broda | Sandy Dhuyvetter |
The Kings have been residents of Jordan and have extensive experience leading tours in Jordan. They also have recently been involved in several humanitarian efforts assisting Syrian refugees while developing relationships with local organizations that provide services to these refugees.
Jordan is one of the world's spectacular destinations and home to some of the world's friendliest and most hospitable people. The itinerary will provide the opportunity to see this fascinating land, meet its people and experience its welcoming spirit.  The tour itinerary will include Jerash, Petra, Wadi Rum, Mt. Nebo, Azraq Wetlands, Shumari Reserve, the Dead Sea and other sites.
Participants in this special tour will have the opportunity to assist some of the Syrian refugees who have fled the war in their homeland. We will visit refugee families and provide food parcels, hygiene packets and medical supplies to some of the neediest families.
Participation in this tour will make a difference in the lives of a few Syrian families and participants will gain an appreciation for one of the most interesting countries in the world.  A detailed itinerary is available.
Travel agents are invited to request more information. Please send an email request to: travelking47@gmail.com