Global Peace Parks Project

and Travel for Peace
IIPT has launched a Global Peace Parks Project for its 30th anniversary year with a goal of 2,000 IIPT Peace Parks circling the earth by 21 September 2017 – the UN International Day of Peace.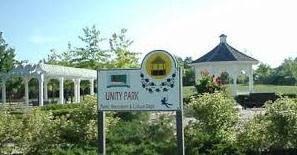 The Global Peace Parks Project builds on the success of IIPT's 1992 "Peace Parks across Canada" Project commemorating Canada's 125th birthday as a nation. IIPT conceived and implemented "Peace Parks across Canada" which resulted in 350 Peace Parks being dedicated by cities and towns from St. John's, Newfoundland on the shores of the Atlantic, across five time zones to Victoria, British Colombia on the  shores of the Pacific.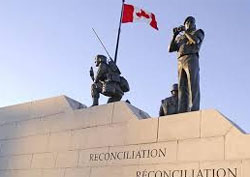 The Peace Parks were all dedicated on October 8, 1992 as a National Peace Keeping Monument was being unveiled in Ottawa and 5,000 Peacekeepers passing in review. Each park was dedicated with a 'bosco sacro' – a peace grove of 12 trees, symbolic of Canada's 10 Provinces and 2 Territories, as a link to one another, and a symbol of hope for the future. Of the more than 25,000 Canada 125 Projects, Peace Parks across Canada was said to be the most significant.
IIPT International Peace Parks have since been dedicated as a legacy of each IIPT International Conferences and Global Summits. Notable IIPT International Peace Parks include Bethany Beyond the Jordan, site of Christ's baptism as a legacy of the Amman Summit, 2000 and Victoria Falls, as a legacy of the IIPT 5th African Conference, 2013, subsequently re-dedicated as the featured event of the UNWTO General Assembly, co-hosted by Zambia and Zimbabwe.
Dr. Taleb Rifai, UNWTO Secretary General and Dr. Kenneth Kaunda, Zambia's first President, are shown planting the first of 6 olive trees brought from Bethany Beyond the Jordan by Amman Mayor, H.E. Akel Biltaji pictured on the right with King Makuni of the Leya People, on whose land Victoria Falls is located, and IIPT Founder and President, Louis D'Amore.
Persons interested in more information on the "IIPT Global Peace Parks Project" are invited to email ljd@iipt.org

IIPT Travel for Peace Campaign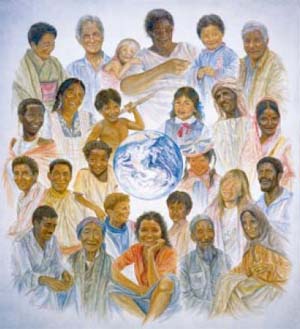 The second flagship project of IIPT's 30th Anniversary Year is the "IIPT Travel For Peace Campaign" that encourages every traveler to be an "Ambassador for Peace" by practicing the IIPT Credo of the Peaceful Traveler and the ethic inherent in the iconic Padre Johnson portrait of the Global Family reminding us that we are "One Earth One Family.
The "IIPT Travel for Peace Campaign relates to the UNWTO "Travel – Enjoy – Respect" initiative of the UN International Year of Sustainable Tourism for Development. It seeks to engage travel agencies, tour operators, hotels, airlines, cruise ships and other sectors of the global travel and tourism industry to join with IIPT in encouraging every traveler to be an "Ambassador for Peace"
Organizations wishing to become charter members of the IIPT Travel for Peace Campaign in support of the UN International Year of Sustainable Tourism for Development (and Peace) are invited to email:
ljd@iipt.org

Grateful for the opportunity to travel and experience the world and because peace begins with the individual, I affirm my personal responsibility and commitment to:
Journey with an open mind and gentle heart

Accept with grace and gratitude the diversity I encounter

Revere and protect the natural environment which sustains all life

Appreciate all cultures I discover

Respect and thank my hosts for their welcome

Offer my hand in friendship to everyone I meet

Support travel services that share these views and act upon them and,

By my spirit, words and actions, encourage others to travel the world in peace



International Institute for Peace Through Tourism