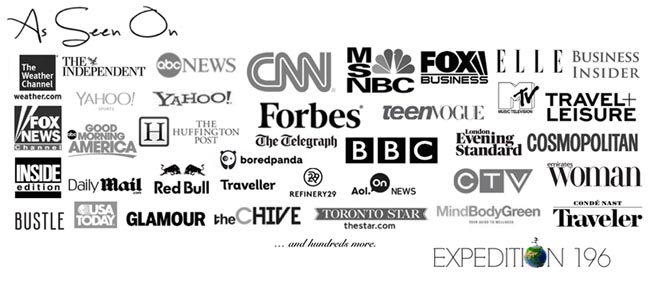 Cassie Sets Guinness World Record
Cassie De Pecol's dream growing up in rural Connecticut was to visit every country in the world. This past month – traveling as an IIPT Ambassador for Peace - Cassie accomplished that dream and in the process set a new Guinness world record visiting 196 sovereign nations in 18 months and 26 days – half the time of the previous world record – and becoming the first woman, and youngest person to visit all 196 sovereign nations.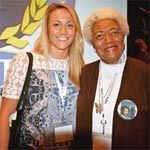 Cassie's journey was launched at the IIPT World Symposium in South Africa honoring the legacies of Nelson Mandela, Mahatma Gandhi and Martin Luther King, Jr. Cassie spoke at the Opening Day luncheon and later during the Symposium had the opportunity to meet – and be inspired by Naomi King, Martin Luther King Jr's sister-in-law; and Nandi Mandela, Nelson Mandela's granddaughter.
"It was meeting both Naomi King and Nandi Mandela that convinced me I wanted to commit my life towards furthering peace, non-judgement, and unity throughout our world, starting with Expedition196."               
Skal International and its President, Nigel Pilkington played a key role in arranging meetings with Mayors and other dignitaries during her travels, and assisting to arrange speaking engagements with civic organizations such as Rotary and to give motivational talks to students of tourism and hospitality at more than 40 universities.

Over the course of her trip, Cassie met with mayors and ministers of tourism, presenting them with the IIPT's "Declaration of Peace."
The ten countries that stood out for Cassie were: Mongolia, Bhutan, Maldives, Vanuatu, Pakistan, Oman, Tunisia, Costa Rica, and the USA
"The one thing that became strikingly apparent to me after having visited all countries is that despite our differences; religion, cultural background, traditions, ethnicities, gender, income and aspirations, we all have the same basic needs and find happiness in the simplest of things. I've realized that the core of humanity is sameness, and if we could push past all differences, jealousies and preconceptions, we would be able to live in a much more unified and ultimately, peaceful world."
Cassie's future plans include a book, documentary, and The Expedition 196 Entrepreneur Seminar, designed to motivate and provide insights to individuals on how to pursue their own passion project or Expedition involving travel and working towards a cause.
Cassie can be followed on Facebook,Instagram and at https://expedition196.com/