UNWTO – IIPT Global Summit Announced at 4th World Forum on Intercultural Dialogue Baku, Azerbaijan
IIPT President, Dr. Louis D'Amore was honored to speak at the recent 4th World Forum on Intercultural Dialogue hosted by Azerbaijan in the beautiful city of Baku, 5 & 6 May. Dr. D'Amore spoke on a distinguished panel coordinated by Mr. Amr Abdel Ghaffar, Advisor to the Secretary General, UNWTO on Tourism and Peace, and moderated by Dr. Taleb Rifai, Secretary General, UN World Tourism Organization.
| | | |
| --- | --- | --- |
| Dr. Taleb Rifai | Mr. Amr Abdel Ghaffar | Dr. Louis D'Amore |
Dr. D'Amore used the occasion to announce the UNWTO-IIPT Global Summit: Sustainable Tourism for Development and Peace being held in Montreal, Canada 17 – 21 September. The Summit is an official Conference of the UN International Year of Sustainable Tourism for Development, 18 & 19 September.
One of the questions asked of Dr. D'Amore was "Is Peace through Tourism working?"
D'Amore believes the answer can best be given from a 30 year perspective. It took two years in the mid 1980's for him to convince leaders of the travel and tourism industry in Canada to support the idea of an International Conference on Tourism and Peace.
D'Amore had been a futurist to the tourism industry in Canada from the mid-1970's til the founding of IIPT in 1986, the UN International Year of Peace. He also had been a keynote speaker at several national tourism industry conferences – and though well known and respected by leaders of the industry – when asked if they would support an International Conference on Tourism and Peace, the answers were: "What's tourism got to do with peace?"- "Peace – that's government's job!" or "We should focus on things we have some control over." This is the baseline for measuring progress regarding "Is it working."
Another baseline is that in the mid-1980's the major form of tourism was 'mass tourism' with the emphasis being filling airline seats and "putting heads on beds." Indeed tourism segmentation was quite simple: business travel, Visiting Friends and Relatives, or Pleasure Travel.
First baseline:
Regarding the first baseline, Terrorism peaked in 1985 and '86. Most of it aimed at the travel and tourism industry with airplane hijackings, hijacking of the Achille Lauro cruise ship; attacks on Rome and Vienna Airports; bombing of airline offices –etc. The result was a decline in travel – particularly travel to Europe and the Middle East. The 'lights went on' and leaders of the tourism industry in Canada realized that without Peace – there is no tourism" – and the 1986 national conference of the Tourism Industry Association of Canada (TIAC) unanimously endorsed the organizing of an International Conference on Tourism and Peace.
From this first baseline, today we have major international conferences and forums throughout the world - such as the 4th World Forum on Intercultural dialogue featuring a prestigious panel such as outlined below with the theme:  Harnessing the Transformative Power of Tourism in Building a Better Future; the UNWTO Sri Lanka Conference: Tourism a Catalyst for Development, Peace and Reconciliation and many others. As well, the report last year of the World Travel and Tourism Council (WTTC): Tourism as a Driver of Peace; and a large and growing number of studies and literature on various aspects of 'peace through tourism' including the UNWTO published "International Handbook on Tourism and Peace."
Second baseline: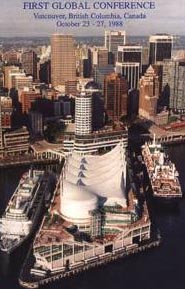 Regarding the second baseline – the IIPT First Global Conference: Tourism – A Vital Force for Peace, Vancouver 1988 was noteworthy for first introducing the concept of sustainable tourism. It also introduced a new paradigm for a "Higher Purpose of Tourism" - a paradigm that includes the role of tourism in:
•        Promoting international understanding
•        Collaboration among nations
•        Protecting the environment and preserving biodiversity
•        Enhancing cultures and valuing heritage
•        Sustainable development
•        Poverty Reduction, and
•        Reconciliation and Healing Wounds of Conflict.
IIPT's 18 international conferences and global summits since its founding in 1986 have showcased some 1500 'success stories' and models of best practice in the areas outlined above. In contrast to the mass tourism that existed in the mid-1980's we now have: ecotourism, geotourism, cultural tourism, community tourism, agrotourism, culinary tourism, volunteer tourism, philanthropic tourism, the Silk Road, African Diaspora Heritage Trail, the Slave Route, Path of Abraham and other forms of tourism that are contributing to global understanding and respect - together with more specific initiatives such as the "Peace Boat", Rural Education and Development (READ); Global Sports Partners; Right to Play; Semester at Sea to name but a few.


Yes – it is working but much more needs to be done until we have freedom, tolerance, harmony, mutual understanding, respect, and sustainable development enjoyed by all members of the global family and peace with nature on our one common home, planet earth. 
Panelists in addition Moderator, Dr. Taleb Rifai and Dr. Louis D'Amore included:
Hon. Abulfas Garayev, Minister of Culture and Tourism, Azerbaijan; Princess Dana Firas, President, Petra National Trust, Hashemite Kingdom of Jordan; Mr. Arundhika Fernando, Deputy Minister of Tourism Development and Christian Religious Affairs, Sri Lanka
Second row – Mr. Thok Sokhom, Director of Department International Cooperation and ASEAN Ministry of Tourism; Hon. Shaikah Mai Bint Mohammed Al-Khalifa, President of the Bahrain Authority for Culture and Antiquities and President, Arab Regional Center for World Heritage; Mr. Koen Verlaeckt, Secretary General, Flanders Department of Foreign Affairs.
| | | |
| --- | --- | --- |
| Hon. Abulfas Garayev | Princess Dana Firas | Mr. Arundhika Fernando |
| | | |
| --- | --- | --- |
| Mr. Thok Sokhom | Hon. Shaikah Mai Bint Mohammed Al-Khalifa | Mr. Koen Verlaeckt |