Dr. Taleb Rifai Recipient of IIPT Lifetime Achievement Award
7 other Industry Leaders Honored as IIPT Ambassadors of Peace
The International Institute for Peace through Tourism honored 7 outstanding people from the world of travel & tourism as "Global Ambassadors of Peace through Tourism" at World Travel Market (WTM), London this past week. Dr. Taleb Rifai, Secretary General of UNWTO, was conferred with the IIPT lifetime achievement award as a "Global Man of Peace." Theme of the awards event was "Tourism – A Catalyst for Peace", featuring Dr. Rifai as the Keynote Speaker and Anita Mendiratta the Master of Ceremony.

Supported by "Incredible India" and the UNWTO, this first edition of the Awards was sponsored by Cox & Kings and TravelBiz Monitor the Media partner for the awards.
| | |
| --- | --- |
| | |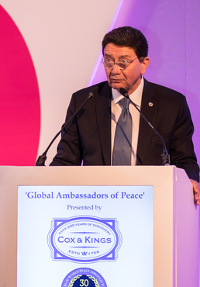 In his Keynote address, Dr. Taleb Rifai, Secretary General of UNWTO said that for the 7th consecutive year, the growth in tourism had exceeded growth in other sectors. However, he said, tourism is far more than numbers and statistics; to travel is a basic human right. Quoting Mark Twain he said "Travel is fatal to prejudice, bigotry and narrow mindedness…" The 1.8 billion tourists expected to travel the world by 2030 could be 1.8 billion opportunities, or 1.8 billion disasters – the choice, he said, is ours. There is no conflict between growth and sustainability, he said, because sustainability is beyond "Going Green" it's about sustaining life on Earth. "As I come to the end of my journey as Secretary General," he said "the thought I would like to leave with is 'Whatever you do, do it to make the world a better place.'"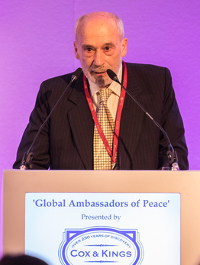 D'Amore, Founder President, IIPT, said, "IIPT is privileged and grateful to pay tribute to Dr. Taleb Rifai for his global leadership these past eight years. We have been most honored to have Dr. Rifai grace the stage at IIPT WTM events as our featured keynote speaker over the past several years – and to have his unwavering support for IIPT initiatives in our mission to make the travel and tourism industry – the world's first global peace industry. We look forward to a continuing relationship with him in the years ahead as we join hands in efforts to promote the transformative role of tourism in "making the world a better place.'"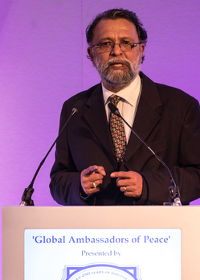 Ajay Prakash President, IIPT India, said, "As the UN International Year of Sustainable Tourism for Development draws to a close, it's important to accept that the work is far from complete and that we need to carry the impetus forward into the years ahead. While it's axiomatic that peace is vital to the promotion of tourism, it is important to reiterate that tourism can be a vital force for the propagation of peace and this can happen only if the concept of Peace through Tourism forms part of the core business philosophy of the tourism industry." Commenting on the rationale of the Awards, Prakash continued, "Because tourism is so people centric it is important to recognize and honor exceptional persons in the field who can serve as role models and inspire others to carry the baton."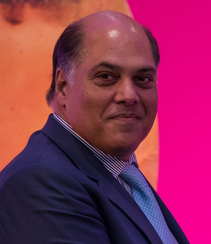 Commenting on the awards, Peter Kerkar, Group CEO, Cox & Kings, says, "Cox & Kings is extremely proud to be sponsoring the 'Global Ambassadors of Peace Through Tourism' Awards and honoring those individuals who have devoted time and energy to promoting goodwill through travel. It is vital that we encourage peaceful cultural exchange and recognise those who have used tourism to facilitate philanthropic activities. These ideals are no better represented than by the IIPT and our 'Global Man of Peace,' Dr. Taleb Rifai, Secretary General of the UNWTO."
Each one of the chosen Ambassadors has had an illustrious and successful career in tourism and each, through their lives and work, embodies the founding principles of IIPT. Louis D'Amore, Founder President of IIPT recounted the long association that each one of the Award winners had had with IIPT. Each of the Ambassadors was an exceptional person, he affirmed, and IIPT was proud to honour them. Going forward, he said, the IIPT Global Peace Parks project, the association with Flanders to mark the Centenary of the end of the 1st World War under the banner "No More War" and the "Travel for Peace" campaign would be the focus of IIPT in its 30th Anniversary year leading up to the UNWTO - IIPT Global Summit in Montreal, August 2018.
| | |
| --- | --- |
| HRH Princess Dana Firas of Jordan – Chairperson of the Petra National Trust &UNESCO Goodwill Ambassador | David Scowsill – CEO EON Reality & Immed. Past President & CEO, World Travel and Tourism Council (WTTC) |
| | |
| --- | --- |
| Dr. Mario Hardy – President and CEO, Pacific Asia Travel Association, PATA | Fiona Jeffery OBE– Director, Just a Drop Foundation |
Helen Marano, Director Government & Industry Affairs WTTC referred to the recent seminal study by WTTC on Tourism as A Driver of Peace which, based on data collected over 8 years, established the first empirical relationship between tourism and peace correlating the parameters of the Global Peace Index and the Tourism Index.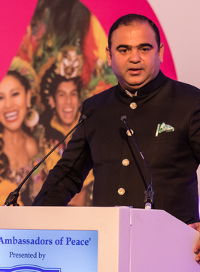 Mr. Jay Kumar Rawal, Tourism Minister of Maharashtra commended IIPT on the work it was doing to recognize global icons of Tourism for Peace and Sustainability. He went on to explain the Indian concept of "Vasudhaiva Kutumbakam" which essentially means "The World is One Family" and referred to the recent Government of India initiative to hold a "Paryatan Parv," a celebration of tourism for 20 days in October to bring people together.
| | |
| --- | --- |
| Costas Christ – CEO, Beyond Green Travel and Senior Advisor for Sustainable Tourism, National Geographic and Virtuoso | Geoffrey Lipman – Director Green Growth & Travelism Institute & Co-Founder SunX Foundation |
| | |
| --- | --- |
| Anita Mendiratta – Managing Director CACHET Consulting, Tourism author & thought leader | Dr. Taleb Rifai – UNWTO, Secretary General |
Founded in 1986 by Louis D'Amore, IIPT is built on two very simple but powerful premises: That tourism, one of the world's largest industries, can become the world's first global Peace Industry and support the belief that every traveler is potentially an Ambassador for Peace. Through global summits, conferences, the global Peace Parks initiative, Travel for Peace Campaign consultations with governments and the UNWTO and a regular monthly newsletter, IIPT has worked conscientiously over the last 30 years to make peace an integral part of the tourism ecosphere.
IIPT plans to make the "Ambassadors of Peace Through Tourism" awards an annual feature at WTM London.