| | |
| --- | --- |
| | IN THIS ISSUE |
Greetings!
The International Institute for Peace through Tourism (IIPT) was born in 1986, the UN International Year of Peace, in response to global issues of the early 80's including the growing tensions of East and West, a deteriorating environment, loss of biodiversity, the increasing gap between have and have not regions of the world; and the growth in international terrorism.
IIPT is a not for profit organization dedicated to fostering and facilitating tourism initiatives which contribute to international understanding and cooperation, an improved quality of environment, the preservation of heritage, and through these initiatives, helping to bring about a peaceful and sustainable world. It is based on a vision of the world's largest industry, travel and tourism - becoming the world's first global peace industry; and the belief that every traveler is potentially an "Ambassador for Peace."
Welcome to our first IIPT Internet Newsletter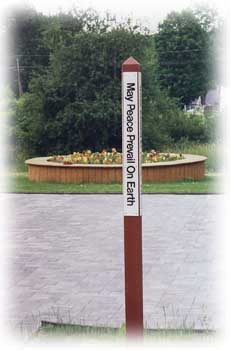 There are numerous examples of the important role travel and tourism plays in promoting mutual understanding among people of diverse cultures and the power of "people to people diplomacy." This important aspect of travel and tourism was the reason behind setting up the European Travel Commission (ETC) following World War II. Similarly, President Eisenhower recognized the power of "People to People" diplomacy in launching his "People to People" program, which continues to this day under the leadership of his granddaughter.
It was "Ping Pong" diplomacy that opened dialogue with China during the Nixon Administration, and pianist Van Cliburn, who began the thawing of East-West relations during the Khrushchev era by winning the coveted Tchaikovsky Prize as best pianist in that year's competition. President Kennedy introduced the "Peace Corps" during his administration, a bold, visionary program second only to the Marshall Plan, following World War II, which recognized that a lasting peace depended on the prosperity of people of all nations - even those who were former enemies.
President Reagan and Secretary Gorbachev recognized the value of travel in their joint statement following the 1986 Geneva Summit: " There should be greater understanding among our peoples and to this end we will encourage greater travel." The post 9-11 world brings us new challenges, requiring bold, innovative responses - responses that will enhance dialogue towards mutual understanding and a desire to work together in building a better world for all; responses that will be the equivalent of a 21st Century Marshall Plan for the 48 Least Developed Countries (LDC's) of the World; responses that lead us towards paths of peace and a secure climate within which valuable resources are utilized towards building infrastructures and institutional capacities for human, social, cultural and sustainable economic development. With this first IIPT Internet Newsletter, we are pleased to announce the "Second Global Summit on Peace through Tourism, to be held at the UN Conference Center, Geneva, February 5-8, 2003. The Summit is being organized in partnership with the World Travel and Tourism Council (WTTC) and will bring together leaders from all sectors of the travel and tourism industry, together with leaders in the areas of culture and heritage, sport, environment, economic development, and inter-faith dialogue. We look forward to your participation with us as we address the contribution that travel and tourism can make in building a better world for all.
With best regards, Louis D'Amore IIPT Founder and President
Second Global Summit Being Organized in Partnership with WTTC
The Second Global Summit on Peace through Tourism will take place at the UN Conference Center, Geneva, Switzerland, February 5-8, 2003. The Summit is being organized in partnership with the World Travel & Tourism Council (WTTC).

The Goals of the Second Global Summit are first, to continue building a "Culture of Peace through Tourism" in support of the U.N. Decade of Peace and Non- violence for the Children of the World; second, develop a coordinated strategy for the role of travel and tourism as a leading force for poverty reduction; and thirdly, continue to develop partnering relationships focused on initiatives in support of the first two goals. The Summit will feature a "Government - Industry - Donor- NGO Round-Table" with leaders from each of these sectors. Keynote Speakers will include Nobel Peace Prize winners, international travel and tourism industry statesmen, and world leaders in the areas of culture and heritage, sport, environment, economic development, and inter-faith dialogue.

International travel and tourism organizations are invited to hold their Board meetings in connection with the Summit. Rooms for this purpose will be made available at the UN Conference Center on February 5th, first day of the Summit, a day which will be used for meetings of IIPT Networks, Chapters and Coalition of Partners prior to a Welcoming Reception that evening. Please contact IIPT to make arrangements (Summit@IIPT.org). The Geneva Summit builds on the foundations of three global conferences (Vancouver, 1988, Montreal, 1994, Glasgow, 1999); and the First Global Summit held in Amman, Jordan - November 8-11, 2000 with His Majesty King Abdullah II as Royal Patron and American Express the Title Sponsor. A significant outcome of the Summit was the Amman Declaration, ratified by participants from some 60 countries including 23 CEO's of major travel companies and members of the World Travel and Tourism Council, 16 Ministers of Tourism, members of the World Tourism Organization, and heads of more than 20 international travel and tourism associations. The Amman Declaration has since been incorporated as an official UN document.

Other outcomes included the formation of a Coalition of Partners for World Peace through Tourism with more than 25 founding partners - each committed to a Millennium Project that contributes to the vision of "Tourism as a Global Peace Industry"; three international networks; and the launch of a Global Peace Parks Project. Your personal assistance in helping us to promote the Second Global Summit to your colleagues and through your various networks would be greatly appreciated. We are seeking to reach all sectors of the travel and tourism industry, public, private, not for profits and educational, as well as related sectors including culture, environmental, economic development agencies and sports organizations.
First IIPT African Conference on Peace through Tourism
The first IIPT African Conference on Peace Through Tourism marked an historic beginning in developing strategic approaches and partnerships for poverty reduction on the African continent - home to 35 of the world's 48 Least Developed Countries.

The Conference was organized in partnership with IIPT Coalition Partner, Africa Travel Association (ATA) and the Mpumalanga Tourism Authority, and took place in Nelspruit, South Africa, March 3-7, 2002. Some 220 delegates from 20 countries took part in the five-day conference including official delegations from 13 African countries, headed by Ministers and/or Deputy Ministers of Tourism.

We are in the process of developing a "21st Century African Agenda for Peace through Tourism" based on the very rich content of plenary sessions and workshops held during the 5-day conference.

.The Second IIPT African Conference on Peace through Tourism is being planned for October 2003 in Tanzania. The Conference will again be organized in partnership with IIPT Coalition Partner, Africa Travel Association, and as well the Tanzania Government. The conference aim will be to adopt a final version of the "21st Century African Agenda for Peace through Tourism" together with an implementation strategy that gives emphasis to partnering relationships among governments - industry - donor agencies - and "Civil Society" at all levels - community, national, regional and continent-wide.
Chicken Soup for the Traveler's Soul Selects IIPT
IIPT has been selected as one of four organizations to receive a portion of profits resulting from sales of the recently published "Chicken Soup for the Traveler's Soul". This will amount to about $10,000. Our goal is to leverage this $10,000 to $100,000 and that $100,000 in turn, to one million dollars. These funds will be used to seed community tourism micro-enterprise projects in some of the world's 48 Least Developed Countries (LDC's), with a focus on Africa, home to 35 LDC's. This micro- enterprise initiative will be an integral component of the 21st Century African Agenda for Peace through Tourism, with its focus on poverty reduction.
Collaborative Research Project with George Washington University
The IIPT Educators Network will be collaborating with George Washington University in developing a global data base of some 400 tourism related Donor Funded Projects including project assessments, in Third World countries. From this collaborative effort, we plan to identify principles of "Best Practice", "Success Stories", and "Lessons Learned" and prepare a Portfolio or Manual of Guidelines for future projects. This global research initiative will provide an invaluable repository of knowledge to be accessed in our broader goal of harnessing tourism as a major force in poverty reduction and will be serve as a major asset for purposes of the 21st Century African Agenda for Peace through Tourism and tourism development projects in other developing countries.
IIPT to Collaborate in Development of Africa Diaspora Heritage Trail
The Africa Diaspora Heritage Trail was conceived by Bermuda Tourism Minister Hon. David H. Allen, at the First Global Summit on Peace through Tourism, Amman. It has since been launched in Bermuda and the First Africa Diaspora Heritage Trail Conference was held in Bermuda this past month. IIPT has, and will continue to collaborate with Bermuda and the Africa Travel Association (ATA) in the promotion of the Trail. A workshop which included Mr. Francesco Frangialli, Secretary General of World Tourism Organization, and Mira Merman, Executive Director, ATA on the panel, identified ideas for harnessing the Africa Diaspora Heritage Trail as a vehicle for "Building a Culture of Peace" and contributing to Sustainable Tourism Development.
Cyprus Conference
IIPT has had two conferences among travel and tourism executives from Turkey and Greece. The first was in Gocek, Turkey, September 2000 (one of our events leading up to the Amman Summit.) The Greek Travel Association, HATTA, then reciprocated with a Conference in Thessaloniki, May 2001, which resulted in a Thessaloniki Declaration (posted on our website: www.iipt.org). Recognizing that the Olympic Games returns to Greece in 2004, the Thessaloniki Declaration states in part, "that we strive to make Cyprus a model of Peace and Friendship through Tourism for the Mediterranean Region and throughout the world in the spirit of the original Olympic games."

The outcome of current talks between the Turkish and Greek Presidents in Cyprus will determine the feasibility of an IIPT Cyprus Conference. The visit by Kofi Annan this past month to Cyprus this was a positive contribution to a successful outcome to negotiations. IIPT Coalition Partner Andreas Larentzakis (Kompas Travel) played a key role in organizing both the Turkey and Greek Conferences and is collaborating in the Cyprus Conference. Corinne Parry, IIPT representative for Turkey was the initiator and main organizer of the Turkey Conference.
Dag Hammarskjold International Peace Park
The IIPT Dag Hammarskjold International Peace Park was dedicated in Ndola, Zambia at a special ceremony commemorating the 40th anniversary of the death of UN Secretary General Dag Hammarskjold. The Park is located at the site where the plane carrying Secretary Dag Hammarskjold and his colleagues went down in September 1961. The Dag Hammarskjold Peace Park was one of 11 Peace Parks dedicated as part of our launching of a Global Peace Parks Project on the 11th hour, of the 11th day, of the 11th month, 2000 at Bethany Beyond the Jordan, site of Christ's baptism - closing event of the First Global Summit on Peace through Tourism.
Chapter and Organizational News
The IIPT Caribbean Chapter is planning an IIPT Caribbean Conference on Community-Based Tourism in August of this year. This builds on the success of an IIPT Jamaican Conference August 2001. Diana McIntyre Pike, President of the IIPT Chapter, is spearheading this initiative with members of the Board of the IIPT Caribbean Chapter, and a planning committee.

The newly formed Australia Chapter has had elections and Daphne Lowe Kelley has been elected as President. Daphne Lowe Kelley took a leadership role in organizing the chapter, together with Coalition partner Andreas Larentzakis and others who had participated in IIPT Global Conferences and the Amman Summit. The first event of the new Australia Chapter was a photographic exhibition to celebrate East Timor's self- government and steps for peace. "TIMOR LOROSAE - IMAGES FOR PEACE", was supported by the City of Sydney and was shown in Town Hall House from 21 May to 6 June 2002. Lord Mayor Frank Sartor AO and Mrs. Natalina Horta, mother of Nobel Peace Prize Laureate Josť Ramos Horta, officially opened the exhibit, which included a welcome message from President Xanana Gusmao at the Opening.

A founding meeting for the organization of a Turkey Chapter took place earlier this month organized by IIPT Turkey representative, Corinne Parry. Corinne had an excellent turnout with several senior members of the industry. Initial steps are also being taken by Andreas Larentzakis to form a chapter in Greece.

John Graff, who recently retired as President of the International Association of Amusement Parks and Attractions (IAAPA), has offered his services to IIPT as a volunteer. In his 20 years as President of IAAPA, John grew the organization from a basically US organization to a major international organization with more than 5,000 corporate members. One of John's first accomplishments was to bring IAAPA on board as a new Coalition Partner and he is coordinating with the current IAAPA Executive with a view to engaging members in activities that contribute to the vision of Tourism as a Global Peace Industry. John has also been assisting in seeking sponsors for the Second Global Summit and in the implementation of the IIPT Executive Ambassador Program. Prior to joining IAAPA, John was a lawyer with Marriott Hotels and Resorts.
GLOBAL PARTNERS
| | |
| --- | --- |
| Airline Ambassadors International (AAI)-Africa Travel Association (ATA)-Archaeological Institute of America (AIA) and Archaeology Magazine-Asian Association of Convention & Visitor Bureaus (AACVB)-Caribbean Tourism Organization (CTO)-Connected International Meeting Professionals Association (CIMPA)-CS5-Educational Travel Alliance (ETA)-Elderhostel-eTurboNews-European Travel Commission (ETC)-Global Alliance of Travel & Tourism Organizations (GATTO)-Hospitality Ireland -Hostelling International - American Youth Hostels (HI-AYA) | Indian Tour Operators Association (ITOA)-International Association of Amusement Parks and Attractions (IAAPA)-International Association of Convention & Visitor Bureaus (IACVB)-Kompas Holidays-Middle East - Mediterranean Travel & Tourism Association (MEMTTA)-Nepal Tourism Industry Association (NTIA)-PATA Maldives Chapter-Reed Travel Exhibitions-Society for the Advancement of Travel for the Handicapped (SATH)-Society of Incentive Travel Executives (SITE)-Sustainable Communities Foundation through Tourism (SCFT)-The International Tourism Exchange (BIT)-The OTS Foundation-Universal Federation of Travel Agents' Association (UFTAA) |