PRIME MINISTER OF TANZANIA TO GIVE KEYNOTE ADDRESS AT IIPT 2nd AFRICAN CONFERENCE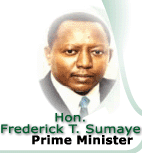 IIPT announced today that Rt. Hon. Frederick T. Sumaye, MP, Prime Minister of the United Republic of Tanzania, will be the Keynote Speaker at the Second IIPT African Conference on Peace through Tourism being held in Dar es Salaam, Tanzania, December 7-12, 2003. The conference is being organized by the International Institute for Peace through Tourism (IIPT) in partnership with the Africa Travel Association (ATA) and
Corporate Council on Africa (CCA); and hosted by the Ministry of Natural Resources and Tourism, Tanzania.

Theme of the Conference is
"Community Tourism – Gateway to Poverty Reduction"

Through strong collaboration with our partners and host, a very strong program has resulted that includes the following keynote speakers:
•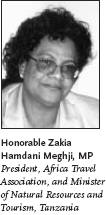 Hon. Zakia Hamdani Meghji, Minister of Natural Resources and Tourism, Republic of Tanzania
• Dawid De Villiers, Deputy Secretary General, World Tourism Organization
• Hon. Valli Moosa, Minister of Environment and Tourism, South Africa
• DeVilliers Botha, Executive Manager, South African Operations, Southern Africa Development Bank
• Sir Jayantilal "Andy" Chande, Rotary Foundation Trustee and District Governor
• Dr. Asha Rose Migiro, Tanzania Minister for Community Development, Gender and Children
• H.E. Mr. Patrick Kalifungwa, Minister of Tourism, Environment and Natural Resources, Zambia
• Ian Christie, World Bank Group


| | | | |
| --- | --- | --- | --- |
| | | | |
| Dawid DeVillier | Hon. Valli Moosa | De Villiers Botha | Sir Jayantilal "Andy" Chande |

Conference Aims
The aims of the conference are two fold: to mobilize travel and tourism – the world's largest industry – as a leading force for poverty reduction in Africa, and secondly, to develop partnerships, implementation strategies and action initiatives that contribute to sustainable community development, peace and poverty reduction.

The Conference will showcase case studied of "Success Stories" and models of "Best practice and develop concrete action programs and pilot projects to facilitate and nurture Sustainable Community Tourism Development.

Iain Christie -
Outcome
The outcome of the Conference will be an "Action Agenda" – a "21st Century Agenda for Peace through Tourism" with a focus on implementation of strategic initiatives and pilot projects that empower local communities to achieve jobs with dignity and sustainable futures.

Participants
The Conference will bring together senior African executives from both the public and private sectors of tourism, NGO's, donor agencies, educators, policy makers, leading-edge practioners, entrepreneurs, future leaders of the industry – and senior representatives of related sectors including environment, culture, sport, and economic development.

Government – Industry – Donor – NGO Roundtable
A "center piece" of the conference will be a Government – Industry – Donor – NGO Roundtable to build consensus on a collaborative strategy in mobilizing tourism as a dynamic and catalyzing force for poverty reduction in Africa.

"Africa 100"
Recognizing that youth are our future, we are seeking to identify an "Africa 100" – 100 young persons who show promise of being future leaders of the African travel and tourism industry. We continue to seek donors for a fund to be used to provide scholarships for worthy "Africa 100" future leaders who otherwise will not be able to participate in the Conference. Persons or organizations interested in making a contribution to an "Africa 100" fund are invited to write iipt@together.net
or Tel +1-802 253-2658 in the U.S.

Educators Forum
The Conference will also feature an Educators Forum with a goal of bringing together educators of Travel and Tourism from colleges and universities throughout Africa to share knowledge, experiences and ideas for future curricula development and educational initiatives that contribute to the aims of the Conference.

Investment Forum
An investment forum will include representatives of donor agencies outlining programs available to investors and entrepreneurs for purposes of sustainable tourism development.

Background
The Second IIPT African Conference builds on the foundations of two Global Summits on Peace through Tourism (Amman, Jordan – Nov. 2000; and Geneva, Switzerland, Feb. 2003) and the First IIPT African Conference, Nelspruit, Mpumalanga Province, South Africa, March 2002).

Conference Venue and Official Hotel
The Golden Tulip Hotel, Dar es Salaam is the venue and official hotel of the IIPT 2nd African Conference. Special hotel rates have been negotiated. For information on the Golden Tulip and other conference hotels– please visit our website: http://www.iipt.org/ .

To Register
To Register, please visit our website: http://www.iipt.org/ and complete the registration form.
---
RCI TO BE MAJOR SPONSOR OF 2ND IIPT AFRICAN CONFERENCE

RCI, the worldwide leader in vacation exchange and hospitality occupancy and revenue solutions, has announced that it will be a Gold Sponsor of the Second IIPT African Conference on Peace Through Tourism. With this sponsorship, the company also renewed its global corporate sponsorship of the International Institute for Peace Through Tourism (IIPT) for 2004.

"The African continent is home to some of the world's great traditional tourism destinations, many of which have been devastated by the events of the past years that have caused tourism to decline around the world," said Ken May, president and chief executive officer, RCI. "RCI has been a leader in African vacations for many years, both domestic and international, and we are committed to supporting the efforts of IIPT to help restore tourism to Africa, which can have enormous positive results for local communities and people."

RCI has been operating within Africa for nearly 20 years. RCI's Southern Africa region services 220,000 member families and 174 affiliated vacation ownership resorts.
"We have seen the ability of tourism to create new jobs, build infrastructure and help in the fight to eradicate poverty within local communities," said Ivor Clucas, managing director, RCI Southern Africa. "Timeshare owners take longer vacations, and spend more while on vacation; in many markets, timeshare owners pay modest real estate taxes which in aggregate can help fund community education, while not adding students to the local schools. Timeshare can be a force for helping to restore tourism to Africa, and we're proud to join with IIPT and sponsor this conference to further these goals."

RCI is a global provider of value-added services to businesses and consumers, and the global leader in vacation property exchange and hospitality occupancy and revenue solutions. As a growth partner to its business clients, RCI leverages core competencies in branding, networking and partnering to unlock the value of leisure assets in vacation ownership, real estate, hospitality, travel & tourism, and with affinities. RCI is a subsidiary of Cendant Corporation (NYSE: CD), a provider of travel and real estate services.

Other Conference sponsors include the Development Bank of Southern Africa DBSA, NorthStar Media, the Ministry of Natural Resources and Tourism, Tanzania, Tanzania National Parks, Ngorogoro Conservation Area Authority, Reed Travel Exhibitions, World Travel Market, and eTurbo News.

---
IIPT FEATURED CENTER STAGE AT WORLD TRAVEL MARKET
World Travel Market, London, was the setting for an official launch of the Second IIPT African Conference on Peace through Tourism, focusing on "Community Tourism: Gateway to Poverty Reduction," scheduled for Dar es Salaam, Tanzania, December
7-12, 2003. The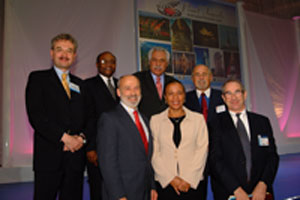 Among the speakers at the IIPT presentation were from left: Ulrich Bunjes, CEO, International Youth Hostel Federation; H.E. Hassan Omar Gumbo Kibelloh, High Commissioner for the United Republic of Tanzania To the Court of St. James; His Excellency Akel Biltaji, Chief Commissioner, Aqaba Special Economic Zone Authority; Michael Stolowitzky, President & CEO, American Tourism Society; Louis J. D'Amore, President & Founder, International Institute for Peace through Tourism; Hon. M.D. Renée Webb MP, JP, Minister of Tourism, Telecommunications & E-Commerce Bermuda; Mr. Patrick O'Shea CTC, representing Mike Spinelli, former President of ASTA.
announcement was made in a center stage presentation on Opening Day, Monday, November 10, 2003. Tom Nutley, Chairman, Reed Travel Exhibitions, an IIPT sponsor, encouraged WTM delegates "to join with all of us to support IIPT's message and efforts to harness the immense potential of travel and tourism to contribute to poverty reduction particularly through an increased emphasis on community tourism.."
H.E. Hassan Omar Gumbo Kibelloh, High Commissioner for the United Republic of TanzaniaTo the Court of St. James, invited everyone to come to Dar es Salaam for the conference and introduced a video on Cultural Tourism in Tanzania.

H.E. Akel Biltaji, Host of the First Global Summit on Peace through Tourism in Amman, Jordan, and Master of Ceremony of the Second Global Summit in Geneva earlier this year traced the progress and achievements of IIPT over the past three years as a foundation for the Action Agenda that will result from the Tanzania Conference.
Hon. M.D. Renée Webb MP, JP, Minister of Tourism, Telecommunications &
E-Commerce, Bermuda; Michael Stolowitzky, President and CEO, American Tourism Society; and Ulrich Bunjes, CEO, International Youth Hostel Federation each spoke of their respective initiatives as IIPT partners in contributing to a vision of "World Peace through World Tourism."
---
CARIBBEAN YOUTH CONGRESS HELD
IN ST. THOMAS, U.S. VIRGIN ISLANDS
Thirteen high school students between the ages of 14 and 17 represented their respective countries as "Junior Ministers of Tourism" at the 3rd Annual Caribbean Youth Congress sponsored by Travel + Leisure magazine.

The annual Youth Congress is the Millennium Project of the Caribbean Tourism Organization, launched as a founding member of the IIPT Coalition of Partners for 'World Peace through World Tourism.'

The students were challenged to discuss and suggest ways to satisfy the needs of mature travelers in terms of product offerings and experiences. They also debated and made recommendations on the new skills and competencies that tourism professionals need to possess to successfully manage today's public and private sector tourism entities.

The "Junior Ministers of Tourism" will be incorporated into tourism events and activities in their respective countries over a one year period, and will act as young ambassadors and spokespersons for tourism.

"The Tourism Youth Congress was one of the highlights of CTC-26. The students acted out their roles of Ministers and Commissioners of Tourism admirably and dealt sensitively and in depth with the topics," said Jean Holder, CTO's Secretary General. "They made it clear that there is a need to have Caribbean youth interested in tourism from an early age. CTO is helping in that regard by staging the Tourism Youth Congress," he added.

The 3rd Annual CTO/Travel + Leisure Youth Congress, which simulated a CTO Board of Directors meeting, was chaired by last year's winner, Zahra Muhammad of Bermuda. The Congress included the award of scholarships and laptop computers contributed by the Naismith International Basketball Foundation.

More than 30 international organizations are members of the IIPT Coalition of Partners for 'World Peace through World Tourism' – each committed to a Millennium Project that contributes to the vision of Tourism as the world's first global peace industry. The full list of Coalition Partners can be viewed at http://www.iipt.org/ . International organizations interested in becoming members are invited to communicate with IIPT Founder and President Louis D'Amore: ljd@iipt.org

---
WAGENINGEN UNIVERSITY ANNOUNCES GRADUATE PROGRAM IN PEACE THROUGH TOURISM
Wageningen University and Research Centre (The Netherlands) has announced that its graduate program is ready for a specialization in Peace through Tourism through a combination of optional courses, internships and thesis writing.

Community development, sustainability, and poverty reduction are at the centre of the Peace through Tourism philosophy. Mutual understanding, integrity of creation, and justice contribute to this worldview. Tourism can be important for social and cultural development; can make people aware of the beauty of nature, and its vulnerability. Tourism certainly offers economic opportunities and employment. The real art is to look for a balanced development between the threats and opportunities of tourism, a balance which can be characterized as sustainable community-based tourism development that can bring well-being and peace for the people involved, both hosts and guests, stakeholders and visitors.

The M.Sc program is characterized by an advanced, world-wide, trans-disciplinary, critical and innovative approach that is truly international and comparative. Through the annual contribution of about 25 to 30 faculty members from the global network of World Leisure and Tourism experts and scholars, it brings together an extraordinary broad range of academic experience. The mission of the Masters Program is to bring students and academics from all parts of the world together in a multi-cultural setting.
To obtain more information about the study program contact:

Dr. J.W. te Kloeze
E-mail: jan.tekloeze@wur.nl
WL-WICE at Wageningen University and Research Centre
The Netherlands
Mrs M.M. Vries - de Heer
Head of Office of Development, WICE-WL
E-mail: ria.vries@wur.nl
---