Strong Industry Support for 3rd IIPT Australia Conference
The Australia Chapter of the International Institute for Peace through Tourism will be holding its 3rd Australian Conference on Saturday, 15 July 2006 at the Avillion Hotel Sydney. The Conference, with its theme Tourism – Agent for Peace?, follows two earlier Australian conferences, Tourism – Passport to Peace in March 2003 and Travel Promotes Peace – Meeting the Challenge in September 2004.

The focus of this conference will be an examination of the role of tourism as an agent for peace. Can travel companies, tourism organizations and those who work in the industry serve a higher purpose and think and act beyond the commercial aspects of their business? Are travelers and tourists or the host communities aware of the important role they can play in creating a more equitable and peaceful world?

President, IIPT Australia
IIPT Australia Chapter President, Daphne Lowe Kelley has issued a challenge to the Australian travel and tourism industry to be a world leader in "Building a Culture of Peace through Tourism" and through this 3rd Australian Conference, to develop the way forward in achieving this goal.
The conference has received strong support from key industry organizations and Chapter members including Qantas Airlines, the Avillion Hotel Sydney, Australian Pinnacle Tours, Touchdown Tours and Intrepid Travel.
Speakers will include industry executives, academics, travelers, representatives of host communities and IIPT's founder and president, Louis D'Amore. This conference is endorsed by the Australian Federation of Travel Agents (AFTA) and its CEO Mike Hatton will be one of the keynote speakers.
For more information and to register: Registration Forms (.pdf)
Or Contact:
Daphne Lowe Kelley
Tel (02) 97193080
lowekelley@bigpond.com
---
Peace through Tourism Course University of Sydney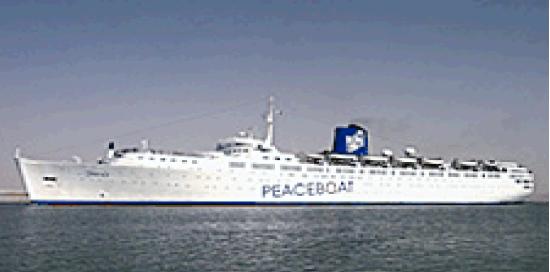 Peace Boat

The postgraduate Peace through Tourism course (PACS6910) will be offered for the second time at the University of Sydney's Centre for Peace and Conflict Studies

The course will be held from July 13 to July19, 2006. IIPT Australia Executive Committee members, Dr Lynda-Ann Blanchard, lecturer in the Peace and Conflict Studies program at the University of Sydney and Ms. Freya Higgins-Desbiolles, lecturer in Tourism Studies at the University of South Australia, are the course coordinators.

Tourism and travel professionals with industry experience are especially welcome to enrol as audit (non-degree) students at a reduced fee – a Certificate in Peace Tourism from the University of Sydney will be awarded to those who complete the course.


An example of "Reconciliation Tourism" – Neville Gollan of Camp Coorong (seated in center) leading a small group of tourists in Coorong National Park, South Australia.



Dr Lynda-Ann Blanchard, Coordinator, Peace through Tourism Course and Lecturer in the Peace and Conflict Studies program at the University of Sydney


Ms. Freya Higgins-Desbiolles, Coordinator, Peace through Tourism Course and Lecturer in Tourism Studies at the University of South Australia

For further information please visit: www.arts.usyd.edu.au/cpacs
or contact Ms. Reign MacMillan for information and/or enrolment: Tel (61 2) 9351-7686
Email reign.macmillan@arts.usyd.edu.au

Media Contact:
Daphne Lowe Kelley
Tel (61 2) 9719-3080
Email lowekelley@bigpond.com
---
Bermuda to Host African Diaspora Heritage Trail Global Conference

Bermuda will be host to an international African Diaspora Heritage Trail Conference, September 27-October 1, 2006. The Conference, sponsored by the Bermuda Department of Tourism and co-chaired by actor/community activist Danny Glover, is part of an initiative to unite African descendents from all over the world in order to enhance cross-border cultural tourism successes and promote stabilization of economies in Diaspora communities.
IIPT is proud to be a partner in the ADHT Conference that will bring together scholars and high-ranking government officials dedicated to the economic and cultural issues within Diaspora communities worldwide. Conference co-chairs Danny Glover and Dr. Raddell Tankard of Bermuda will be joined by guest speakers that include: Dr. Wole Soyinka, Nobel Peace Prize Laureate and noted Correspondent to National Public Radio's Cultural Desk; The Honorable Jake Obetsebi-Lamptey, Ghanian Minister of Tourism and President of the African Travel Association;



Danny Glover

The Honorable Andrew Young, former U.S. Ambassador to the United Nations; Dr. Lonnie Bunch, Founding Director of the new African American Museum and Center for African American Culture, Smithsonian Institute of Washington, D.C.; and Dr. The Honorable Ewart Brown, JP, MP,

Bermuda's Deputy Premier and Minister of Tourism and Transport, as they, and other international speakers, offer insight as presenters and panelists on the important issues at hand.

"The island of Bermuda is honored to welcome these knowledgeable Diaspora scholars to offer their thoughts on African heritage and advancing the growing sector of cultural tourism," said Dr. Brown. "Cultural travel is on the rise, and its success is vital to Diaspora communities as it not only enriches the economies and also awareness of each area's unique historical significance."

The Bermuda Department of Tourism, in conjunction with various global tourism and cultural associations, such as UNESCO, the Africa Travel Association, the Caribbean Tourism Organization, International Institute of Peace through Tourism, World Tourism




Dr. The Honorable Ewart Brown, JP, MP, Bermuda's Deputy Premier and Minister of Tourism and Transport
Organization and Travel Professionals of Color, has developed four full days of informative lectures and discussions, an unprecedented International African Diaspora Cultural Heritage Travel and Trade Show, tours of Bermuda's Diaspora Trail sites -- including the town of St. Georges, a UNESCO World Heritage Site -- and evenings filled with international cuisine and live entertainment.
For more information, please contact:
Jessica Soklow / Katie McCall
Lou Hammond & Associates
Tel: 212-308-8880; Fax: 212-891-0200
E-mail: jessicas@lhammond.com / katiem@lhammond.com
---
Ray of Hope for Children of Tanzania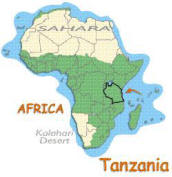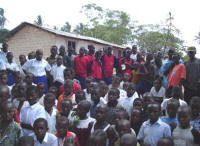 The IIPT Student/Youth Network is planning a service project to give back to the future of a magnificent country, Tanzania. The project will be implemented in partnership with the Lions Club of Dar es Salaam City and Miracle Corners of the World (MCW).
Funds are being sought to improve the quality of life of elementary school children in the outskirts of Dar es Salaam by providing a good living environment, preventive health care, and other essentials to bring hope and a promising future to these under-privileged children.
| | |
| --- | --- |
| | |
| Classroom condition at Kibada Primary School | Classroom condition at Kibada Primary School |
The service project is planned to start in August 2006. with the Kibada Primary School which has an enrollment of approximately 600 students.
The project will provide:
Stationery, desks, blackboards, chalk, text books, educational posters and other school supplies

Clothing, mosquito nets, and medical supplies

Desk top computer and printer

Painting and basic improvements to the school

Lions Club sponsored
health check up for students

Total budget for the project is US$ 6, 250 which will be entirely committed to the material items indicated above.

What Can You Do?

Consider donating towards this much needed project. Upon our return we will bring back pictures for you to see how your donations directly affected the children of Tanzania Donations can be made by check and are tax deductible. Please make your checks payable to:
International Institute for Peace Through Tourism
685 Cottage Club Road, Unit 13, Stowe, VT 05672
Tel: +1 802 253 2658 • Fax: +1 802 253 2645
Your generous donation will truly bring smiles to these young lives.
Please do not hesitate to contact us for any further details about the service project.
You can reach us through e-mail: nishit@iipt.org or amani197@yahoo.com
or give us a call at 612-226-6784.
---
About IIPT
The International Institute for Peace through Tourism (IIPT) is a not for profit organization dedicated to fostering travel and tourism initiatives that contribute to international understanding and cooperation, an improved quality of environment, the preservation of heritage, and poverty reduction; and through these initiatives, helping to bring about a peaceful and sustainable world. It is founded on a vision of the world's largest industry, travel and tourism – becoming the world's first global peace industry; and the belief that every traveler is potentially an "Ambassador for Peace."
For more information:
IIPT Website: www.iipt.org
Tel: (802) 253-2658
Fax: (802) 253-2645
Email: info@iipt.org
---