IIPT FEATURED AT WORLD TRAVEL MARKET
The International Institute for Peace through Tourism (IIPT) was again featured at World Travel Market on November 11th with a theme of:
Peace through Tourism: The Next Twenty Years
The November 11th date was particularly significant together with the symbolism of the 11th hour, of the 11th day, of the 11th month as it was the precise 90th anniversary of the end of World War I – the "War to end all wars."
Nine million people were killed in what has been called the "Great War." Yet, as history has shown, another 100 million people were killed in the remaining 82 years of the 20th century as a result of conflict – most of them innocent men, women and children. We have begun this 21st Century with conflict that has now gone on longer than that first "Great War."
The event began with a brief video featuring "Voices of the first 20 years" that included President Ronald Reagan and Pope John Paul II, both of whom sent video-taped messages to the 1st IIPT Global Conference in Vancouver, 1988; Kind Abdullah II, Patron of the 1st Global Summit, Amman 2000; Harvey Golub, Chairman, American Express and World Travel & Tourism Council and others.
| | | | |
| --- | --- | --- | --- |
| President Reagan | Pope John Paul II | King Abdullah II | Harvey Golub |
Featured speakers who shared their insights, ideas, ideals – and vision on tourism's contribution to peace in the next 20 years included: Ms. Fiona Jeffery, Chair, World Travel Market: Dr. Dawid de Villiers, Chairman, UN World Tourism Organization Strategic Group, and Special Adviser to the UNWTO Secretary-General on Ethical Matters; Ms. Janice Antonson, Chair, Pacific Asia Travel Association (PATA); Mr. Chris Russo, President and CEO, American Society of Travel Agents (ASTA); Ms. Michele McKenzie, Chair, Canadian Tourism Commission (CTC); Mr. Dennis Castleman, Vice President, Inter-governmental Affairs, Travel Industry Association of America (TIA); Ms. Hulya Aslantas, President, SKAL International; David Jones, Director General, World Youth, Student & Educational Travel Confederation (WYSE TC); Mr. Birger Bäckman, Senior Advisor, United Federation of Travel Agents' Associations (UFTAA).
I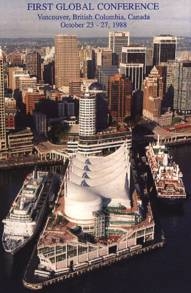 IPT 20th Anniversary
2008 was also the 20th anniversary of the First Global Conference: Tourism – A Vital Force for Peace, Vancouver 1988 – giving us the basis for our theme –
Peace through Tourism: The Next Twenty Years
As well, November 8-11 was the precise 8th Anniversary of IIPT's 1st Global Summit on Peace though Tourism, Amman 2000 and launch of the IIPT Global Peace Parks Program from Bethany Beyond the Jordan, site of Christ's baptism, precisely on the 11th hour, of the 11th day, of the 11th month, in the 1st year of the new Millennium.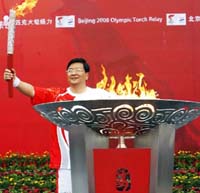 Support for Olympic Truce Leading up to 2010 Winter Olympics
IIPT Founder and President, Louis D'Amore, used the occasion to announce that IIPT would seek to mobilize the global travel and tourism industry in support of the Olympic Truce leading up to the 2010 Winter Olympics in Vancouver. His proposal received immediate enthusiastic endorsement by Ms. Michele McKenzie, Chair, Canadian Tourism Commission (CTC) and other global leaders taking part in the event.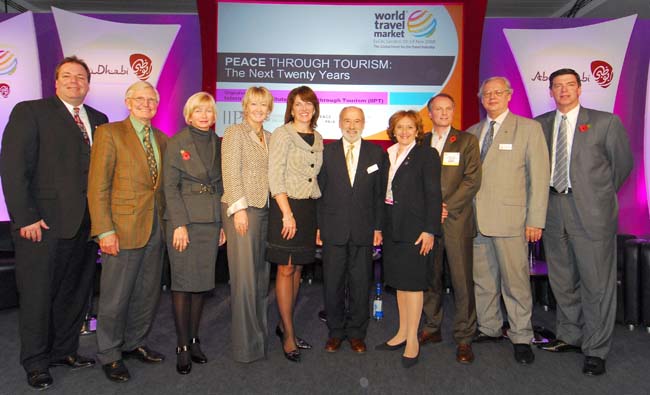 ---
---