IIPT South Africa Savors Community Tourism
Jamaica Style
Members of the newly formed IIPT South Africa Chapter and the Countrystyle Community Tourism Network South Africa, comprising academics, tourism professionals, and an African princess recently took part in a Community Tourism Study Tour of Jamaica – "Home of Community Tourism."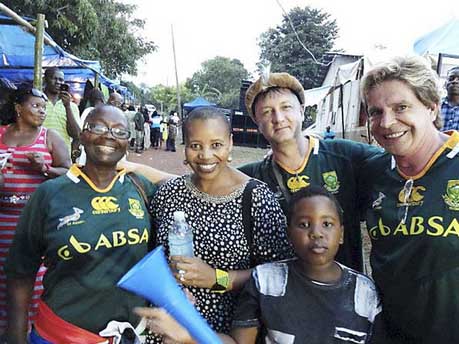 South African delegation at Marcus Garvey Fair
From left: Mapula Tlhagale, Mathu Joyini, South African High Commissioner to the Caribbean, her son Kapello, Louw Allan and Don Leffler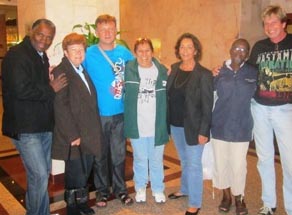 The South Africans traveled to Jamaica to experience and study the Country Style Community Tourism Network model that is being implemented in Jamaica by Diana McIntyre Pike – community tourism pioneer in Jamaica and the Caribbean. The study tour was organized by Diana and her colleague, Joan Dove, PhD, President, Business Training & Services Limited and one of the Lead Consultants with the Countrystyle Community Tourism Network (CCTN).

Members of South African Delegation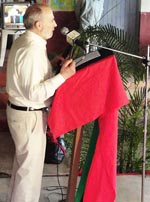 According to Nikki De Pina "It has been our intention to learn about the Villages as Businesses Model and to apply it to a South African context." The South African team plans to showcase their Video clips of the Jamaican Study Tour at South Africa's Tourism Indaba in late 2012
Don Leffler, a member of the Countrystyle South African delegation and a Director at the Tourism Centre of Excellence, situated in Durban, made the point that community tourism is concerned with the impact of tourism on a particular locale and its environmental resources and that it is about local communities and their lifestyles. He stated that, "One of the definitions of community tourism is tourism developed by the people for the people of the community".

Louis D'Amore giving keynote address at Marcus Garvey Fair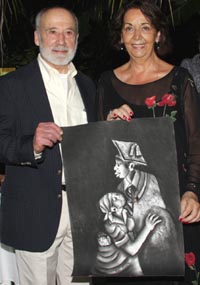 A highlight of the tour was participation in the Marcus Garvey Fair where thousands of Jamaicans annually make their way to the community of Resource in South Manchester. The South African delegation was accompanied by South African High Commissioner Mathu Joyini and her son at the seventh staging of the Fair, an event that highlights the legacy of National Hero Marcus Garvey as well as the rich and bountiful history left behind in Resource by the Tainos, formerly referred to as the Arawaks.
Event planner and organizer of the Marcus Garvey Fair, Valerie Dixon, said "I will be forever grateful and thankful that the South African delegation insisted on wanting to experience the community of Resource and to participate in and be entertained at the Marcus Garvey Fair.
IIPT President receives Peter Sibeko painting from Bernadette Nickol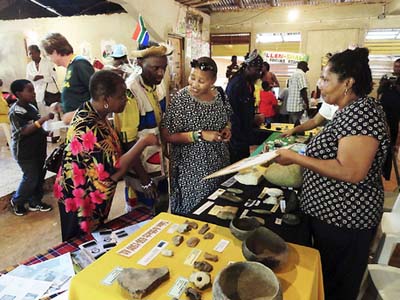 South African High Commissioner with patrons at Marcus Garvey Fair