Livingstone International University Receives
Leadership in Quality Award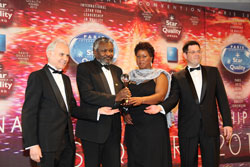 Livingstone International University of Tourism Excellence and Business Management (LIUTEBM) in Zambia was chosen as a recipient of the International Star for Leadership in Quality Award for quality leadership, technology, management, student satisfaction, brand name, and academic results. The prestigious award was presented to LIUTEBM and received in Paris this past month by University Vice Chancellor Dr. Patrick K. Kalifungwa (second from left in photo).


The International Star for Leadership in Quality Award recognizes the success of those organizations and institutions who strive to improve institutional quality and who pledge to serve as an example within their community.


The BID International Star for Leadership in Quality Convention was held in Paris, with the 2012 presentation of awards given to organizations from 57 countries around the world for achievements in quality and excellence. Livingstone International University of Tourism Excellence and Business Management (LIUTEBM) received the International Star for Quality in Leadership Award in the Gold Category, recognizing it for commitment to quality,  leadership, technology, and innovation represent outstanding international achievement for Zambia.

The creation of the TQM QC 100 model is the result of many years of dedication of professionals and specialists in business management, who have worked toward defining the philosophy and the modern concept of quality. Its purpose is to use concrete terminology to transmit the ongoing improvement, which should take place in every area of the organization covering everything from a 'Customer satisfaction culture' to 'Business Results Awareness.'

LIUTEBM is committed to the principles of the QC 100 Total Quality Management model, and the university accepts quality as a factor for development to become more competitive. Dr. Kalifungwa said: "We are committed to publicizing this quality culture with lecturers, staff, students, and the community, supported by the QC 100 Total Quality Management Model, and accordingly adhere to the following principles:

- Quality is a consequence of valuing student satisfaction and obtaining positive academic results.
- participation and teamwork in decision making.
- Meeting the needs and expectation of our students.
- Providing human, technical and economic resources to achieve continuous improvement
- Respect for the environment.
- Managing resources to achieve the maximum potential of our students.

LIUTEBM was, therefore, presented with the Award in Quality for outstanding organizational  achievements, perseverance, leadership excellence , and total quality in accordance with the QC 100 criteria.

Dr. Kalifungwa stated that "Our goal is to create total university awareness in which each and every person is able to 'do it better.' In order to achieve this goal, we must accept the commitment to fulfill the guidelines set by the BID 100 Points of Quality. LIUTEBM strives to develop the quality culture among its professors, lecturers, students, and academic community, with the aim of imparting knowledge, skill, and competence to students thereby fostering their confidence and ability to add value to the economic, social, and political development their profession and country."


LIUTEBM Chancellor, Louis D'Amore added "Dr. Kalifungwa is to be commended for his vision and dedication to achieving an internationally prominent university – and to the sustainable economic development and societal well-being of Zambia and the African continent."
About LIUTEBM                                                                                                    
The University's vision is "to be the premier center of excellence in the promotion and development of the tourism industry and allied services in Africa."
Our mission is "to provide highly specialized and quality knowledge, skills, competencies and institutional capacities so as to bring about the promotion and development of the tourism industry and allied services in Africa and enhance its contribution to the desired sustainable development of all countries in our service area".
The primary goal of LIUTEBM is to ensure that its graduates acquire the necessary confidence, knowledge, skills and professional acumen to make a contribution to their profession and to society.