IIPT Holds Joint Board Meeting in New York
A joint meeting of the IIPT Board of Directors and IIPT International Advisory Board was recently held at the Mandarin Oriental Hotel in New York City to discuss future plans for IIPT.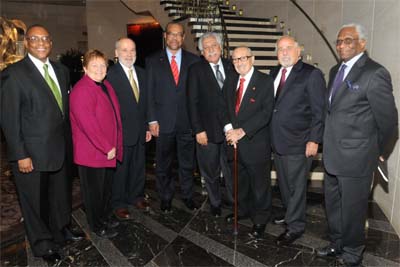 Taking part in the meeting (from left to right in the photo) were Timothy Marshall, Chairman, IIPT Board of Directors and President, Jamaica Business Resource Center (JBRC); Nina Meyer, President & Chairman of the Board, American Society of Travel Agents (ASTA); Louis D'Amore, IIPT Founder and President; Markly Wilson, Director of International Tourism Marketing, State of New York; Senator Akel Biltaji, Royal Hashemite Kingdom of Jordan; Alex Harris, Founder and Chairman, General Tours; Michael Stolowitzky, Marketing Executive, American Express Vacations; and Dr. Noel Brown, Chairman, IIPT International Advisory Board and President, Friends of the United Nations.
Focus of the Luncheon Meeting was planning for the commemoration of IIPT's
25th anniversary of its First Global Conference: Tourism – A Vital Force for Peace, Vancouver 1988 to take place in 2013. The 1988 First Global Conference was a major milestone in travel and tourism with 800 delegates from 67 countries representing each region of the world.
The IIPT Vancouver conference introduced a "Higher Purpose" of
 tourism including the key role of tourism in:
Promoting international understanding
Collaboration among nations
Protecting the environment and preserving biodiversity
Enhancing cultures and valuing heritage
Sustainable development
Poverty reduction and
Reconciliation and healing wounds of conflict
The Conference was particularly noteworthy for first introducing the concept of Sustainable Tourism Development - four years prior to the U.N. Rio Earth Summit 1992. IIPT went on to further develop the world's first Code of Ethics and Guidelines for Sustainable Tourism Development in 1993 for the Canadian tourism industry - a year following the Rio Summit, followed by the first international study of models of best practice in tourism and environment for United Nations Environment Program (UNEP).
IIPT Founder and President, Louis D'Amore expressed "Our sincere appreciation to Senator Akel Biltaji for hosting the Luncheon Meeting," recalling that as Minister of Tourism and Antiquities, Hashemite Kingdom of Jordan, H.E. Biltaji hosted the First IIPT Global Summit in Amman, Jordan, November 2000. The first IIPT Global Summit resulted in the Amman Declaration, which has been adopted as an official document of the United Nations – and the launch of IIPT's Global Peace Park Program with the dedication of a Peace Park at Bethany Beyond the Jordan – Baptismal Site of Christ - on the 11th hour of the 11th day of the 11th month of the first year of the new Millennium.
IIPT International Advisory Board Chairman, Dr. Noel Brown, paid tribute to Alex Harris, Founder of General Tours in 1947 – one of America's first tour companies -  saying "Alex Harris is internationally recognized as one of the Deans of travel and tourism, and a pioneer in developing overseas destinations for Americans. His guiding philosophy in founding General Tours originated at the Geneva Peace Conference following the Second World War with a mission to build bridges of understanding between North America and Eastern Europe."
IIPT Board of Directors Chairman, Timothy Marshal stated "IIPT appreciates the strong relationship we have had with ASTA over the past ten years and that we look forward to an even stronger win-win partnership with Nina Meyer and ASTA as we move forward in the years ahead. 
Further plans for IIPT's 25th anniversary year will be unveiled in the months ahead.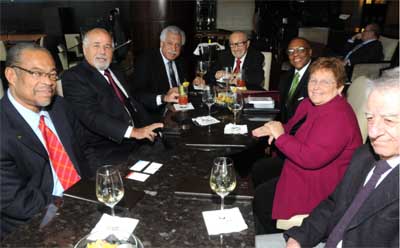 IIPT Names Folk Ensemble Lindjo an Honorary IIPT Ambassador for Peace
The International Institute for Peace trough Tourism and Folk Ensemble Lindjo from Dubrovnik, Croatia, have signed a Memorandum of Understanding with the aim to promote peace, mutual understanding and collaboration amongst nations of the world.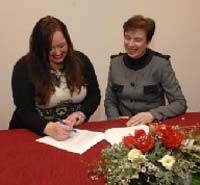 The cooperation between FE Lindjo and the IIPT holds great importance for the development of cultural exchange and re-ignition of cultural connections in the South Eastern European region, with a view to enhance harmonious relations, as well as protection of cultural heritage. 
FE Lindjo and the IIPT aim to cooperate and support one another in their respective activities and initiatives which include enhancing cultures, valuing heritage and promoting peace. Together, they intend to harness tourism and culture as contributors to sustainable development in the South Eastern European region and promote collaboration among those two sectors, working towards a contribution to reconciliation and healing wounds of conflict.
The Memorandum is also considered to represent the foundations to a future Institute of Folk Culture for South Eastern Europe. The Memorandum was signed by the Director of FE Lindjo, Mrs Dubravka Saric and IIPT Director for Events and Development, Ms Sneshka Richter, on behalf of the IIPT. Herewith, FE Lindjo has become an honorary IIPT Ambassador for Peace. The signing took place at the Hotel Lero in Dubrovnik, Croatia.
The friendship and positive cooperation between the IIPT and FE Lindjo was conceived at the 1st UNWTO International Conference on Tourism and the Media, held mid September 2011 in Zagreb, Croatia, which was also attended by the founder and President of the IIPT, Mr Louis D'Amore.
On this occasion, Mr D'Amore and Ms Richter have also made an official visit to the National Park Plitvice Lakes where they have discussed the potential of the National Park being dedicated as an IIPT Peace Park, with the aim to enhance awareness of Croatia's commitment to peace and a healthy environment, as well as providing a place of reflection on our connectedness to one another as a Global Family and to the earth of which we are all a part.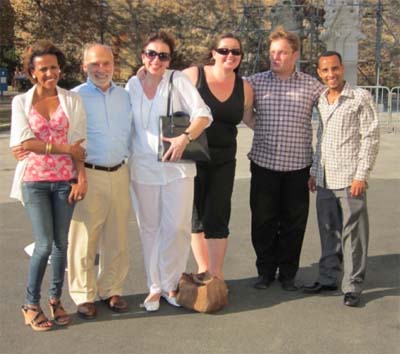 Photo: From left to right, Tsehay Aklilu Biresaw, Journalist, Ethiopia; Louis D'Amore, IIPT President and Founder, USA; Mrs Dubravka Saric, Director of FE Lindjo, Croatia; Sneshka Richter, IIPT Director, Events and Development, UK; Dr.sc. Tomislav Plukavec, Croatologist and Secretary for Culture to the Arcbishop of Zagreb , Croatia; Daniel Tsehay, Journalist, Ethiopia

IIPT to Partner with TIMOTCA for
"Citizen of the World Program"
Inspired by the words of the great philosopher, Socrates, who stated, "I am not an Athenian, or a Greek, but a Citizen of the World" and by the iconic lyrics of John Lennon's, Imagine…. "Imagine all the people sharing all the world" The International Museum of Twenty-first Century Arts, (TIMOTCA), proclaims September 23, 2012 "Citizen of the World Day".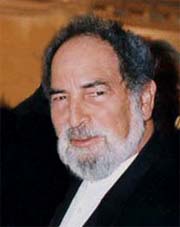 Founded in 1980, TIMOTCA is a non-profit organization whose goal is to foster peace and cultural understanding through the universal language of art and to establish the world's first global center for the visual and performing arts representing every country, territory, colony,
island group and as many cultures as possible.  To date, over 60 countries have accepted TIMOTCA's invitation to participate.

ED Solomon, Founding Chairman and CEO TIMOTCA
TIMOTCA's Permanent collection of original paintings, featuring the world's most celebrated artists officially selected to represent their respective countries in TIMOTCA's global cultural program, has been organized as the Art Beyond Borders Exhibition.  Under the patronage of UNESCO, Art Beyond Borders premiered at United Nations Headquarters and was exhibited in Paris and Lisbon and in cities across America. The 2012 Art Beyond Borders Exhibition will be presented at the United Nations under the patronage of the United States Mission to the United Nations.   
The United Nations World Tourism Organization (UNWTO) reported international world travelers reached a record 980 million in 2011 and, according to Art and Tourism there are approximately 300 million annual travelers to cultural destinations.  TIMOTCA plans to create the ultimate cultural destination with the establishment of the TIMOTCA Centre – bringing together people from every walk of life and from every country to share the creative spirit found everywhere on earth.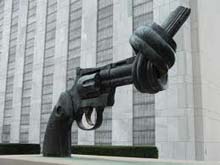 Art is a formidable tool of diplomacy. The arts are the human face of a nation. Whatever the bilateral, political, or economic concerns between countries, cultural communications cannot help but create an improved climate of trust and friendship, because the arts in all their myriad forms express the humanity common to all people. Rcountries, cultural communications cannot help but create an improved climate of trust and friendship, because the arts in all their myriexpress the humanity
Expanding on TIMOTCA's Goodwill Ambassador for Peace program, TIMOTCA joins with the International Institute For Peace Through Tourism (IIPT) in the belief that every traveler is potentially an "Ambassador for Peace".
TIMOTCA encourages everyone to adopt the IIPT Peaceful Traveler Credo which was inspired by the IIPT First Global Conference: Tourism – A Vital Force for Peace nearly 25 years ago and promotes responsible travel by encouraging respect for hosts and the environment.  It has been spread across the travel and tourism industry worldwide - http://www.iipt.org/credo.html
Please join TIMOTCA and IIPT in celebrating Citizen of the World Day on September 23rd by becoming a Citizen of the World, joining such notables as John F. Kennedy, Itzhak Pearlman, Angelina Jolie, Bono, Bill and Melinda Gates, Richard Branson and Jeff Skoll to name a very few." Lend your voice in the promotion of peace and cultural understanding at this most critical time in world history.
For further information and to become an official TIMOTCA Citizen of the World please visit www.timotca.org.

VILLAGES AS BUSINESSES PROGRAMME MOVES FORWARD
Diana McIntyre-Pike, IIPT Caribbean President and President of Countrystyle Community Tourism Network (CCTN) has brought on board Joan Dove, PhD, President, Business Training & Services Limited as one of the Lead Consultants with the Countrystyle Community Tourism Network (CCTN). Joan will be Projects Coordinator/Consultant for establishing Virtual Community Tourism offices in Jamaica and internationally including South Africa for the VAB programme to facilitate easy access to a suite of services which include consultation, workshops, training, certification, etc. in association with the National Best Community Foundation (NBCF), Positive Tourism Network (PanaCarib), National Association of Jamaicans and Supportive Organizations (NAJASO), and the Northern Caribbean University (NCU) Morris Entrepreneurship Centre with links to community-based organizations.
Joan has already made significant contributions in the planning and organizing of the Montego Bay leg of the Countrystyle Community Tourism Network –South Africa Study Tour that  took place February 16 – 26, 2012. The group's activities began with an official Welcome Meet the People party hosted by the Jamaica Tourist Board and the Jamaica Hotel Tourist Association, followed by a Montego Bay Highlights tour, a VAB Presentation and social get together at Sky Beach Restaurant & Bar, Hopewell Hanover, on February 17.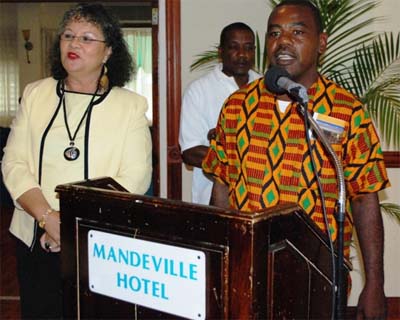 Diana McIntyre-Pike and Astil Gage, of Beaston Springs Community at VAB launch

According to Nikki De Pina "It has been our intention to learn about the Villages as Businesses Model and to apply it to a South African context." The South African team plans to showcase their Video clips of the Jamaican Study Tour at South Africa's Tourism Indaba in late 2012.

Nikki De Pina, Lead Partner and Consultant, CCTN South Africa arranged along with the CCTN Jamaica team an invitation to the South African Ambassador to make a special welcome address at the Annual Marcus Garvey Fair in Resource Village, which was a key part of the group's tour experience. To add to the Garvey festivities, Mr. Louis D'Amore, Founder and President of the IIPT gave the keynote sharing his vision and mission of 'Peace through Tourism' and to officially endorse the Villages as Businesses programme as a project for peace through tourism.

Olympic Truce Campaign Gathers Strength -

What you can do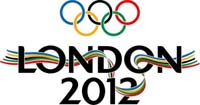 IIPT is proud to be a partner in the global campaign promoting the 2012 Olympic Truce ('Ekechereia'). The campaign builds on the historic UN resolution this past October calling for a global truce during the period of the Olympic Games.
The tradition of the Olympic Truce dates back to 776 BC, on the occasion of the first recorded Olympic Games in ancient Greece. City-states decided to cease all warfare and endorse Truce thus sending a message of peace and fair play. During the Truce, athletes, artists and their families, as well as ordinary pilgrims, could travel in total safety to participate in or attend the Olympic Games and return afterwards to their respective countries.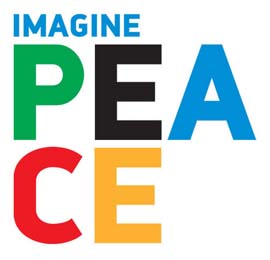 Since its revival in 1992, it has received formal endorsement from the UN and been adopted by190 UN member states, making it the most widely supported resolution in the history of the UN. The Olympic Truce has a demonstrated history of helping to further dialogue and understanding — providing a valuable window of opportunity to work towards the peaceful resolution of conflict. The 2012 Olympic Truce once again calls upon humanity to lay down its weapons and to work towards building the foundations of peace, mutual respect, understanding and reconciliation.

What you can do
Join us in developing stakeholders for the Olympic Truce.





Help us to identify a worthy young person from one of the 40 conflict zones of the world to bring to the Olympics and to train him/her as an "Ambassador for Peace."





Assist us in raising funds to bring theses youth Ambassadors from conflict zones to the 2012 Olympics and for training while in London.





Join us in promoting one minute of silence among your local groups and organizations during the 2012 Opening Ceremony of the Olympics

.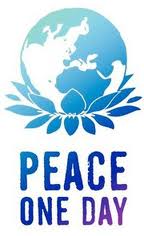 The Olympic Truce campaign is being led by Gordon Sillence, DestiNet.  http://london2012olympicpeacecampaign.org/
Persons and organizations wishing to be involved in any of the above are invited to email Louis D'Amore, IIPT President – ljd@iipt.org
IIPT World Peace Tours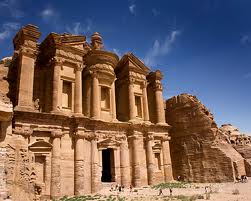 IIPT launched World Peace Travel in an effort to be a model of tourism that exemplifies the ideals,concepts and philosophies upon which IIPT was founded and toward the mission of promoting a "Culture of Peace through Tourism." World Peace Travel is being spearheaded by IIPT board member Donald King.

The following peace tours will be offered in 2012:
The Gulf Experience: United Arab Emirates and Oman - January 31-February 10, 2012
The Wild Jordan Tour - March 6-16, 2012
Nabji Festival Trek & World Peace Tour to the Himalayan Kingdom of Bhutan - January 8-21, 2012
World Peace Tour: Tanzania - June 1-13, 2012
Are You Ready to Climb Mount Kilimanjaro? - February 18 and June 16, 2012
Discover Croatia 2012
Click here to read more information and detailed itinerary
Travel Agents
Travel Agents please note that tours are commissionable – please contact Louis D'Amore, Email: ljd@iipt.org
Meeting the Challenges of Climate Change to Tourism:
Case Studies of Best Practice
Industry officials, experts, academics and practitioners share their knowledge, experience, research and methods of best practice to address and adapt to the adverse effects of climate change
Edited by
Louis D'Amore and Dr. Patrick Kalifungwa

The International Institute for Peace through Tourism's 5th IIPT African Conference: "Meeting the Challenges of Climate Change to Tourism in Africa and the Developing World," was held in Lusaka, Zambia, in May 2011. Participants in the Conference were so enthusiastic about the quality of presentations that they believed the knowledge should be shared with a wider audience.
Accordingly, this publication contains papers and presentations from the 5th IIPT African Conference and other selected experts' case studies, articles and models of best practice. It was developed in collaboration with IIPT's academic partner in the Conference, Livingstone International University of Tourism Excellence and Business Management (LIUTEBM) and the World Tourism Organization (UNWTO).
To read the case studies, click on this link.
There is no cost to access the book but contributions to IIPT to offset costs are welcome.
About IIPT
The International Institute for Peace through Tourism (IIPT) is a not for profit organization dedicated to fostering travel and tourism initiatives that contribute to international understanding and cooperation, an improved quality of environment, the preservation of heritage, and poverty reduction; and through these initiatives, helping to bring about a peaceful and sustainable world. It is founded on a vision of the world's largest industry, travel and tourism – becoming the world's first global peace industry; and the belief that every traveler is potentially an "Ambassador for Peace."
For more information:
IIPT Website: www.iipt.org
Tel: (802) 253-8671
Fax: (802) 253-2645
Email: info@iipt.org
eTurboNews is proud to be the sponsor for this IIPT Newsletter
Advertising Submit Articles Circulation Contact Partners Team