IIPT Panel at World Travel Market
to Feature Dr. Taleb Rifai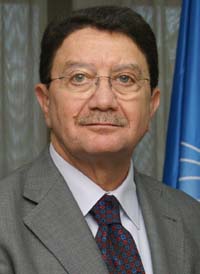 The International Institute for Peace through Tourism (IIPT) is proud to announce that Dr. Taleb Rifai, Secretary General, World Tourism Organization will be a featured speaker at this year's IIPT event at World Travel Market in a panel discussion on:  

Building Bridges of Collaboration for Sustainable Tourism Development in the Mediterranean Region


Other featured speakers include: H.E Nayef Al-Fayez, Jordan Minister of Tourism, Antiquities and Environment; H.E. Mohamed Hisham Abbas Zaazou, Minister of Tourism, Egypt; and Elhamy ElZayat, Chairman and CEO, EMECO Travel, Egypt. The panel will be moderated by H.E. Akel Biltaji, Special Advisor to H.M. King Abdullah II and member of IIPT International Advisory Board.
| | | | |
| --- | --- | --- | --- |
| | | | |
| H.E Nayef Al-Fayez, | | | H.E. Akel Biltaji |
The Mediterranean Region is the world's most visited destination. UNWTO projections are that it will be adding 10 million more international arrivals a year for a total of 500 million by 2030. The region is currently challenged with economic downturns in source markets; political transitions of the Arab Spring in Northern Africa; preserving natural and cultural heritage; and the impacts of climate change.


The session will explore opportunities for collaborative strategies to achieve sustainable tourism development in support of the UN Millennium Development Goals; attracting visitors from new and emerging markets; and nurturing tourism, culture, the arts and sport in promoting a "Culture of Peace" throughout the region.


Time and Place
The session will be held at the ExCel Center, Tuesday, November 6, from 15:30 to 16:30 in South Gallery Room 20.
Please join us if you plan on attending World Travel Market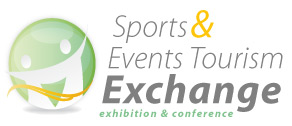 IIPT President hosted at Sports and
Events Tourism Exchange, Durban South Africa
IIPT Founder and President, Lou D'Amore was hosted at the Sports and Events Tourism Exchange (SETE) held in Durban, KwaZulu-Natal Province, South Africa September 12-14. This was the second annual event of SETE following its successful inaugural event in Cape Town 2011.

The Sports and Events Tourism Exchange is a recognition that sports and events are two of the most rapidly growing sectors of the tourism industry – and the benefits that result from the hosting of major events such as the World Cup in 2010. SETE provides a platform to pursue the hosting of major international events including sports, conferences and conventions; promote South Africa as a sports, events and training destination; and to support the development of local federations and associations. 
SETE 2012 was supported by South African Tourism; Culture, Arts, Tourism, Hospitality and Sports Sector Education and Training Authority (CATHSSETA); and the Province of KwaZulu-Natal, fondly referred to as the 'Zulu Kingdom.'
SETE provided an opportunity for Mr. D'Amore to meet with representatives of organizations from some 20 different countries to discuss areas of possible collaboration and mutual support and as well to explore opportunities for a future IIPT Conference to be hosted by South Africa. IIPT's first African Conference was indeed held in Nelspruit, Mpumalanga Province, South Africa in 2002.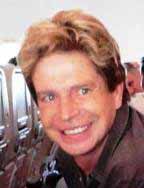 D'Amore expressed his gratitude to the supporters of SETE, and to Don Leffler,Director, The School of Business, for his nominating him as an international hosted buyer. He also congratulated Don for the several international partnerships he has developed with his newly launched organization, "Community Development Initiatives International." CDI International includes partner members from South Africa, Nigeria, Brazil, Jamaica, France, India and America. Its vision is to "inspire a global network of thriving Communities through Tourism, Sport, Education, Business & Trade".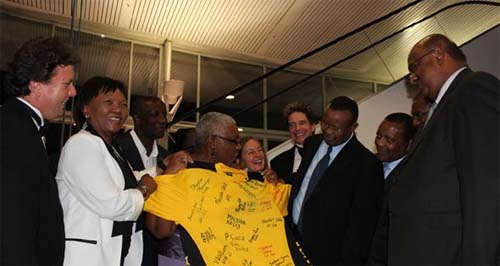 A major feature of SETE was a Gala dinner welcoming home South Africa's most successful Olympic team ever. The photo on the left, taken during the dinner, is the presentation to Mike Tsotetsi, CATHSSETA CEO of a Jamaican Netball Team Jersey signed by the national Jamaican Team, the Sunshine Girls, by Jamaica Netball Association President, Marva Bernard. In the photo are some of the Member Partners of CDI International, Jason Henzell (Jamaica), Mazethu Zondi (KZN, South Africa), Tony Davis (Jamaica), Lisa Bradshaw (France), Don Leffler (South Africa) with Mike Tsotetsi, CATHSSETA CEO, and South African Sports Confederation and Olympic Committee (SASCOC) Chairman, Gideon Sam.
Pictured below right are: Olympic Gold Medal swimmer, Chad le Clos; IIPT member, Bernadette Nickol; Miss South Africa, Melinda Bam; and Lou D'Amore.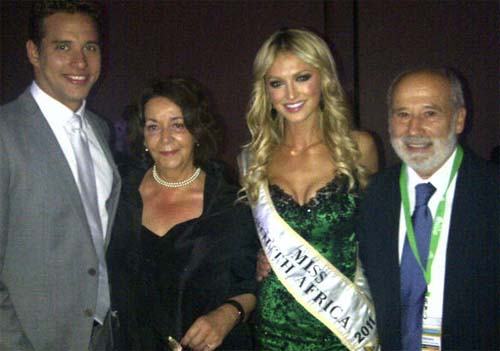 Knysna Tourism Collaborating with IIPT
in Heritage Tourism Development
IIPT President, Louis D'Amore was recently hosted by Knysna, heart of the Garden Route, Western Cape Province South Africa where he had the opportunity to meet with members of Knysna Tourism. The visit has resulted in several important tourism initiatives being developed by Knysna Tourism Development Manager Glendyrr Fick in collaboration with IIPT and with the potential to be implemented throughout Africa as well as other regions of the world.  

Ebrahim Windwaaai, Knysna Tourism Front Office Supervisor; Shaun Van Eck- CEO Knysna Tourism, Louis D'Amore, IIPT; Rose Bilbourough, Sedgefield Tourism Office Manager; Glendyrr Fick, Knysna Tourism Development Manager.

Green Chefs
Noteworthy among the several projects is the "Green Chefs" initiative.  This community tourism chef's training program is designed to add value to nature-based experiences presented at all nature reserves and national parks in Africa and, eventually, across the globe.
Members from the community are trained as chefs and given the knowledge, skills and tools to not only cook delicious and nutritious meals according to traditional recipes, but to grow and cultivate their own ingredients. This empowerment program will enhance nature-based experiences by including a traditional meal, storytelling and interaction with locals, thereby creating a holistic offering for travellers.
This creates a sense of pride in the Green Chef about his/her heritage and culture, which in turn creates a sense of pride of local heritage in the host community.  
Fick envisions an international Green Chefs' network of empowered individuals who will take their knowledge back to their communities. Many people in local communities earn an income from catering and they cook for their families on a daily basis. By investing in a project of this nature, we improve these skills and encourage entrepreneurship.

Louis D'Amore addressing members of Knysna Tourism
Through creating awareness of culinary traditions, light will be shed on other aspects of cultural heritage, as well as how it may be promoted and preserved. This project may also foster stronger relationships between local communities, their environment, nature reserves, national parks and destination marketing organisations.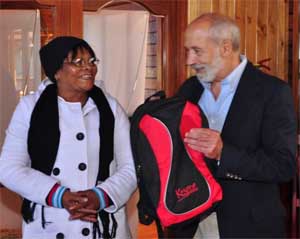 And of course, every tourism experience becomes more special when you are being nurtured with a wholesome plate of delicious, home cooked food, served with an inspiring message.
For more information on Knysna and the Green Chefs Project, please write to Glendyrr, email: glendyrrjones@gmail.com.
Louis D'Amore receives gift from First Nation Representative

South African Communities Host IIPT President
IIPT Founder and President, Louis D'Amore was honored to be welcomed and hosted by the communities of Cullinan, Refilwe and the Dinokeng Game Reserve during his recent visit to South Africa.
Mr. Dumisani Ntshangase - Deputy Director- Public Participation and Community Projects and his team with Gauteng Tourism Authority hosted the visit to these communities. 
Mr. D'Amore was accompanied by Dr. Patrick Kalifungwa - Vice Chancellor Livingstone International University – Zambia, and IIPT Advisory Board member. He was joined in Cullinan by Mr.Maga Ramasamy, President of the IIPT Indian Ocean Islands Chapter based in Mauritius and Mr. Victor Mutanga, UNESCO Youth Peace Ambassador for South Africa and Zimbabwe.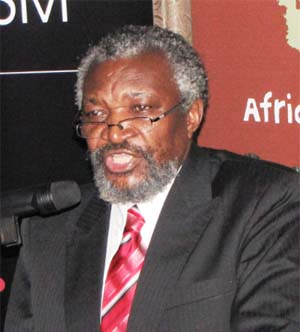 The community of Refilwe provided a special welcome with a cultural event sharing their talents through music, poetry and dancing.  An inspired – and inspiring village meeting was held during the visit to Refilwe with village elders, NGO representatives, youth groups, and members of the community at large sharing their respective projects, concerns and aspirations for the future.

Dr. Kalifungwa addressing community leaders
at the Cullinan gala dinner
Tours through the Dinokeng Game Reserve, Imfundiso Jewellery school, Cullinan Diamond Mine and the village of Cullinan were followed by a gala dinner where Mr. D'Amore presented an overview of global issues and a brief history of IIPT. He emphasized that the wide ranging paradigm of inter-related global issues can only be solved by a world at peace with itself.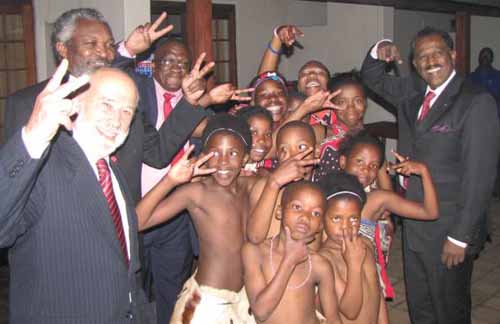 PHOTO: Youth from Refilwe Village, "Voices of Tomorrow," who performed cultural dances prior to gala dinner in Cullinan. Also in the photo, Louis D'Amore (left); Dr. Patrick Kalifungwa (behind D'Amore); and Dan Mokgwetsi, Chairman, Cullinan Chamber of Commerce (behind Kalifungwa); and Maga Ramasamy, President, IIPT Indian Ocean Islands Chapter (right)
Mr. Henk Roos, Executive of the Cullinan Diamond Mine expressed his support for the work of IIPT and the important role that tourism can play in bringing about a culture of peace.
Mr. Dumisani Ntshangase shared a message from Ms. Dawn Robertson - CEO of both Dinokeng and Gauteng Tourism Authority:  "We are confident that the visit by Mr. D'Amore and
Dr. Kalifungwa will result in very positive growth in visitation and bring benefits to local communities in the Dinokeng Project area".
Mr. D'Amore stated: "There is no doubt that the communities of Cullinan, Refilwe and the Dinokeng Game Reserve have a unique combination of  historical, natural, cultural and human attributes that together will enhance their collective future as a tourism destination."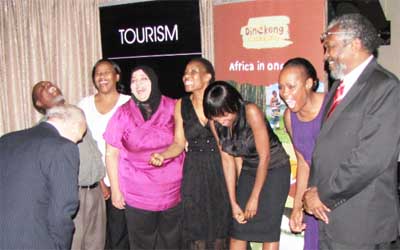 The visit to these communities concluded with a peace tour through Mamelodi, City of Tshwane, and the beautiful capital city of Pretoria with a final stop at the Voortrekker Monument commemorating the Voortrekkers who left the Cape Colony between 1835 and 1854.  The tour was led by Peterson Mahlungu and hosted by the City of Tshwane Tourism team Wouter Koekemore and Joe Sithole.
Mr. D'Amore and Dr. Kalifungwa enjoy a hearty laugh with Gauteng Tourism Authority team

Mauritius hosts IIPT Symposium to
Commemorate World Tourism Day
The Social Club of Air Mauritius hosted an IIPT All Island Symposium to commemorate World Tourism Day, 27 September 2013 on the theme:
Tourism and Sustainable Energy: Powering Sustainable Development.
Featured speakers at the symposium from left to right were:  Mr. Maga Ramasamy, President, World Air Lines Club Association (WACA) and Manager, Human Resources, Air Mauritius (Moderator); Louis D'Amore IIPT Founder and President;  Dr. Arjoon Suddoo,  CEO, Mauritius Research Council; Dr. Patrick Kalifungwa, Vice Chancellor, Livingstone International University of Tourism Excellence and Business Management  (LIUTEBM); and Donald Payen, Executive Vice President, Customer Service and Corporate Communications, Air Mauritius.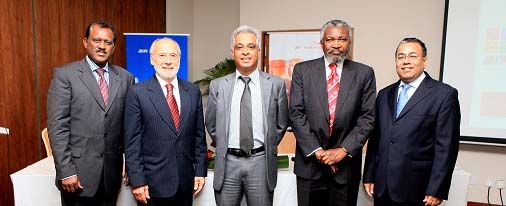 The Symposium also served as the occasion to announce Mr. Maga Ramasamy's appointment as President, IIPT Indian Oceans Island Chapter. More than 60 persons from government, industry, educational institutions, and NGO's took part in the symposium that took place at the Hennesy Park Hotel. A reception and social networking followed the Symposium.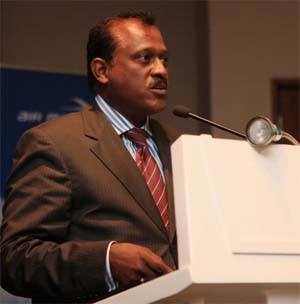 Maga Ramasamy said: "I have been involved with IIPT since its Second Global Conference in Montreal 1994 as Secretary General and then President of the World Airline Clubs Association. It is an honor now to be appointed President of the IIPT Indian Ocean Islands Chapter. We are both grateful and enthusiastic about the opportunities that have resulted as a result of the visit from Louis D'Amore and Dr. Patrick Kalifungwa.
During the visit to Mauritius, Louis D'Amore and Dr. Patrick Kalifungwa, a member of the IIPT International Advisory Board, also had the opportunity to meet with Dr. Jean Claude de l'Estrac, Secretary General, Indian Ocean Commission (COI); Hon. Devnand Virahsawmy, GOSK, FCCA, Minister of Environment and Sustainable Development; Dr. the Hon. Arvin Boolell, GOSK, Minister of Foreign Affairs, Regional Integration and International Trade.
Louis D'Amore said: "Dr. Kalifungwa and I were most impressed with the natural beauty of Mauritius and the warm welcoming spirit and hospitality of its residents. It is not surprising that  Mauritius has consistently ranked first since 2005 in the Ibrahim Index of African Governance –is ranked sixth worldwide in matters concerning the environment and is a leading tourism destination – achievements in which all Mauritians can be proud."
Dr. Kalifungwa added: "We were also grateful for the opportunity to meet with Prof. Soodursun Jugessur, CSK, GOSK, Pro Chancellor & Chairman, U of Mauritius Council and Chairman, Mauritius Research Council; Mrs. Roubina T.D. Juwaheer, Associate Professor, Marketing and Tourism; and Indeeren Vencatachellum, Senior Lecturer at the University of Mauritius to discuss opportunities for collaboration in educational initiatives and research.
Meeting the Challenges of Climate Change to Tourism:
Case Studies of Best Practice
Industry officials, experts, academics and practitioners share their knowledge, experience, research and methods of best practice to address and adapt to the adverse effects of climate change
Edited by
Louis D'Amore and Dr. Patrick Kalifungwa

The International Institute for Peace through Tourism's 5th IIPT African Conference: "Meeting the Challenges of Climate Change to Tourism in Africa and the Developing World," was held in Lusaka, Zambia, in May 2011. Participants in the Conference were so enthusiastic about the quality of presentations that they believed the knowledge should be shared with a wider audience.
Accordingly, this publication contains papers and presentations from the 5th IIPT African Conference and other selected experts' case studies, articles and models of best practice. It was developed in collaboration with IIPT's academic partner in the Conference, Livingstone International University of Tourism Excellence and Business Management (LIUTEBM) and the World Tourism Organization (UNWTO).
To read the case studies, click on this link.
There is no cost to access the book but contributions to IIPT to offset costs are welcome.
IIPT World Peace Tours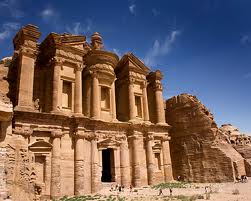 IIPT launched World Peace Travel in an effort to be a model of tourism that exemplifies the ideals,concepts and philosophies upon which IIPT was founded and toward the mission of promoting a "Culture of Peace through Tourism." World Peace Travel is being spearheaded by IIPT board member Donald King.

The following peace tours will be offered in 2012:
The Gulf Experience: United Arab Emirates and Oman - January 31-February 10, 2012
The Wild Jordan Tour - March 6-16, 2012
Nabji Festival Trek & World Peace Tour to the Himalayan Kingdom of Bhutan - January 8-21, 2012
World Peace Tour: Tanzania - June 1-13, 2012
Are You Ready to Climb Mount Kilimanjaro? - February 18 and June 16, 2012
Discover Croatia 2012
Click here to read more information and detailed itinerary
Travel Agents
Travel Agents please note that tours are commissionable – please contact Louis D'Amore, Email: ljd@iipt.org
About IIPT
The International Institute for Peace through Tourism (IIPT) is a not for profit organization dedicated to fostering travel and tourism initiatives that contribute to international understanding and cooperation, an improved quality of environment, the preservation of heritage, and poverty reduction; and through these initiatives, helping to bring about a peaceful and sustainable world. It is founded on a vision of the world's largest industry, travel and tourism – becoming the world's first global peace industry; and the belief that every traveler is potentially an "Ambassador for Peace."
For more information:
IIPT Website: www.iipt.org
Tel: (802) 253-8671
Fax: (802) 253-2645
Email: ljd@iipt.org
eTurboNews is proud to be the sponsor for this IIPT Newsletter
Advertising Submit Articles Circulation Contact Partners Team