Olympic Youth Peace Ambassador Training Program
Begins in London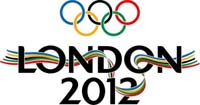 This past Friday, August 31, Gordon Sillence, alongside Lord Michael Bates, welcomed 25 youth from conflict zones around the world in the House of Lords to mark the start of their Olympic Truce training as UNESCO Olympic youth peace ambassadors. The program, which continues through September 9, provides a lasting legacy of the London Olympic and Paralympic Games.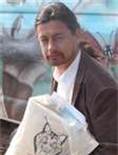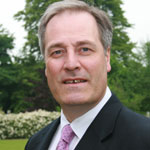 Gordon Sillence and Lord Michael Bates


During the course of the intense 10 day Program, participants will receive training to become UNESCO Youth Peace Ambassadors, and commit to working towards peace and the realization of the Olympic Truce in their respective communities and countries as part of UNESCO's global youth peace ambassador network.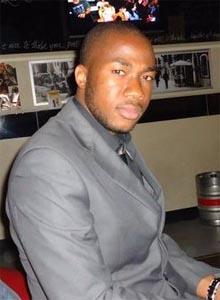 Participating as IIPT's nomination in the Program is Victor Mutanga, from South Africa. Victor is a resilient and self-motivated young man with a long standing commitment to community service. He has been a regular volunteer at 'Hoops for Hope', an NGO which promotes sport as a vehicle for social and personal development. Victor has excelled as well in his young business career as an ad salesmen for B to B magazines. His aspiration is to be a social entrepreneur and Youth Ambassador to influence change on the African continent.

The Olympic Youth Peace Ambassador Training Program is the culmination of efforts by the largest international coalition ever formed to promote the Olympic Truce.  UNESCO, UNEP and the Global Partnership for Sustainable Tourism has joined with Ecotrans, IIPT, Global Sports Partners and other tourism and sports stakeholders, as well as Media Partners: eTurbo News, Travel Mole's 'Vision on Responsible Tourism', Society of American Travel Writers (SATW), and travelvideo.tv, in support the Olympic Truce Campaign and the Youth Peace Ambassador Training Program.


IIPT SOUTH AFRICA AND MADIBA MAGIC


IIPT South Africa Chapter, together with the Cullinan Chamber of Commerce, Living Land crew, SABC Education and the Gauteng North Fly Fishing Club came together this past month as part of "Madiba Magic" to give their 67 minutes for Mandela by cleaning the Malanspruit brook running through Onverwacht village. In true Ubuntu spirit, everyone approached to help, sponsor or provide implements and tools was eager and willing to give more than what was asked from them.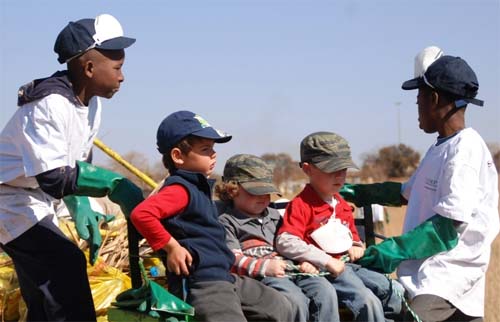 Onverwacht residents are descendants of farm labourers who settled in the area years ago, along with the Voortrekkers of old. They are Afrikaans speaking Khoisan people who mostly live in poverty, despite their rich history and beautiful land. Cleaning the Malanspruit brook made a practical contribution by improving water quality, thus making it safer for humans and animals to drink.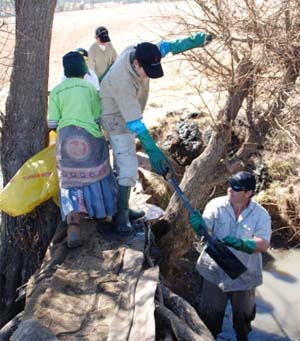 The community embraced the initiative with young and old joining in the effort to get the brook's water flowing once again. Nozipho Ndiweni Executive Producer of Living Land, an SABC Education program, reminded everyone present of the overarching objective of Mandela Day. "We need to inspire individuals to take action to help change the world for the better, and in doing so build a global movement for good."

Werner Smith, the president of the Gauteng North Fly Fishing Association explained their participation: "The nature of our sport brings us very close to the beauty of our country as it plays a vital role in many aspects of our sport. Clean rivers, the fish and insects in it, the overall natural environment and especially the conservation thereof are in our blood."

IIPT Founder and President added, "The Ubuntu spirit generously demonstrated by the sponsoring organizations and all those involved in cleaning the brook running through Onverwacht community is a testimony to the living legacy of Nelson Mandela who has been an inspiration to millions of persons throughout the world."
IIPT Rwanda Chapter being Formed


We are proud to welcome into the IIPT family, Rwanda's Albert Nzamukwereka who is taking a leadership role through JCI Rwanda  in establishing an IIPT Rwanda Chapter.  Albert is being mentored by IIPT member Nikki de Pina of South Africa, serving with the Cullinan Chamber of Commerce.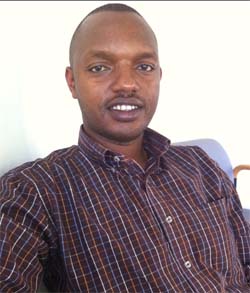 Albert was a human rights advocate while studying at Columbia University in the U.S. and has completed a Master's degree in Peace Studies at NUR-Guttenberg University (thesis pending). He has been involved in Development Initiatives and Programs for the past seven years. Albert co-founded Never again Rwanda; worked for The Peace Research Institute Stories For Hope; served as Country Manager for Survivor Corps; and is currently a Senior program Officer in charge of Government relations and Civic participation at IREX , a  USAID/MCC funded Project.

JCI Rwanda was launched in 2004, with a goal to stimulate the socio-economic development of Rwanda through 4 pillars of intervention: Entrepreneurship, Leadership, Social Responsibility and Networking. Through their slogan 'be better' they strive to excel in their work and inspire their peers to do the same. Their main activities range from coaching in business plan writing, leadership, networking, training, and business plan competitions for SMEs. JCI Rwanda has more than 200 active members, the majority of them being young business owners (SMEs) and professionals.

'Lets do it in the Caribbean'
Unites Caribbean Countries as One Market


During the last two years, PanaCarib Business Solutions has introduced one of the premier web portals for the Caribbean that is fusing Jamaica and other Caribbean countries as one marketplace, called Letsdoit inthecaribbean.com. It is a new online directory that is marketing and promoting Caribbean products and services locally, regionally and internationally.


The web portal is the creation of  Theo Chambers, chief solutions consultant, and Sharon Parris-Chambers, president of PanaCarib Business Solutions alongside Dionne Kelly, vice-president and manager, Internet Technology and Michelle Parkes, director of sales and marketing. The portal is the umbrella for more than 50 websites that market and promote the Caribbean and the Diaspora by providing personalized interactive listings.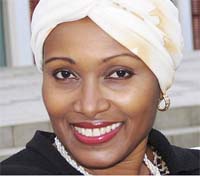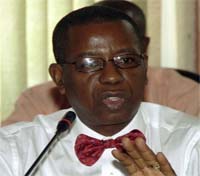 Sharon Chambers and Theo Chambers

"The aim of Letsdoitinthecaribbean.com web directory is to unite the Caribbean countries as one marketplace. We have joined various businesses and tourism-related associations that will give excellent visibility and branding regionally and internationally," Chambers said. The web directory has received full endorsements from key players across the various local and regional industries as the 'go to' site for any and everything Caribbean.

In summer 2012 the team has been giving back to the local community by training and mentoring student interns in updating and maintaining the web directory, facebook page (www.facebook.com/letsdoitinthecaribbean), and engaging in data entry and research, which are vital skills and assets to aid in their business development.
Treasure Beach Triumphs in
Jamaica National Best Competition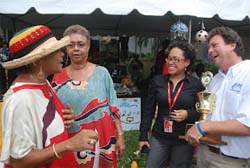 TREASURE BEACH CELEBRATES: Denise Wedderburn (left), Project Coordinator for the Treasure Beach Community Development Committee (CDC) has a victory chat with (from left) Fern Falconer Luecke, the CDC's PR officer, Kerry Jo Lyn, Digicel Foundation's Programmes Manager and Jason Henzell, Chairman of the BREDS Foundation of Treasure Beach. Treasure Beach placed first in the 2011-2012 National Best Communities Competition and Programme. The Digicel Foundation will award the community with US$ 23,000 for coming in first at the national level and US$ 3.500 for having placed first at the parish level. The awards ceremony took place at the Stella Maris Church Pastoral Centre Kingston, Jamaica.
The NBCCP was launched in 2006 to encourage the development of sustainable communities through their involvement in a variety of activities that promote local governance, self-help and self-reliance. Of the 783 communities in Jamaica, 248, comprising 1456 districts, took part in the 2011-2012 competition.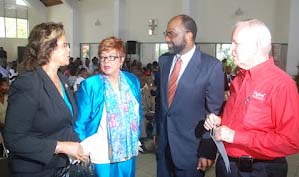 Custos of St. Andrew, Marigold Harding (left) and Jacqueline DaCosta, Chair of the National Best Community Foundation (NBCCP), chat with Earl Jarrett, General Manager of Jamaica National Building Society, and Major General Robert Neish (right), Executive Vice-Chairman of the Digicel Foundation.
"The work achieved at the community level is an inspiration, and shows that as a nation we have the potential to become self-reliant," remarked Samantha Chantrelle, Executive Director of the Digicel Foundation. She added, "In recognition of the tireless work of community members and in celebration of our 50th anniversary of Independence, the Foundation has invested an additional US$ 55,000 this year to support a Capacity Building Programme for 50 communities across the island."
"This competition and programme would not have been possible without our major partner, the Digicel Foundation, and other partners like the Tourism Enhancement Fund, the Social Development Commission and so many others including the Jamaica Observer," noted Jacqueline daCosta, Chairperson of the NBCF.
Meeting the Challenges of Climate Change to Tourism:
Case Studies of Best Practice
Industry officials, experts, academics and practitioners share their knowledge, experience, research and methods of best practice to address and adapt to the adverse effects of climate change
Edited by
Louis D'Amore and Dr. Patrick Kalifungwa

The International Institute for Peace through Tourism's 5th IIPT African Conference: "Meeting the Challenges of Climate Change to Tourism in Africa and the Developing World," was held in Lusaka, Zambia, in May 2011. Participants in the Conference were so enthusiastic about the quality of presentations that they believed the knowledge should be shared with a wider audience.
Accordingly, this publication contains papers and presentations from the 5th IIPT African Conference and other selected experts' case studies, articles and models of best practice. It was developed in collaboration with IIPT's academic partner in the Conference, Livingstone International University of Tourism Excellence and Business Management (LIUTEBM) and the World Tourism Organization (UNWTO).
To read the case studies, click on this link.
There is no cost to access the book but contributions to IIPT to offset costs are welcome.
IIPT World Peace Tours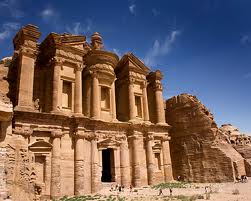 IIPT launched World Peace Travel in an effort to be a model of tourism that exemplifies the ideals,concepts and philosophies upon which IIPT was founded and toward the mission of promoting a "Culture of Peace through Tourism." World Peace Travel is being spearheaded by IIPT board member Donald King.

The following peace tours will be offered in 2012:
The Gulf Experience: United Arab Emirates and Oman - January 31-February 10, 2012
The Wild Jordan Tour - March 6-16, 2012
Nabji Festival Trek & World Peace Tour to the Himalayan Kingdom of Bhutan - January 8-21, 2012
World Peace Tour: Tanzania - June 1-13, 2012
Are You Ready to Climb Mount Kilimanjaro? - February 18 and June 16, 2012
Discover Croatia 2012
Click here to read more information and detailed itinerary
Travel Agents
Travel Agents please note that tours are commissionable – please contact Louis D'Amore, Email: ljd@iipt.org
About IIPT
The International Institute for Peace through Tourism (IIPT) is a not for profit organization dedicated to fostering travel and tourism initiatives that contribute to international understanding and cooperation, an improved quality of environment, the preservation of heritage, and poverty reduction; and through these initiatives, helping to bring about a peaceful and sustainable world. It is founded on a vision of the world's largest industry, travel and tourism – becoming the world's first global peace industry; and the belief that every traveler is potentially an "Ambassador for Peace."
For more information:
IIPT Website: www.iipt.org
Tel: (802) 253-8671
Fax: (802) 253-2645
Email: ljd@iipt.org
eTurboNews is proud to be the sponsor for this IIPT Newsletter
Advertising Submit Articles Circulation Contact Partners Team