Pilgrims flocking to Uganda Martyrs' Trail Launched as
Legacy of IIPT 4th African Conference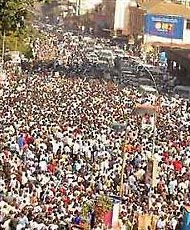 Record crowds are expected in Uganda for the 50th anniversary of the canonization of 32 Christian martyrs who were burned to death on June 3, 1886 at Namugongo for their refusal to renounce Christianity. The Uganda Martyrs' Trail commemorates the events from November 1885 to January 1887 during which 45 Christians – Catholics and Anglicans – were martyred.
Many pilgrims are walking from across Eastern Africa towards the Martyrs Shrine in Namugongo, located on the outskirts of the capital Kampala while Christians from around the world are flying into Uganda to commemorate the canonization and to be part of a very special service which is organized on June 3, each year - a national holiday in Uganda and a major event on the global Catholic calendar.
Christianity was received with much excitement in Uganda with the arrival of Christian missionaries in the 1880's, but becoming a Christian required a commitment to break away from traditional lifestyles and adjusting to new moral and religious standards.
Given these conflicting values, King Mwanga Kabaka Mwanga II was determined to rid his Kingdom of Buganda of the new Christianity and its followers. He ordered the converts to choose between their new faith, and complete obedience to his orders. Those unwilling to renounce their faith would be subject to death. Courageously, the young Christians chose their faith and the King ordered them killed.
Rather than deter the growth of Christianity, the martyrdom of these early believers sparked its growth. Christianity is now the dominant faith in Buganda and Uganda as a whole. The 32 known Catholic martyrs were canonized as Saints by Pope Paul VI on October 18, 1964. This was a first for modern Africa and a source of pride throughout the continent.

Martyr's Trail Basilica
Namugongo - Uganda



Stamp of Pope John Paul II
in honor of his visit to Uganda



Stained glass windows at Martyr's trail Basilica
Pope Paul VI became the first reigning Pope to visit Sub-Saharan Africa when he visited Uganda in July 1969, a visit which included a pilgrimage to the site of the martyrdom at Namugongo. While there, he dedicated a site for the building of a shrine church in honor of the martyrs which was subsequently dedicated in 1975 as a Basilica. Archbishop Robert Runcie of Canterbury, and head of the worldwide Anglican Communion, also came on pilgrimage in January 1984, and Pope John Paul II in turn honored the martyrs with his own pilgrimage in February 1993. June 3rd of every year is commemorated as Uganda Martyrs Day in Uganda – a national holiday.

The Uganda Martyr's Trail is a legacy of the 4th IIPT African Conference held in Kampala, Uganda, May 2007.  In launching the Uganda Martyrs Trail, then Minister of Tourism, Wildlife and Antiquities, Hon. Serapio Rukundo stated: "The Trail will serve to create a greater international awareness of Uganda's first Christians who sacrificed their lives rather than renounce their faith – and will attract pilgrims from regions throughout the world seeking a spiritual experience."
Hon. Serapio Rukundo
The Uganda Martyrs' Trail winds its way through the various sites where the Uganda Martyrs were killed or tortured in the 1880s including the Namirembe Cathedral, where Bishop James Hannington's remains were buried; Rubaga Cathedral, where archives on the lives of 22 Catholic martyrs are kept; Old Kampala, where St Mathias Mulumba was killed; and Namugongo, where martyrs were burned alive.
An IIPT International Peace Park was also dedicated at Namugongo with the planting of Peace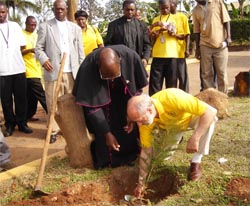 Trees as part of the Trail launching ceremony. IIPT Founder and President Louis D'Amore said on the occasion of the dedication  "IIPT is immensely honored to be part of this dedication ceremony. In walking this sacred ground, one comes to an appreciation that we are all sons and daughters of the One Creator – and for this reason, Namugongo offers unique possibilities as an International Peace and Reconciliation Center – where spiritual pilgrims can find peace within themselves – and parties in conflict can find peace and reconciliation with one another."
IIPT President planting first tree in IIPT Peace Park dedication
For more information on the 4th IIPT African Conference, please see:
http://www.iipt.org/newsletter/2007/June.html and http://www.iipt.org/newsletter/2007/July.html
Uganda will be hosting the 39th Annual World Congress of the Africa Travel Association (ATA) from November 11-16, 2014. For more information, please see: http://www.africatravelassociation.org/