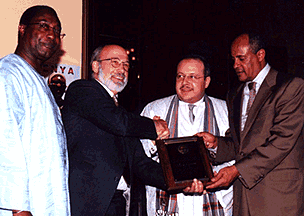 Louis J. D'Amore, President and Founder, International Institute for Peace
Through Tourism, was presented a special award by the Africa Travel
Association (ATA) "in recognition for his visionary efforts on behalf of
peace through tourism." The award was presented at the ATA annual congress in
Cape Town, South Africa, May 24, 2002. ATA is a founding member of the IIPT
Coalition of Partners for Peace Through Tourism. From Left: Hon. Michael
Afedi Gizo, Immediate Past President of ATA and co-chair of the first African Conference on Peace Through Tourism to take place in Mpumalanga Province, South Africa March 3-7, 2002; Louis D'Amore; Hani Yamani, Executive Chairman, Air Harbour Technologies and ATA Congress Chair; and Hon. Yusuf Abdullahi Sukkar, Commissioner for Tourism, Ethiopia and Vice President, ATA Board of Directors.

International Institute for Peace Through Tourism