---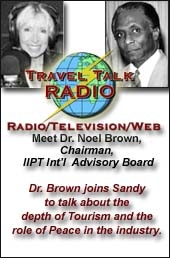 Click here to listen Sandy's Interview
with Dr. Noel Brown

.

November 2008

Louis D'Amore presenting at the Iran Tourism Conference
IIPT Founder and President Louis D'Amore addressed delegates from 48 countries at the 1st International Tour Operators Conference in Tehran. The aim of the historic conference was to familiarize the high level delegates with Iran's tourism attractions and to explore possibilities of strengthening ties through tourism.
.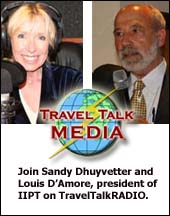 Sandy Dhuyvetter interviews Louis D'Amore on Travel Talk Radio
Listen to the Interview of Louis D'Amore with Sandy Dhuyvetter
International Institute for Peace through Tourism (IIPT) is pleased to announce that Stenden University (formerly CHN University) will host the First IIPT European Conference in October 2008.