---
Abrahamic Faith Tour
World Peace Travel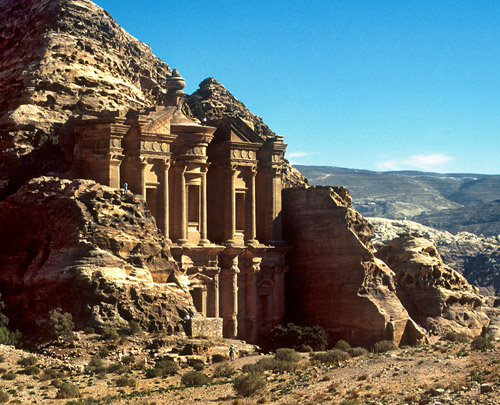 Petra, Jordan
*Actual dates of travel to be determined*
Estimated Tour Fee $1980/per person, not including airfare


This fee does not include registration for the IIPT Interfaith Tourism Conference scheduled at the end of the tour.

Day 1--Depart

Day 2-- Arrive in Amman. Drive to Petra for overnight.

Day 3-- Visit Petra, where the Nabataean Arabs, ancient masters of the desert, carved breathtaking temples and monuments, 800 in all, out of the multi-colored sandstone.


Petra

Mount Nebo

Drive to

Mount Nebo

, from which God showed Moses the Promised Land. Overnight in Amman.

Day 4-- Cross the Allenby Bridge. At Jericho, we visit the tell of this oldest city and view the traditional mountain of Jesus' temptation.
| | |
| --- | --- |
| Then we drive north through the Jordan Valley to the mound of Beth Shean, hearing the story of Saul and viewing the ruins of Roman Scythopolis. We end the day, if time permits, at the Arbel cliff, which affords a view over the Lake of Galilee and the main sites of Jesus' ministry. Lodging near Sea of Galilee. | Arbel cliff |

Church at
Mt. of Beatitudes

Day

5

-- We drive along the Sea of Galilee to

Capernaum

, where we visit the synagogue and the place where early Christians remembered Peter's house. Ascending the

Mt. of Beatitudes

, we listen to Jesus' teachings. On an ancient trade route, we pay a brief visit at

Hazor

.
We then ascend to

Safed

, where Jewish mysticism flowered in the 16th century. We visit some of the synagogues and hear about the teachings of the legists and mystics who lived here. We return to our lodging near the Sea of Galilee.

Day 6--We start at Nazareth, visiting the area of the ancient village (Church of the Annunciation)


Safed
and taking in a view of

Mt. Tabor

and the

Jezreel Plain

. Then on to

Akko

(Acre), where we shall visit the

Jazzar Mosque

, as well as sites connected with the bizarre history of this oriental city, from the Crusader period through Napoleonís siege. Overnight in the Haifa area.
Day 7

-- We visit Muhraka on

Mt. Carmel,

site of

Elijah's confrontation with the prophets of Baal. Then we drive south along the coast to

Caesarea Maritima

.

We

explore this Roman bridgehead to the East, which became the Christian springboard to the West.
From here we ascend to

Jerusalem

. Atop Mt. Scopus, we behold the piece of land that has become so central to Jews, Christians, and Muslims. Lodging in Jerusalem through Day 11.

Day 8-- We start the day early with an orientation to Jerusalem from the Mt. of Olives.
We then follow the traditional Palm Sunday route to the church known as

Dominus Flevit

("the Lord weeps"). We continue downhill to

Gethsemane

, where we hear the Gospel text.

We then drive to the

excavations

south of the

al-Aqsa Mosque, where we pass through the remains of Omayyad palaces and see traces of the Templeís destruction by the Romans(the great historical watershed, which resulted, some believe, in the split between Judaism and Christianity.


Gethsemane


Western Wall

We visit the

Western Wall, Judaism's holiest site. From here we walk to the 5th Station of the Via Dolorosa

, following it to the

Church of the Holy Sepulcher

. After a late lunch in the Old City, we visit the Garden Tomb.
Day 10-- Back across the Allenby Bridge to Jordan. Visit Bethany beyond Jordan, site of Christís baptism, where IIPT launched the Global Peace Parks program in 2000. Visit Jerash, which boasts more Roman columns than Rome. Overnight in Amman.

Day 11

óIIPT conference and dinner. (Additional Cost)

Day 12

--Depart

For more information and to join the tour, please contact:
Donald King
iiptambassador@swissmail.org

International Institute for Peace Through Tourism